UTVs are excellent off-roading machines. Not only do they make great toys, but they also can be used for work too. A UTVs off-road capability paired with a solid towing capacity makes it an ideal workhorse for many landowners.
However, not all UTVs are built for towing, there are several factors that go into towing capacity. Among these factors are engine power, gearing, and frame. Another key factor is you have to have a hitch. Not all UTVs are rated for towing capacity because some are just made to go fast off-road.
UTV Towing and Payload Capacity
Depending on the style UTV, sport recreation, or work, the towing capacity varies greatly. The engine plays a big factor too. Electric UTVs with their silent power trains and high torque make excellent towing vehicles. Check out our list of top electric UTVs for more info here; you might be surprised how well they perform.
The table below shows many different popular UTvs and their towing capacity. As you can see the sweet spot seems to be 1,500 to 2,000 lbs but there are overachievers like the Can Am Defender 6×6 which can tow 3,000lbs. That's almost as much as a midsized SUV!
| | | |
| --- | --- | --- |
| Model | Towing Capacity | Payload Capacity |
| Polaris Ranger | 1,500 lbs | 800 lbs |
| Can Am Defender | 2,500 lbs (3,000 lbs 6×6) | 1,000 lbs |
| Polaris Ranger Electric | 1,500 lbs | 1,000 lbs |
| Polaris RZR | 1,500 lbs | 300 lbs |
| Yamaha Viking | 1,500 lbs | 600 lbs |
| Kawasaki Mule | 1,100 lbs | 400 lbs |
| Honda Talon | 1,500 lbs | 299 lbs |
| Honda Pioneer | 2,000 lbs | 1,000 lbs |
| Argo Conquest 800 | 2,000 lbs | 1,420 lbs |
UTV Towing Capacity
Not only do UTVs have impressive towing capacities, they also have large payload capacities. While sport UTV's like the Polaris RZR and Honda Talon won't impress with their 300 lb bed capacity, the Ranger, Pioneer, Defender, and Conquest all have payloads of 1,000 lbs or more. These payload capacities are large enough for many homesteading projects, and they would be very convenient for hunters.
UTV Engines and Towing Capacities
Just like with a truck's towing capacity, a UTV's engine plays a huge role in its towing capabilities. If your primary concern is for towing and hauling payloads, then you should be looking for low revving high torque producing engines.
High performance UTV engines like the Polaris RZR's make a ton of power and torque, but they make their power at high rpms. This makes them poor choices for a dedicated tow UTV although they can still tow 1,500 lbs.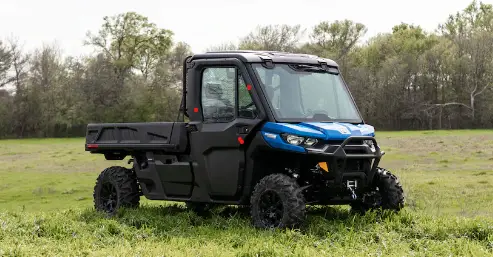 Almost all UTVs have multiple engine options for the same model, and these engines vary greatly in performance. The Defender starts at 38hp but you can it equipped with an engine that produces 82hp and 69 lb-ft of torque. So when you're comparing specs and prices, make sure you're comparing the engine for the tow capacity you need.
UTV Trailers
So know you're probably wondering what can you tow with a UTV, well there are trailers specifically designed for UTVs to tow. There are plenty of 5ft long trailers you can find with a quick google search. One of the trailers that impressed me for its off-road capability and 1250lb load capacity was the YuTrax Trail Warrior.
If cargo trailers aren't your style, you could instead get a small lightweight camper like the Valiant! This small camper/trailer only ways 330lbs empty so any UTV on this list could tow it. One thing to keep in mind when selecting a trailer is that you want a trailer with a low center of gravity. When towing off payment, hills can easily be steeper than they look, and a trailer with a high center of gravity can easily tip.
Also Read: ATV Towing Capacity
How Much Does a UTV Trailer Weigh?
Lastly if you want to transport your UTV, you will need a trailer since its not street legal. The typical UTV weights in at 1300lbs for a smaller UTV and around 2000lb for a larger four seater. This is important because you will want to select a trailer that has a payload capacity several hundred pounds larger than your UTV's weight.
A trailer designed for towing a UTV will weigh in at anywhere from 700 to 1600lbs empty. If you add the additional weight of the UTV, you will need a vehicle with a towing capacity of over 2,000lbs and likely over 3,600lbs if your trailer/UTV combo is on the heavier side of the spectrum.
Although your vehicle is rated for a max tow capacity, its a good idea to leave some margin between what you're towing and the max capacity of your vehicle. The same goes for when you're towing with your UTV. Never exceed the maximum weight capacity, gross weight capacity, or payload capacity. These restrictions are there for safety reasons. In some cases that is the max weight the frame can support or tow, but in other cases the bakes on the vehicle can't stop in a safe distance if the max capacities are exceeded.