Diesel powered UTVs can be a great option for many people. Diesel engines have quite a few advantages over their gasoline counterparts, but they do have some drawbacks. Determining whether your next side by side should be gas or diesel really comes down to how you plan on using your UTV.
Benefits of Diesel UTVs
Diesel engines are usually much heavier than a comparable displacement gasoline motor. This is because the diesel engine needs to be built to withstand much higher compression ratios than a gasoline motor. Gas engines use spark plugs to ignite the air fuel mixture in the combustion chamber, but diesel engines rely on the high compression ratios for ignition. Because of the added structural integrity that a diesel engine has, it has a very long operating life. Keep in mind that electric UTVs are becoming very competitive options. For more information check out our post on the Top 6 Electric UTVs on the market right now.
With the added structural integrity of Diesel engines comes added weight. These engines will be heavier than a comparable gas powered motor. The heavier weight also prohibits higher rpms. Horsepower is directly related to rpm. Since diesel engines do not have as high of rpms they will make less horsepower. As a result, top speed may not be impressive but towing capacity and torque will be.
So, what does all of this mean? If you're looking for a workhorse UTV for a homestead and you don't have the need for speed, then a diesel UTV can be a great choice– even better than a gasoline UTV. These UTVs are designed for work which makes them a great option for worksites, farmers, towing, hauling, and even plowing snow. When it comes to work, low speed torque is what is needed and that is where a diesel engine shines.
Diesel UTV Features
Diesel UTVs have features and add on packages for almost any job. Some have enclosed cabs that are fully climate controlled like the Kubota RTV-X1100C. UTVs can be spec'd out with dump beds, snow plow attachments, hitch, doors, windshields, up to six seats, and more. They can be setup in many different configurations right from the factory.
Fuel Economy
There are many factors that impact fuel economy like terrain, weight, time spent idling, and more. That being said the average gas UTV gets between 15 and 20 mpg. Diesel powered UTVs are slightly more efficient which is good because diesel is usually more expensive at the pump. The better fuel efficiency will help even out the higher cost for fuel. When deciding on a diesel side by side, you should make sure that you have a selection of diesel fuel stations to choose from in your area especially if you plan on making your side by side street legal.
Why Diesel
The main reason to buy diesel is because you are in need of workhorse UTV. You will not break any land speed records. You will not be carving up sand dunes or launch off massive jumps, but you will be able to get the job done consistently and reliably.
If you plan on using the UTV at a jobsite or plan to really rack up the operating hours on the UTV, then a diesel-powered UTV will likely save you money and headaches in the long run. Overall, the entry price is not much higher than their gas counterparts. It does not mimic pickup truck market which requires you to pay an extra 8-10 grand for the diesel engine option.
Despite their slightly higher cost of entry, diesel UTVs come well equipped from the factory. For instance, the John Deere HPX815E comes with 4WD, a heavy duty suspension with 3.5 inches of travel, a bed that can be converted into a flatbed, 1,000 lb bed capacity, and 1,300 lb towing capacity.
Now that we've covered the differences and benefits that diesel-powered UTVs enjoy, we can review some of the best diesel UTVs for sale right now honing in on their key features and what makes them a good buy.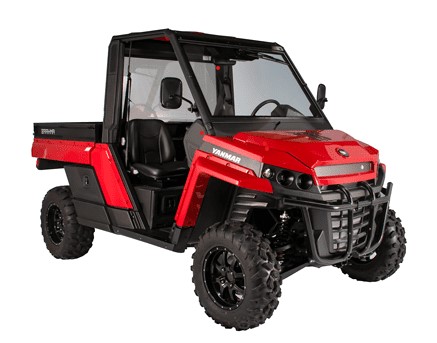 Starting off our list is the Yanmar Brahma. The Brahma features a 993cc three cylinder engine. It has selectable 4WD and a locking rear differential which is a great feature to have when the terrain gets steep.
The Brahma even comes with adjustable seats. This might not seem like a big deal, but not having an adjustable seat can really limit who can comfortably drive the UTV. My wife and I discovered this the hard way when we rented a Polaris XP1000 in the Badlands.
Another feature is it's 12.2 inches of ground clearance, for comparison a Polaris Ranger has 13 inches of ground clearance.
2,000 lb towing capacity
1,000 lb bed capacity
Locking Rear Differential
24hp Diesel 3 cylinder engine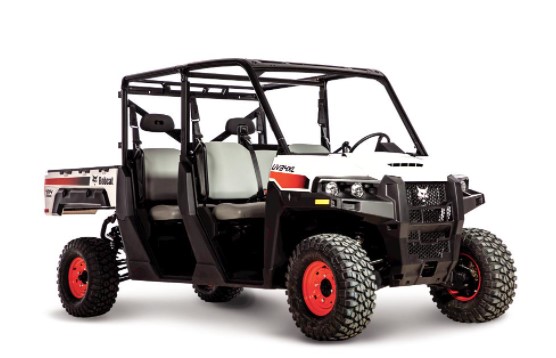 Next on the list is the Bobcat UV34XL Diesel UTV. This vehicle is a workhorse. The 23.5hp, three cylinder diesel motor has been pulled directly from Bobcat's mini track loader product line, so you now you are getting a reliable unit. Since the engine is under 25hp it does not require a diesel particulate filter (DPF).
The Bobcat can haul up to 1,250lbs in its box more than enough for most hunters and can tow 2,500 lbs! This makes it one of the best UTVs for towing. For more information on its towing capacity, check out our article on how much can UTV's tow.
Not only does the Bobcat excel at work, but it is also one of the faster UTVs on this list. The UV34XL can reach a top speed of 35 mph. The UTV can be configured in a single or crew cab configuration. In addition to this the UV34XL also comes standard with a high output 140amp alternator. This will ensure that you have enough power for your tools at any jobsite.
23.5 hp diesel engine
2,500 lb towing capacity
1,250 lb hauling capacity
140 amp peak power delivery
35 mph top speed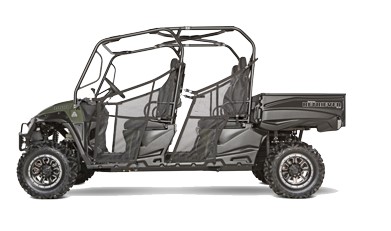 The Mahindra Retriever 1000 is another solid option. It comes with a 1000cc diesel Kohler engine making 24hp. The Mahindra can be purchased in either a crew or single cab and there is even a long bed option.
The Retriever has a payload capacity of 1600lbs which is one of the higher payload capacities we've seen on a UTV. The towing capacity peaks out at 2100 lbs regardless of the crew or single cab configuration. The Mahindra comes equipped with 27 inch tires which gives it an impressive 12 inches of ground clearance.
Long bed option
29 mph top speed
1600 lb payload capacity
2100 lb towing capacity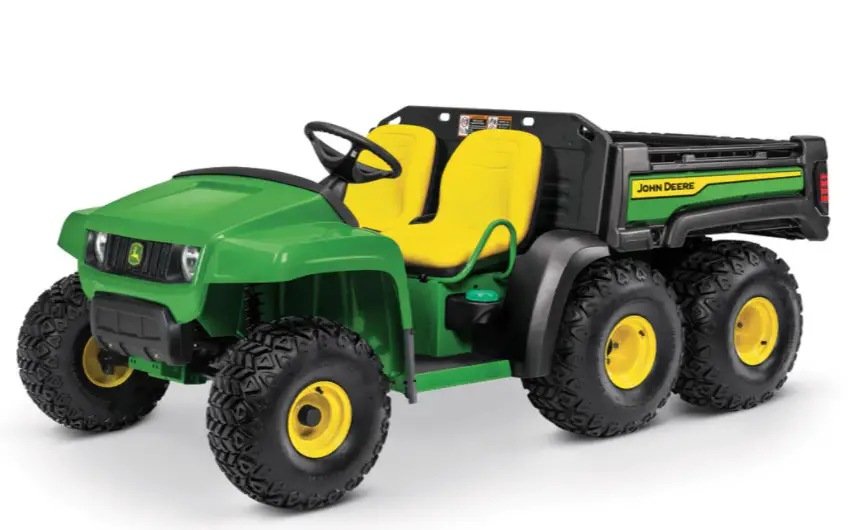 Coming in as the only 6 wheeled UTV on our list, this John Deere is built for work. It comes with an 18.2hp, 3 cylinder, liquid cooled diesel engine. The TH 6×4 has a unique drive system which powers the rear four wheels. The UTV also has a mechanical locking differential to make hill climbing a breeze.
The Deere also comes with dual radiators to ensure that the engine stays with in operating temperature regardless of how high the ambient temperature gets.
The bed has a drop down tailgate and the ability to dump its load at a 43 degree incline. This makes it the only UTV on this list with a dump bed. The TH 6X4 Diesel weighs 1200 lbs just 200 lb more than the gas model. Towing capacity is a respectable 1400 lbs.
Locking differential
Rear four wheel drive
Dump bed
1400 lb towing capacity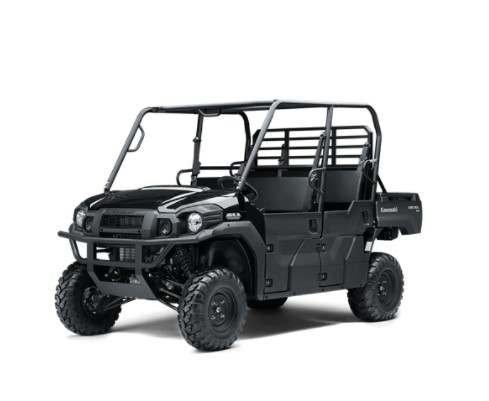 Kawasaki Mule has been in production for a long time, but now it has a diesel engine to go with its UTV bones. The Mule has a 993cc diesel 3 cylinder engine which produces 38.3 lb-ft of torque at just 2400 rpm.
The power is transmitted through a continuously variable transmission and it has selectable 2wd or 4wd. The Kawasaki's alternator produces a respectable 55 amps which makes it great for work.
The Mule comes in either a single row three seater or a dual row six seater configuration. The cargo capacity is 999lb for the three seater and 350 lbs for the six seater. Towing capacity comes in at 2000 lbs which puts it on par for the other UTVs on this list.
38.3 lb-ft of torque from the 993 cc diesel engine
2000 lb towing capacity
Selectable 2wd/4wd
3-6 seater configurations
Double wishbone front and rear suspension
16 ft turning radius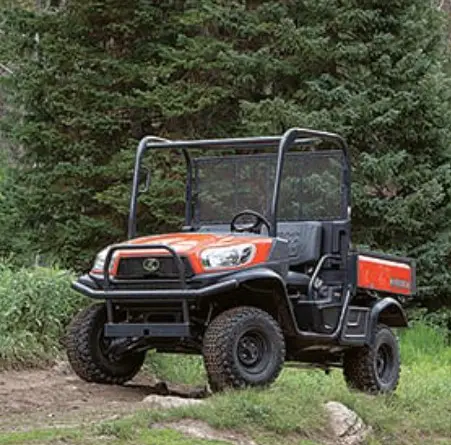 Last on our list is the Kubota RTV-X900. The Kubota has a 21 hp 898cc diesel engine. It comes standard with 4wd. The power is delivered to the wheels through a variable hydro transmission.
The Kubota is not the fastest UTV on this list but at 25mph you'll still get to the job site on time. The cargo bed capacity comes in at 1100 lb and 1300 lb towing capacity.
2 year 1000 hour warranty
1300 lb towing capacity
1100 lb cargo capacity
Standard 4wd
7.9 gallon fuel tank
Conclusion
Diesel UTVs are some of the best UTVs you can get for heavy duty work. From 4wd to 2500 lb towing capacities, diesel powered UTVs are ready for work and they can outshine their gas powered rivals.