When you want extra speed for off-roading, a Polaris ranger is the best option that allows the rider to travel and reach your destination faster than ever. Polaris rangers aren't created to be race cars or for boating and floating; they can be used easily in the mud pits through bogs, muskegs, and swamps.
People who love to ride often want to go very fast. So, the fast rider may enquire about the top speed of a Polaris ranger. We will walk you through some famous Polaris ranger editions of different sizes that will allow you to go faster than with other vehicles.
Top Speed of Different Editions/Models of Polaris Rangers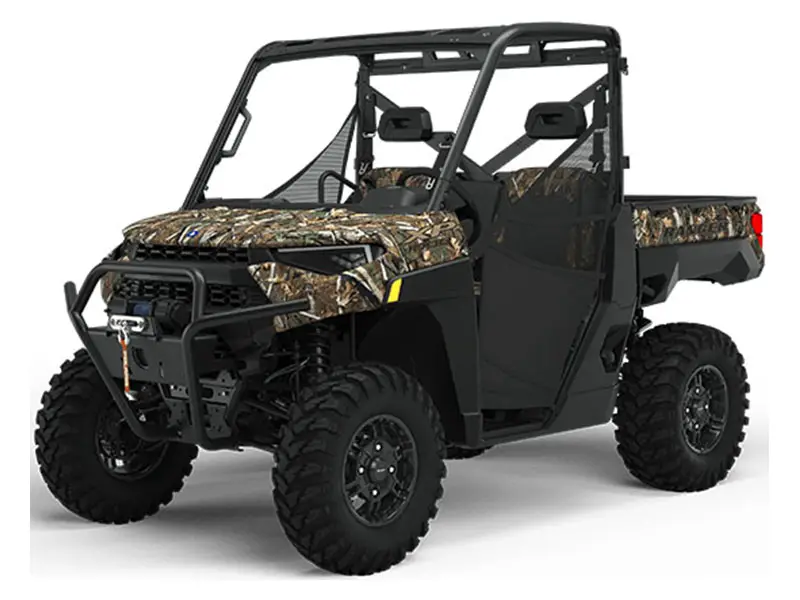 1. Polaris Ranger Midsize 570
The mid-size Polaris Ranger 570 is a fantastic hunting, farming, and trail-riding vehicle. Unfortunately, a 570cc Polaris Ranger has a small-sized engine for which it doesn't have adequate power to get enormous speeds. The model and year of this version determine whether you can expect to hit 40-50 MPH.
The use of an aftermarket ECU flash, an accessory to take the speed away, can allow you to move the Polaris Ranger 570 to the highest speed of 60 MPH. Unfortunately, adding aftermarket accessories removes the speed limiter. Therefore, it will be challenging to ride the Polaris Ranger midsize 570 in deep mud pits with great speed.
2. Polaris Ranger 900 XP
The Polaris ranger has a top speed of nearly 60 MPH, which is higher than the Polaris Ranger 900 Crew, with a highest speed of 50 MPH. If you want to drive faster than 60 MPH with the Ranger 900 XP, tuning and clutch work are needed.
You will be able to go more quickly by up to 10-15 MPH with RVS or Gilomen tune, a finer primary clutch, an HMF tailpipe, and an aftermarket secondary clutch. Adding a tuner like the Dyno tuner will help to follow the configuration whenever needed.
It is great fun for the rider to ride the Polaris Ranger 900 XP with around 75-80 MPH. Additionally, adding a tune to your Polaris Ranger 900 XP also smooths out the throttle, removes jerky takeoffs, and helps you to get benefits from some clutch weights. The tuning accessories significantly influence the incredible speed of the Polaris Rangers. So, always consider adding a tuner and enjoy the top speed of your Polaris vehicle right away.
3. Polaris Ranger 1000 XP
The Polaris Ranger 1000 XP has an affordable utility of 4×4 side-by-side with a two-door model. Its payload capacity is around 1,500 lbs, and its towing capacity is about 2,500 lbs. You can access the Polaris Ranger 1000 XP at a top speed of about 64-65 MPH. However, you can hit up to 70-80 MPH by adding a clutch kit and tune.
4. Polaris Ranger EV
The Sevcon controller controls the top speed of a Polaris Ranger EV. Swapping the light-weighted lithium batteries with a voltage sag can keep the top speed of 25-30 MPH of the Polaris Ranger EV. The maximum of 7,000 restricts its top speed.
You will be able to enjoy the speed of a few extra MPH by installing taller and heavier tires. However, it would help if you were more careful while doing this task. For example, it would help if you held the pedal to the ground, which might cause frequent discharge of the batteries and reduce the range considerably. In addition, if you push speed limits, there is an excellent chance that you may break something badly.
5. Polaris Ranger Crew
The rider of the Polaris Ranger Crew can enjoy almost close to the speed of a three-seater full-sized Ranger edition. A full-size tuned-up Polaris Ranger is of a speed of 75-80 miles per hour, whereas the same Crew-Cab Polaris Ranger can hit up to 65-70 miles per hour speed much less than the previous one.
In addition, the new models of the Polaris Ranger Crew have significantly higher speed limiters than the older models. For example, the previous model of the Polaris Ranger Crew could hit up to 65 MPH, whereas 2020 to the newer models can hit 70 MPH or more. If you closely compare the speed limit between the older and more recent versions of Ranger Crews, consider a 2017 Polaris Ranger Crew that hit around 55 MPH.
On the other hand, models close to the editions of the 2021 Ranger Northstar Crew can do 65 miles per hour in stock even without any mods. Therefore, it can clearly be stated that an element like an ECU unit significantly impacts the speed limit and the total performance level of a Polaris Ranger.
6. Polaris Ranger HighLifter
A Polaris Ranger HighLifter should be your go-to pick if you are looking for fast-paced riding with your vehicle. This edition of the Polaris Ranger has a lower gear ratio than the other models or editions. For example, the gearing of this edition is 55% lower than the other XP models. So a Gilomen tune or a clutch kit might not turn the HighLifter into an RZR, but you can get 70 MPH with a tailwind with a smooth throttle response.
Related: Polaris Ranger TPS Symptoms (Causes & Fixes)
FAQs
Q: What safety features must you ensure while riding Polaris Ranger XP 1000?
Top speed is an issue, as maintaining the highest safety features is a must. Buckle the seatbelt and latch the windows and doors properly. Don't ride without a helmet.
Q: Why should you change the oil of your Polaris Ranger periodically?
Changing oil is essential to control the vehicle's different elements like frequent starts, stops, or storage periods. However, using your vehicle too much can create premature oil degradation and reduce the engine's performance. On the other hand, changing the oil on time can smoothen the vehicle's life cycle and ensure consistent performance. 
Q: What are the responsible factors for decreasing the car's engine performance?
Your car needs to be serviced more often when you operate the vehicle too much in dusty environments and drive over mud pits, water, or sand. The engine's performance also decreases, leaving the car idle for too long. Besides, frequent vehicle use in cold weather or for heavy-load operation affects the engine's performance.
Q: Why should I use Polaris Ranger UTVs?
The Polaris Ranger UTVs are most widely used in small or large farms for personal or commercial purposes. Polaris Ranger UTVs are fantastic options for you to transport essential tools, supplies, and crew from one site to another within a short time. They are great ways to increase one's yield but decrease bodily stress.
In Closing
When looking for a fantastic vehicle to help you on the hunting site or give recreational pleasure, a Polaris Ranger should be your go-to pick. There are multiple ways to increase the speed of a Polaris Ranger to get the usual fast-riding experience, plodding along, operating for heavy-duty or loaded works, etc. Unfortunately, the old models of the Polaris Ranger are slower than the newer models. The 800 crew are limited to a speed of around 40 MPH, and the 900s are limited to about 52 MPH. Interestingly, 500, 570, 900, and 1000 range Polaris rangers are equipped with different governed top speeds.