Whether you use your utv for hard work or play, going electric has its benefits. An electric utv has minimal maintenance, few moving parts, and 100% torque at 0 rpm! Electric 4×4 utv are the perfect workhorses. Their sophisticated four wheel drive makes them extremely capable off-road or really anywhere off trail you can fit. Their silent drive system will allow you to sneak into the woods unnoticed by wildlife, making it perfect for hunters.
With more and more cars and motorcycles going electric, it was only a matter of time before utvs followed suit too. While the electric utv and electric side by side options aren't as vast as the automotive market, they are very competitive to their gas-powered counterparts.
Polaris is one of the few major manufacturers to have to have an electric UTV on the roster. In December they are unleashed the all new 2023 Ranger Kinetic XP. Polaris says it will be there most capable Ranger gas or electric. There are even photos of the Ranger pulling a truck!
We can expect more electric offerings from Polaris thanks to their new partnership with electric motorcycle manufacturers Zero motorcycles. The Kinetic XP is the first fruit of this partnership. The Ranger EV is an absolute workhorse starting at $24,999. The Ranger has an industry leading 110hp and 140lb-ft of torque thanks to its Zero Motorcycles sourced engine. It has a massive 2,500 lb towing capacity and a 1,250 lb payload capacity.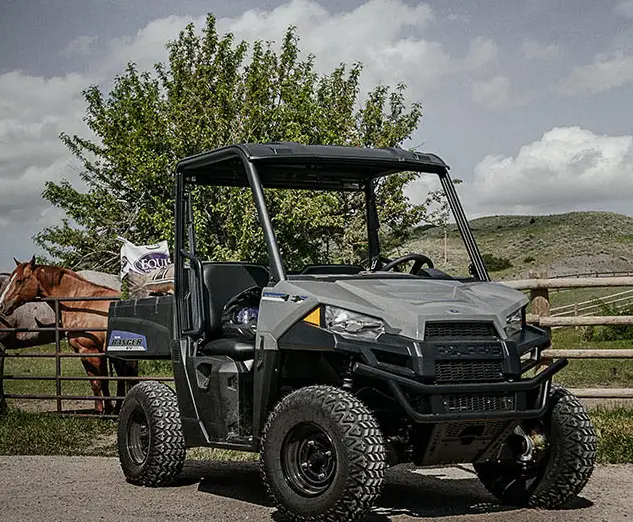 Armed with 4×4, 10 inches of ground clearance, and 9 inches of suspension travel, the Polaris won't have a problem off-road. A battery life indicator is on the dash, so you don't have to worry about getting stranded. The Ranger also has an extremely impressive 80 miles of range!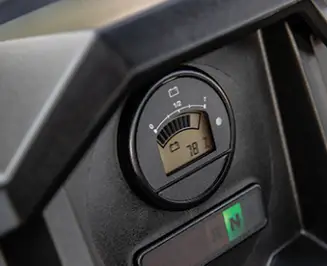 In 2wd the Ranger is very quiet, however when shifted into 4×4 the drive train noise increases and can be bothering. This UTV is perfect for farming, working off road, and hunters. The 1,250 lb payload will be able to haul all your gear to your tree stand and back. Plus, it even comes with a camo paint paint job. Polaris says it can charge on either a 120V or 240V outlet.
Ranger EV Specs:
1,250 lb payload capacity
2,500 lb towing capacity
9 inches of suspension travel
110 hp
1,762 lb dry weight
5 hour charge time
80 mile range
Hisun motors is based in Texas, and they've cooked up a pretty impressive UTV. With 27hp and 220lb-ft of torque the electric motor in the Hisun is not under powered. The Sector E1 starts at $11,299 and has a 2 year warranty.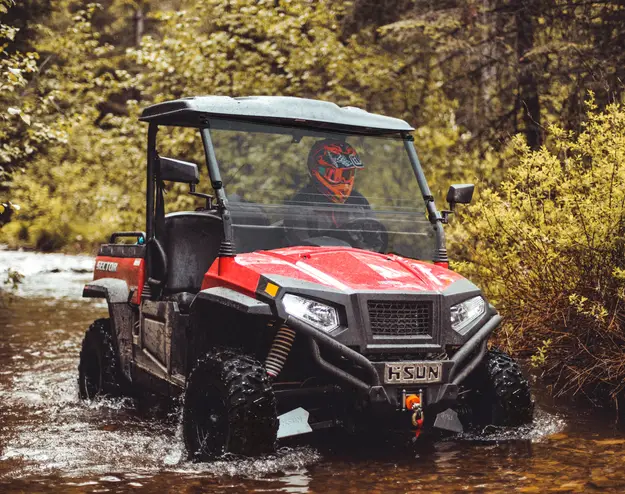 Hisun says the Sector E1 is good for at least 45 miles, so it has plenty of juice to get the job done. A recharge will take you around 6-10 hours. The Sector E1 comes with selectable 2wd or 4wd and 11 inches of ground clearance making it competent off the beaten path. The Hisun comes standard with a 3,500 lb winch, which is sure to come in handy on the trail or for work.
The Sector E1 is perfect for work. It matches Polaris with a 1,500 lb towing capacity, and payload capacity comes up a little short with just 500 lbs. Another downside is the weight. This UTV is on the heavy side at 2,061 lbs, but you likely won't notice that with 220 lb-ft of torque available at 0 rpm.
The Hisun Sector E1 gets the nod over the Ranger EV as the best electric utv for hunters. This is because of its silent drive-train. The Ranger EV's drive-train is much nosier than the Hisun when its put into 4×4.
Hisun Sector E1 Specs:
500 lb payload capacity
1,500 lb towing capacity
11 inch ground clearance
27 hp and 220 lb-ft of torque
2,061 lb dry weight
6-10 hour charge time
45 mile range
If your electric utv needs don't take you too far off-road, the Club Carryall 550 might be right for you. However, 6.4 inches of ground clearance will allow for some off pavement adventures.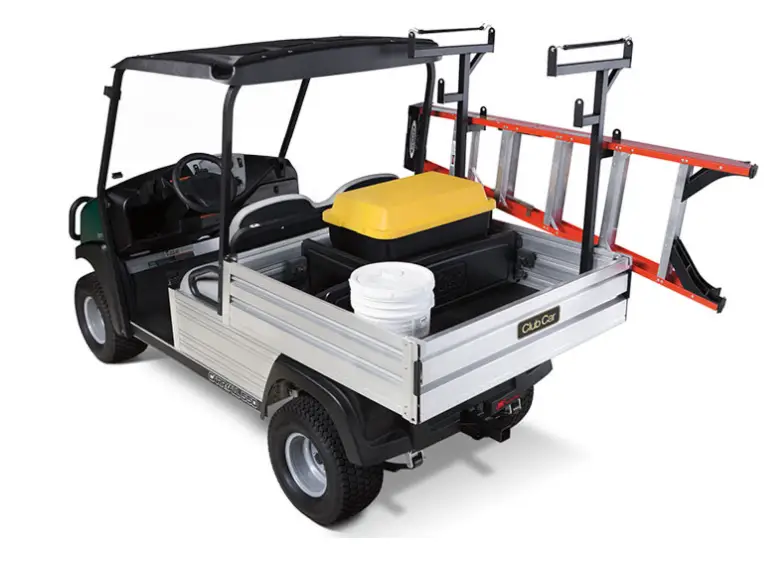 The electric version of the 550 actually has power advantage over its gas brother (20hp vs 14hp). Carryall lists the speed range at 5-17 mph.
Starting at $10,330 the Carryall doesn't have a large price advantage on the Polaris or Hisun. However its bed and other accessories makes it a handy tool. The utv is powered by (8) six-volt flooded lead acid battery. The suspension is an independent leaf spring setup with hydraulic shocks.
Carryall 550 Specs:
Peak 20 hp electric motor
17 mph top speed
6.4 inches of ground clearance
Textron is a big player in the ev market. It bought out Bad Boy Buggies in 2010, and it acquired Arctic Cat in 2017. Both of these companies had experience with electric utvs.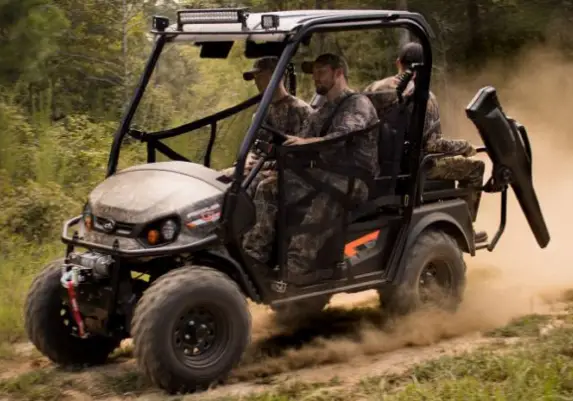 The Prowler EVis is a solid offering from Textron. Starting at $13,499 it comes in a little pricier than the Ranger and Sector E1, but its performance specs match up well. The EVis has 38hp, 9.5 inches of ground clearance, and four wheel drive. Towing capacity is 1,000 lbs allowing this utv to be used for more than just play.
Textron says the EVis is good for 8-12 hours of battery life. We suspect the battery life variation has to do with how much weight your hauling or towing. Just like a truck's efficiency goes down while towing, expect utvs to lose a significant amount of range pulling heavy loads.
Prowler EVis Specs:
1,710 lbs dry weight
38 hp
9.5 inches of ground clearance
840 lb payload capacity
1,000 lb towing capacity
400 lb bed capacity when equipped
For those looking for a performance oriented electric utv with 4×4, look no further than the Nikola NZT. The NZT has an absolute beastly spec sheet with 590hp and 775 lb-fts of torque it will be the most powerful side by side on the market. The Nikola also has 18 inches of suspension travel and Fox 3.0 Internal Bypass Shocks, so it should feel right at home on high speed desert whoops.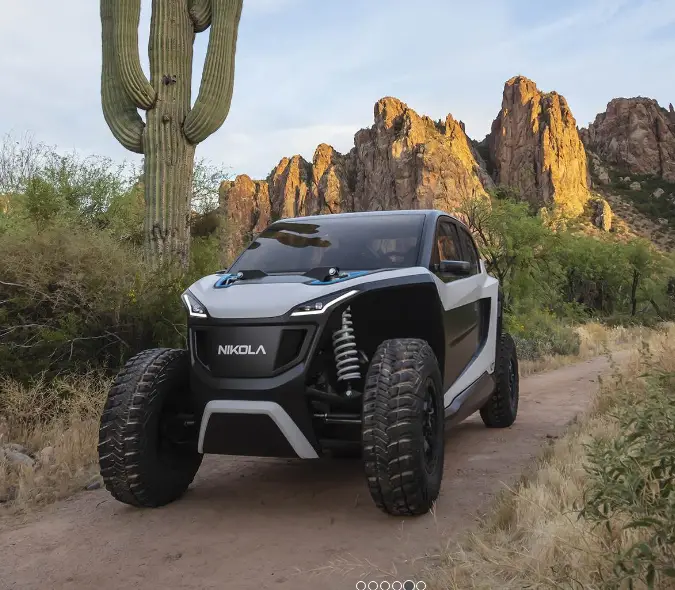 Another fun fact about the Nikola is that it comes with a massive 125 kwh battery pack. This battery pack is larger than anything on the market so far, and it propels the NZT to a very competitive range of 150 miles.
The Nikola has a unique 4wheel drive system compared to other utvs in that it uses a motor at each wheel. This allows for excellent control and traction on all terrain. Nikola claims the NZT meets an IP67 rating which means you can submerge the utv in up to 1 meter of water for 30 minutes and not have to worry about any water damage.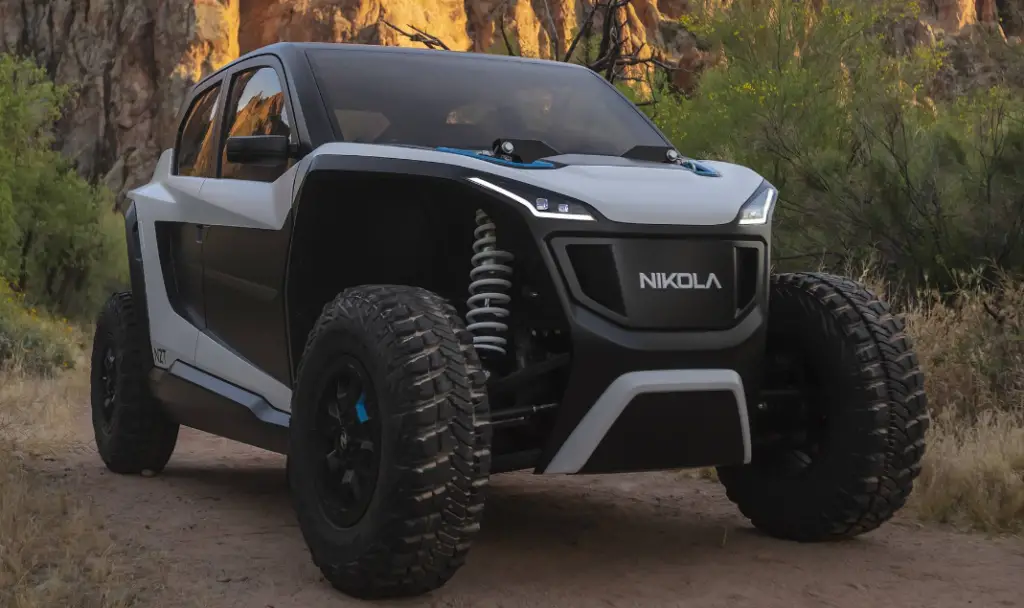 The NZT can tow a massive 3,000 lbs outdoing many mid-sized suvs on the market. The utv can be equipped with 10,000 lb winches. The battery can be recharged in 2 hours on a dc fast charger or 15 hours on a 240V outlet.
All of this performance comes at a cost. The first is the weight. At 5,250 lbs the Nikola is no lightweight, but with a 0-60 time of 4.0 seconds the weight is hidden well. The second and possibly biggest barrier to entry is its projected $80,000 base price. Let's hope this UTV gets into production soon!
Nikola NZT Specs:
590 hp and 775 lb-ft of torque
150 mile range
0-60 mph in 4.0 seconds
3,000 lb towing capacity
1,260 lb payload capacity
5,250 lb curb weight
$80,000 base price
Another major manufacturer with an electric utv is John Deere. The TE 4×2 is built for work whether that's on our off the trail. This utv deserves the John Deere green. It has a massive 900lb payload capacity and a 500lb towing capacity.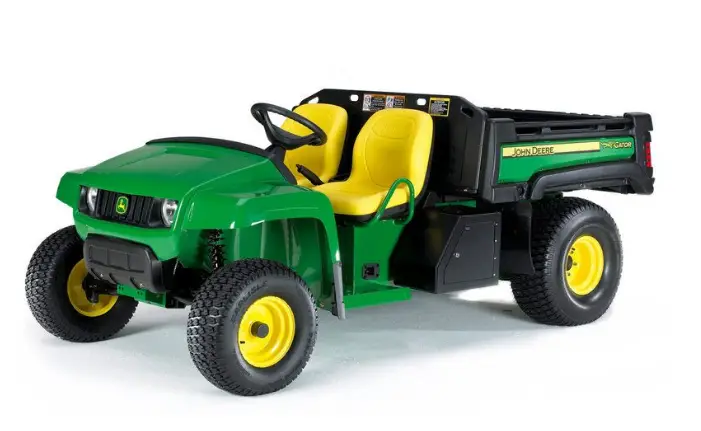 Top speed can be adjusted to whatever the operator desires. However the TE 4×2 tops out at 15mph. If you travel faster than the set speed the electric motor acts as a generator to recharge the battery and slow the vehicle. While you won't be setting any speed records the TE 4×2 is a solid choice for any working man's utv.
TE 4×2 Specs:
$12,399 base price
900 lb payload
500 lb towing capacity
Best in class cargo box per John Deere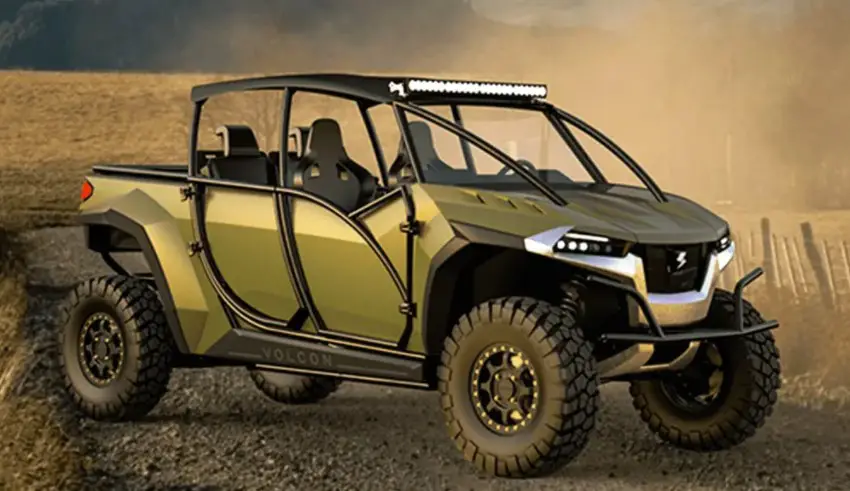 Volcon is a newer electric offroad vehicle manufacturer in America. The Stag, shown above, is one of two UTVs that the Austin based company is planning to launch next year. Stag is supposed to have a staggering (sorry) 150 mile range. It has an 80 kw (107hp) electric motor and is 64 inches wide. The width is identical to a Polaris RZR, and the horsepower is comparable to a non-turbo RZR which has 110 hp.
The Stag will have three battery pack options at 23, 46, and 69 kwh. It will have two and four seater options, and two or four wheel drive options. The Volcon is one of the UTVs we can't wait to see in production!
The Vanderall Brawley is one of the more exciting looking UTV concepts that has yet to enter production. This one blurs the line between UTV and Jeep Wrangler, but the end result looks amazing.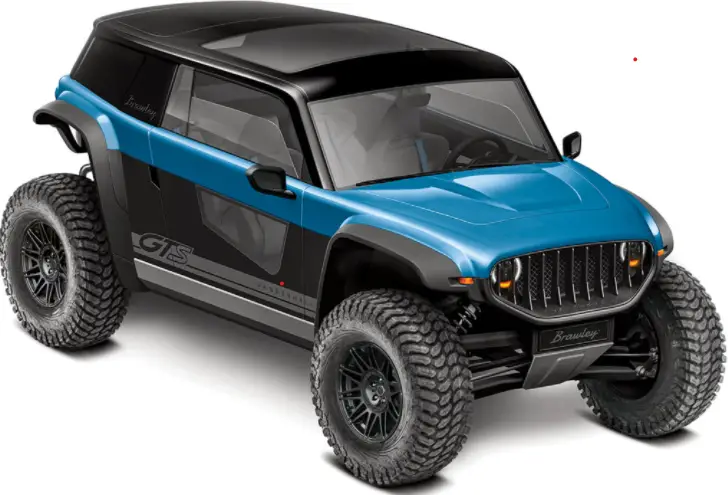 The Brawley is unique in that it is a fully enclosed UTV with heat and air conditioning. It comes stock with 35 inch tires and 22 inches of suspension travel. Which means that the Brawley will be more than capable for your off road adventuring. In case you were worried about power, don't be, the Vanderall makes a massive 404 hp and 480 lb-ft of torque.
The power comes from four electric motors, which will ensure precise control of each wheel. Four motor setups typically have superior control and traction compared to traditional transfer case 4wd systems. The plan is to offer this UTV with 40kwh or 60 kwh battery packs. Vanderall estimates the range to be 200+ miles which should be enough for most adventurers.
The price is expected to start at $34,950. Expensive for a UTV, but an absolute bargain for the off-road capability, horsepower, and enclosed cabin. We can't wait to drive it on the trails!
Electric UTV Benefits
The benefits of going electric keep getting better and better with each new model. Instant torque at 0 rpm allows for excellent off-road control. The silent drive train helps hunters sneak into deer stands without disturbing wildlife. The lack of having to worry about oil changes, spark plugs, air filters, and other maintenance makes electric ownership easier and more enjoyable.
With each year, battery costs drop, charging time decreases, and the range increases. The weight of electric UTVs has slowly become more competitive to their gas counterparts. Its only a matter of time before electric outperforms the internal combustion engine in every aspect.
Electric UTV Disadvantages
While there are many advantages of going electric, there are things to consider before making the switch. The battery sizes needed to power these side by sides generally make an electric utv heavier than its gas rival. The second disadvantage is the cost. Generally with going electric you'll have to pay the cost up front and earn your money back through a lack of maintenance expenses and reduced energy (fuel) costs.
The gap between gas and electric utvs have narrowed to the point where it makes sense to start considering the switch. With more and more companies spending money on developing electric drive systems and batteries, the performance and cost of these utvs will become more and more competitive. Let us know in the comments if you would consider going electric and what your favorite UTV is.