Japanese ATV brands are popular across the globe and they are dominating the market worldwide. This is because of their high-end performance and durability that they have a good reputation in the industry.
Good quality and safety are the two most important features that ATVs should have and these you can find in Japanese ATVs. Japan ATV tire brands are also available. The primary market for Japanese ATVs is the United States so you can find every Japanese ATV brand in America.
With different countries and manufacturers setting foot in the ATV market, there is a lot to choose from. The thing is, Japanese brands have catchy deals to offer and continue to command markets with their high consumer reports rankings.
So, it is easy to understand why Japanese ATV manufacturers are popular in the world. In this article, we have compiled the best Japanese ATV brands that are best in the market.
6 Best Japanese ATV Brand
ATVs or All-Terrain vehicles are also known as quad bikes. These automobiles are suitable to use in a wide variety of terrains in comparison to other vehicles.
Japan treasures some of the best ATVs in the market and it is the third-largest automotive producer in the world. Japan is popular for great artistry and this is the reason why high-end brands in the market belong to Japan.
The major Japanese ATV brands are Honda, Yamaha, Kawasaki, and Suzuki. These are incredible brands; Honda and Yamaha are the two most popular among them.
These four brands offer a wide range of ATV models that meet your driving requirements. Some of them offer beginner-oriented ATVs while others are more into sports and professional rides.
1. Yamaha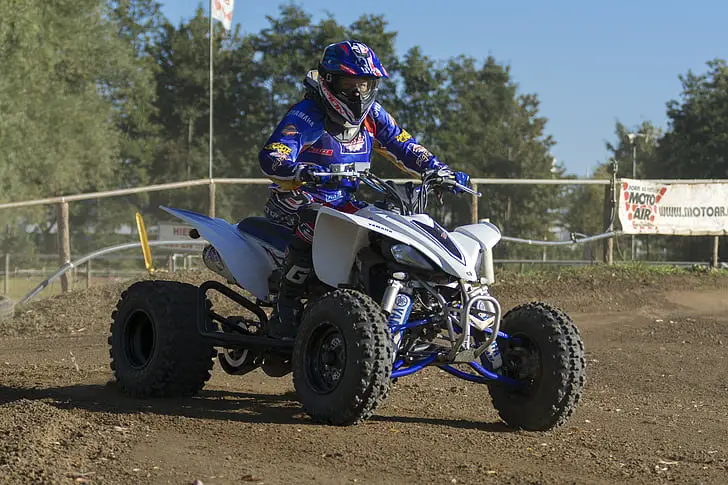 Yamaha is a Japanese brand that offers valuable products at an affordable price range. Today, Yamaha is one of the major Japanese ATV brands which is owned by Yamaha Motor Company Ltd. The company came into existence in 1955 in Iwata, Shizuoka, Japan.
Earlier Yamaha was part of Yamaha Corporation which was known for manufacturing different products like Guitars and Pianos but now both have a separate identity. Still, Yamaha Corporation holds a share in Yamaha Motors.
Other than ATVs, Yamaha also manufactures golf cars, motorcycles, e-bikes, electric bicycles, and scooters. The top-notch Yamaha ATVs are made to withstand any weather condition as they offer maximum control and power. Rocky trails and uneven roads don't bother you when you own Yamaha products.
Yamaha offers different ATV models that are suitable for novice, advanced, and racing. This is because the brand is concerned with providing customer satisfaction and value. Yamaha ATVs meet all these requirements.
The company is known for manufacturing the best ATVs, and its products are reliable and innovative. Yamaha products are efficient and this makes them expensive. ATVs from Yamaha are the best value product with durable engines, comfortable seats, electric starting, and wired tires that are suitable for rough use. The popular Yamaha products include
Yamaha Kodiak 700
Yamaha yfz450r.
Yamaha Grizzly EPS
Yamaha Grizzly EPS XT-R
Yamaha RAPTOR 700
Yamaha Grizzly EPS is a fuel-efficient ATV. So if you are looking for a fierce ATV, this is the right product. It features a high-end liquid engine that keeps the machine healthy and riders can go off-trail whenever they want.
2. Honda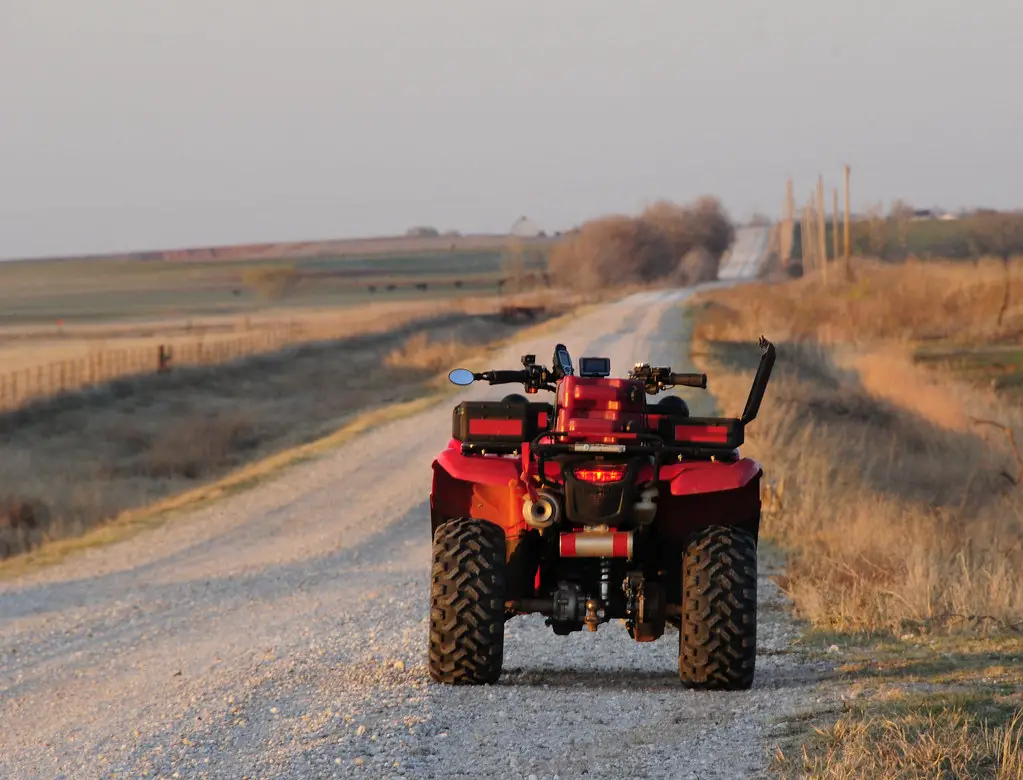 Honda is another popular Japanese brand when it comes to ATVs. It came into existence in 1970 and manufactures different automobiles like cars, motorbikes, Jeeps, and ATVs. It is the second-largest manufacturer of Motorcycles and ATVs in the world. Honda started producing ATVs in the 70s and it has been a leading name in the automobile industry. The company is known to manufacture advanced and durable ATV models. This brand has made its place in the global market as its products are made for all riding stages and they are suitable for all ages and skill types.
Honda ATVs are durable and strong with all the features that make them perfect for beginners. These are safe to drive so people are fond of Honda ATVs. Reliable, safe, and robust, Honda ATVs are a good choice for beginners.
Additionally, Honda ATVs are affordable and cheap. They are perfect for professional racing or riding. Honda ATVs are also best to go for beginners too. Beginner-friendly ATVs make Honda the best in the industry. The best products are:
Honda TRX450R
Honda FourTrax Rancher
Honda TRX400EX
FourTrax Rincon
Honda TRX250R
Honda Rancher and Honda CRF150R are the most popular ATVs manufactured by the company. The Honda CRF150R model is a powerful and durable product. It suits the requirements of every age. Honda Rancher has several features that make it ideal for general purposes.
Honda Pioneer 700A is another popular and superb product that is perfect for adventures. It is reliable in unfavorable weather conditions. Pioneer 700A is adequate for adventures and thrills. Full electronic transistorized ignition and fuel injection are its advanced features.
The liquid-cooled engine makes it perfect for adventures. The Fourtrax series by Honda is worth your money. The semi-automatic 5-speed transmission is user-friendly. Honda offers the best-in-class experience and can be your best bet.
3. Kawasaki
Another popular Japanese ATV brand is Kawasaki. The company manufactures high-end and powerful ATVs. This multinational company is known for manufacturing the first 400cc engines. The 400cc subscription of Kawasaki is one of the best in the automotive industry.
Kawasaki started producing ATVs in 1981. Since then it has received huge popularity and acceptance from customers.  About 30 million ATVs are sold by this brand in Japan. Kawasaki is popular and loved by many people all across the globe.
The motto of the company is quality, power, performance, and lifelong service. For ATV dealers, Kawasaki machines are always a good choice.
Kawasaki of Ninja Motorbike is famous for its high-quality products. ATVs of Kawasaki are powerful and have great quality. They are durable and offer great performance. The popular ATVs offered by Kawasaki are:
Kawasaki BRUTE FORCE 300
Kawasaki BRUTE FORCE 750 EPS
Kawasaki KFX 50 and Kawasaki KFX 90
The BRUTE FORCE series is powerful. It is perfect for general use and adventures. This can be used for towing, gardening and agriculture. Kawasaki Teryx is a popular Kawasaki model.
The brushless electric motor of this model has adjustable suspension. This ATV model can withstand harsh conditions like rugged terrains and is perfect for recreational activities and sports. Teryx can take you anywhere and everywhere.
4. Kubota
Kubota is Osaka based Multinational Corporation. It is popular for manufacturing ATVs, UTVs, and RTVs. This Japanese brand manufactures products in U.S. Kubota ATVs are known for exceptional performance and power.
It offers a comfortable and smooth ride. The company started in 1890 in Japan. The corporation focuses on producing powerful ATVs.
5. KYMCO
Kymco Company was a part of Honda and it is a Taiwanese company that works in the United States. This is a globally recognized company known for manufacturing ATVs, motorcycles, and scooters.
The top-notch ATVs are made to withstand any weather condition as they offer maximum control and power.  The headquarters is located in Spartanburg USA. Popular KYMCO ATVs models are
MXU 550i EPS
MXU 700 EX
MXU 300
MXU 700i EURO
6. Suzuki
Suzuki is one of the important Japanese ATV brands and it is also a top challenger in the ATV market. Suzuki is competing with popular ATV brands in the international market. It came into existence in 1909 and manufactures some of the most powerful ATVs in Japan. At present, Suzuki boasts 35 manufacturing facilities with 45,000 employees in twenty-three countries across the globe.  
Among the best Japanese ATV brands, Suzuki maintains its uniqueness. Suzuki uses powerful engines in ATVs which makes it popular in the international market. The ATVs offered by Suzuki are a perfect fit for traveling in rough terrain.
These are made for off-roading so you can check out Suzuki ATVs. They are affordably priced and well made which make them durable and robust. This combination is excellent and makes Suzuki ATVs one of the most loved all across the globe.
Suzuki is known for manufacturing ATVs with dual support for sports. It is one of the first companies to manufacture with innovation. Suzuki models are popular and produce powerful ATVs. KingSquad and The QuadSport series from this brand are two popular Suzuki series. The KindSquad series is used generally by ranchers, farmers, workers, and hunters. It is widely used in construction sites. The best Suzuki products are:
Suzuki QuadSport Z90
Suzuki KingQuad 750AXi
Suzuki KingQuad 750AXi Power Steering SE /Camo
Suzuki KingQuad 500AXi
Suzuki QuadSport Z50
These Suzuki products offer excellent speed and they are ideal for rough terrain. They are costlier than other brands. Suzuki Kingquad 300A is the one you can check for excellent performance.
FAQs
Q: How good are Japanese ATVs?
Japanese ATV brands manufacture vehicles that are suitable for all-terrain. They are popular across the globe and produce most ATVs in the United States. These are worth the money as they use powerful engines. 
Japanese brands started manufacturing ATVs years before Taiwan ATV brands. Honda, Yamaha, and Suzuki are popular ATVs manufacturers across the globe. They are famous Japanese ATV brands.
Japanese ATV brands assemble in the United States. This helps brands to manufacture budget-friendly and reliable ATVs. Japanese ATVs are the popular choice when it comes to rough terrain, recreation tour, heavy work, and sports.
Q: How ATVs Reliability can be improved?
Regular maintenance and service are required for getting longevity. When you need to spend extra hours on rough terrains it is important to take care of the ATV. This can be done by following:
1. No to heavy wheels
Use lightweight wheels such as aluminum that help in shedding off some weight.
2. Improve Gas
Gas mileage is improved using higher octane fuel. This minimizes corrosion of the ATVs fuel system. Ethanol-based fuel should be avoided as it is not good for engines due to its hygroscopic nature. Ethanol draws water and disturbs fuel mix and gums up the system which damages the engine. Check the oil level and make sure to clean it to enhance its longevity.
3. Use a better Air Filter
More air is necessary for your engine for more power. Thus, it is important to upgrade the air filter as this improves the quad's performance. Use a good quality air filter so it can provide excellent airflow. Choose the air filter with high-end air filtration media that helps in extending the lifespan of the engine.
4. Upgrade the Spark Plugs
Low-quality fuel can severely affect spark plugs. So it is better to upgrade spark plugs as poor quality fuel obstructs air filters and damages spark plugs. Non-functioning spark plugs can damage a vehicle's engine.
Q: What is a must in ATV?
Consider all the features when you choose ATVs. You can check the options available depending on the requirements such as off-road performance, engine horsepower, and comfort.
Buying the most reliable ATV brand is important and you can consult various forums to know about it. One of the most reliable Japanese ATV brands is Honda and it is best for all skill sets. Beginners and experienced can use Honda ATV.
Yamaha produces the best-performing and advanced ATVs. This is because Yamaha is perfect for sports person and adults.
Undoubtedly, you can buy ATVs of these two brands if you are looking for a high-end, durable, and cost-effective ATV. These are two trusted brands so you can find the one that suits your requirement.
Concluding Remarks
Japanese brands are winning the global ATV markets. The products offered by Japanese brands are durable, robust, and affordable. Some Japanese brands manufacture ATVs for a specific purpose while some manufacture all-purpose ATVs.
Looking for Best Waterproof ATV Speakers, Read out the guide on this link.
Beginners can buy Honda ATVs and brands such as Yamaha manufacture ATVs that are more advanced and technical. It can be the best bet for professionals. At last, you must consider product cost and your budget before buying ATV.