Chinese ATV brands have made their place in the global ATV market. They are becoming popular nowadays as Chinese brands are upgrading their ATVs with the latest technology. Chinese brands are adopting new techniques to make them long-lasting. Buying a Chinese ATV can be a bit confusing as many brands manufacture high-performance and best-quality ATVs.
Chinese ATVs are the most sought-after vehicles as are equipped with advanced technology. Buying ATV requires research so you can an informed decision. Here we have compiled some of the best Chinese ATV Brands so you don't have to worry about making the right choice.
8 Best Chinese ATV Brands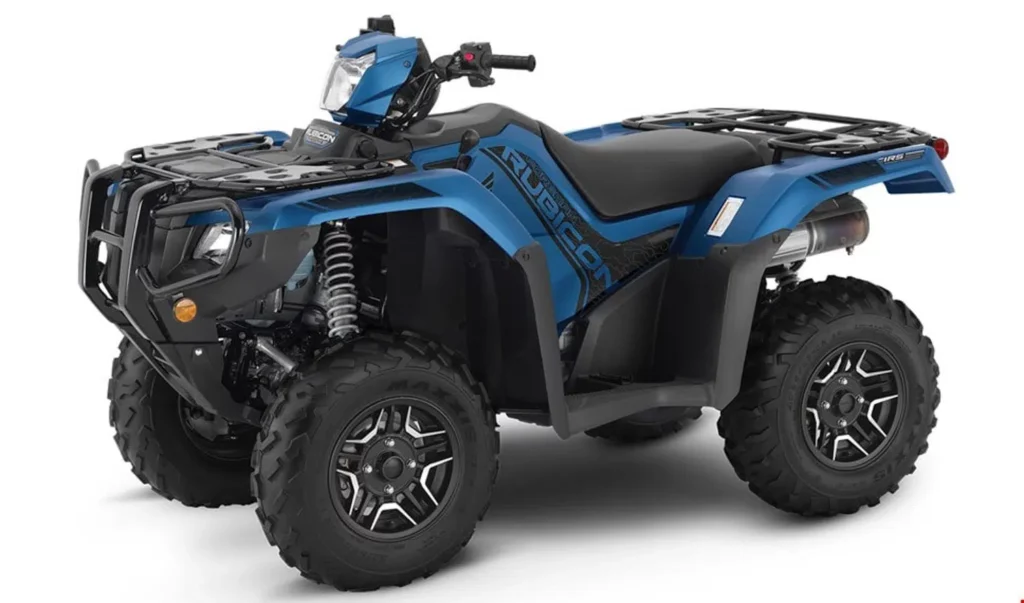 Every Chinese ATV brand claims to be the best in the market but you should beware of what you are buying. Some brands are on the top list and they have set their reputation high in the industry. Below mentioned are exclusive Chinese ATV Brands that meet the requirements of customers without overburdening the pocket.
The best Chinese ATV brands are:
Apollo
CFMoto
Coolster
Linhai
TaoTao
X-PRO
IceBear
Yongkang Bayoing
1. Apollo
Apollo manufactures ATVs under Zhejiang Apollo Motorcycle Manufacturer Co. Ltd. The company also manufactures electric scooters, ATVs, electric bicycles, and dirt bikes. ATVs manufactured by Apollo hold an esteemed position in the market and they are available in the U.S market.
These ATVs are known for excellent quality products. When you are looking for an affordable and powerful ATV, you must consider Apollo ATV. Every year Apollo manufactures different types of ATVs. Apollo 150cc ATV can go 35+mph.
Apollo ATVs are available in different colors like black, white, and red. The price of ATVs varies depending on dealers and locations.
Apollo ATVs feature a powerful engine with the latest model. 200cc engine is the star of Apollo ATVs and it is one of the best one available. Apollo uses single-cylinder four-stroke blocks that are perfect for four-wheelers.
Zhejiang Apollo keeps the product prices cost-effective so that the common man can easily buy ATVs. Chinese brands install premium parts in vehicles at a low price. Apollo ensures that their vehicles are durable so they do not compromise on quality and they are one of the best in market.
Apollo ATV models are:
Apollo Sportrax 125cc
Apollo VMoto Blazer 9 125cc
Apollo Sniper 125cc
Apollo Commander 200cc
2. CFMoto
Founded in 1989 with its Headquarters in Hangzhou, China, CFMoto is a popular motorcycle company and also manufactures other vehicles. The company is a partner of KTM. Sometimes people think CFMoto is a Canadian brand but make it clear that it is a Chinese ATV brand. CFMoto manufactures ATVs, motorcycles, apparel, and vehicle accessories.
CFMoto manufactures all-terrain vehicles that are strong and budget-friendly. When it comes to popular Chinese ATV brands, CFMoto holds its place. CFMoto is run by KTM, a successful motorcycle company. When you are looking for a durable and reliable ATV, you can consider CFMoto.
Popular CFMoto ATVs:
CFORCE C800 XC
CFORCE 500
CFORCE 600
CFORCE 400
3. Coolster
Coolster is an ATV-manufactured Chinese brand. The brand came into existence in 2002 and initially manufactured electric seated scooters and now manufactures go-karts and dirt bikes with ATVs.
At present, Coolster has five hundred dealerships in the U.S. You can find varieties of ATV models of the Coolster brand. The company uses advanced technology to manufacture its ATVs. Coolster is among the best Chinese brands and their ATV's speed range from 25mph to 58mph.
No one should miss an adventure journey on rough terrains but off-road needs additional precautions. With Coolster ATVs, you need not worry about reliability and safety as they are safe for all age groups. The products can withstand the roughest terrains and are very durable. Coolster knows the value of customers and they offer products at affordable rates.
Popular Coolster ATVs:
Coolster ATV-3050C (125cc)
Coolster ATV-3125B2 (125cc)
Coolster 3150DX-2 (150cc)
4. Linhai
Linhai or LYM was founded in 1956 and it is also a Chinese 4-wheeler brand.  The brand offers four different types of product ranges like UTVs, motorcycles, mopeds engines, and ATVs. Linhai exports ATVs all across the globe. Africa, North America, Asia, and Europe are the biggest marketplace for Linhai ATVs.
Linhai ATVs are ideal for fun and off-road experience. These ATVs offer excellent speed but they are not high-performance and durable like American ATVs brands. It is a joint venture between Jiangsu Linhai Power Machinery Group Corporation and Yamaha Motor Co. Therefore, Linhai-Yamaha is common to see.
Popular Linhai ATVs:
Linhai 500-D
Linhai M150
Linhai M550L
5. TaoTao
Tao Tao, also known as Tao Motor is a Chinese ATV brand that was started in 1985 in Jinyun country of the Zhejiang Province, China. It has a stronghold in the American market and manufactures go-karts, scooters, mini bikes, and many other vehicles like mountain and dirt bikes.
Tao Tao, a Chinese brand is esteemed for its high-end products like other reputed Chinese brands. There are now 19 ATV models offered by Tao Tao on the market and we can say these are one of the best most amazing ATVs in the industry.
Tao Tao is popular for cost-effective ATVs, they are reasonable and one of the best Chinese ATVs. If you want superior quality off-roading ATVs at affordable pricing, Tao Tao is one of the best options you can go with.
When you do have not so high budget to spend on ATV, Tao Tao ATV is perfect as it is cheap. These ATVs are comfortable to ride and may be best for you. Tao Tao ATVs are ideal for hunting, hauling, and trail riding.
Not only ATVs, but Tao Tao also provide mini bikes, scooters, motorcycles, supplies, and apparel in the U.S. The company is popular for its high-quality products. Tao Tao is a globally accepted ATV brand that is known for superior quality products with low cost and exclusiveness.
Popular TaoTao ATVs:
TaoTao Adult Size Rhino 250
TaoTao Bull 150cc
TaoTao TFORCE 110cc Youth Size ATV
TaoTao Utility ATA-125D – 110cc ATV
6. X-PRO
X-PRO brand offers ATVs for kids and adults. This is a well-known brand for youth ATVs but manufactures 4-wheelers of all types and sizes. X-PRO ATVs are manufactured in China and available in the United States.
The company has established a warehouse in California and assembles ATVs there. The production is increased all across the world. These ATVs are simple to ride and beginners can ride them easily. So X-PRO ATVs are the best choice for a novice.
X-PRO uses high-quality parts to ensure superior quality products. These vehicles have the brightest headlights and the seats are the most comfortable. Because of all the high-quality elements, it is clear that the price rises.
These ATVs have the best-performing engines which is the highlight of the X-PRO. You can find sturdy motors even in the smaller quads. The four-stroke engine keeps check on overheating and it ensures that your vehicle works well in the roughest terrain. Wide tires make ATVs the best in the market and the most efficient in the industry.
If you like brisk acceleration and those high-speed riding then X-PRO is the brand you can consider for sure.
Popular X-PRO ATVs:
X-PRO EAGLE 125CC ATV
X-PRO 125CC ATV
X-PRO THUNDER 125CC ATV
X-PRO BOLT 110CC ATV
7. IceBear
Ice Bar ATV's parent organization is Pacific Rim Int'l West Inc (PRIWI). It manufactures ATVs under Icebar. Since 2006, Icebar is offering ATVs on the market. The company manufactures its vehicles in several locations all across the globe.  The product development center of IceBear is in Japan.
 Their ATVs are made by IceBear in China, and their product development center is said to be in Japan. The ATVs from IceBear are powerful and affordable. They can withstand any rough terrain conditions. You can easily find ATVs in the United States.
Popular IceBear ATVs:
IceBear PAH110-2
IceBear PAH125-8S
IceBear PAH125-8E
8. Yongkang Bayoing
This brand has global recognition and has been producing four-wheelers with high-end designs for decades and at a reasonable price. The company uses the latest technology to depict advanced features. The most interesting part about the brand is that it keeps costs low so that everyone can easily afford their ATVs.
The brand does not compromise product quality and uses high-quality parts without increasing price. Therefore you should not worry that you will not get exclusive products at low cost. Four-wheelers offered by Yongkang Bayoing have resilient and robust engines. They are air-cooled engines and vehicles do not overheat on long journeys.
Yongkang Bayoing's ATVs are perfect for adventures. Novice adults can learn to ride on mini 50cc ATVs. The small quads are ideal for teenagers. The vehicles have strong brakes and handles that can be moved easily.
Popular Yongkang Bayoing's Models:
110cc/125cc 4 Stroke off Road 4 Wheeler ATV Quad
50cc Mini ATV
FAQs
Q: Where You Can Buy Chinese ATVs?
You can buy Chinese ATVs from a local dealer. There are several Chinese ATV dealers all across the country and they have varieties of models available in the store. This makes it easy to choose the one you want.
Another way to purchase Chinese ATVs is from an online store. Look for the Chinese ATV manufacturer site for deals and discounts on the models you require. This is a great option when you are buying more than one. You can buy from online stores of Chinese ATV brands.
Also, E-commerce websites offer high discounts so you can order online from any leading website. Some E-commerce websites offer ATVs from popular brands.
Q: Is It a Good Decision to Buy Chinese Four Wheelers?
There is a common perception that Chinese products are low-quality. Some Chinese brands use low-quality parts for manufacturing their vehicles which results in a not-so-good outcome.
However, premium brands use advanced techniques and superior-quality parts for manufacturing best-in-class vehicles. So, it is necessary to choose a reputed Chinese brand when buying four-wheelers.
When it comes to Chinese ATVs, they are worth investing in. They are generally electric-powered and cheaper. Chinese ATVs are valued for money. The market is flooded with varieties of brands and the costs of ATVs are also high so not everyone can afford them. Thus, people go for Chinese brands.
In comparison to mainstream ATVs, Chinese brand ATVs are a bit less reliable but you get experiences of ATV riding at a very reasonable price. So, Chinese brands are worth investing in if you are on a budget.
Q: Are All Chinese Brands the Same?
Chinese-brand ATVs are made according to the specifications. Generally, Chinese ATV brands allow suppliers or factories to put together different parts. It means different brands can use the same factory to manufacture their vehicles. Popular Chinese brands use air-cooled engines and other brands use water-cooled engines.
It is evident that the internal engines of ATVs are different from each other and they are not copies of mainstream brands. This is important to know that Chinese ATVs are not superior performance vehicles and they are different from mainstream brand ATVs that are manufactured for professional use.
However, Chinese ATV brands are great alternatives and give memorable off-road experiences. Chinese ATV brands are best to go if you are on a budget.
Final Thoughts
China is one of the biggest manufacturers of ATVs and several popular brands of ATVs belong to China. These brands are affordable but not high-performance as Japanese or American ATVs.
Chinese ATVs are perfect for beginners and can be used for fun but they are not ideal for hauling, farming, or sports. Several international distributors sell popular Chinese ATVs all across the globe. You can find a Chinese ATV dealer at your place if you need an affordable ATV. The market is flooded with top Chinese ATV brands.
From the above list, our favorite Chinese ATV brands are Apollo and Tao Tao as they use high-quality parts to manufacture their ATVs.