What is the fastest stock UTV from the factory without needing modifications? A lot of people need to modify their Side by sides in order to increase their top speed. But doing so could void manufacturers warranties. So now we're looking for the fastest stock UTV that we won't need to make any modifications too.
Of course we will look at top speed, but we also want quick acceleration from the start. Where you're riding makes a difference too. If you plan on riding a racing track, having the highest top speed and acceleration doesn't necessarily mean you have the fastest UTV.
As promised, I'll start with a list of the top 5 fastest stock UTVs from the factory. From the factory means that's how the UTV is purchased and driven off the dealer's lot. It also means no modifications done to increase performance. If you're looking for UTVs for hunting, you should check out our list of best electric UTVs, but if you're looking for a workhorse, be sure to see our list of best diesel UTVs.
Top 5 Fastest Stock UTVs
These UTVs are listed in order of top speed. Some side by sides might have more horsepower than others, but ultimately top speed is a combination of horsepower, gear ratios, and aerodynamics. The list may vary a little depending on who's driving the machine, weight of the occupants, or if any modifications have been made.. Everyone drives differently, you may be able to drive number 3 faster around the track than you could number 1.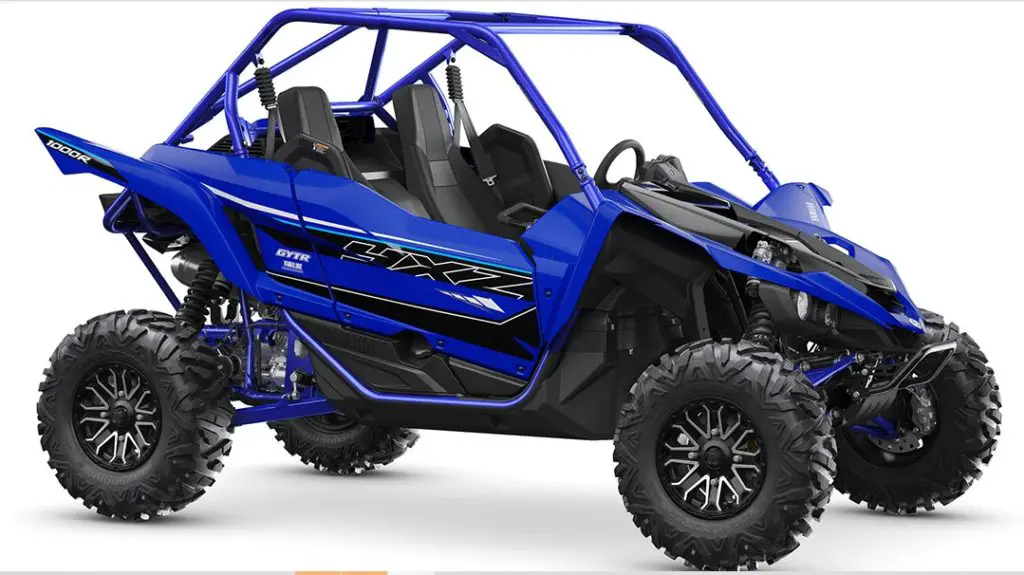 The Yamaha YXZ1000R has a top speed of over 105 mph making it one of the fastest production UTVs. The YXZ is powered by a 998cc inline 3 cylinder engine derived from their snowmobile line.
This is the only production UTV to have a manual transmission. In fact it has a 5 speed sequential gearbox and a 3-way locking differential which allows you to select 2 or 4 wheel drive with diff lock.
The YXZ 1000R has 103hp and 113 lb-ft of torque. This enables the UTV to rocket to 60 mph in just 4.1 seconds. UTV driver claims it will do the quarter mile in 12.7 seconds at 105 mph.
If for some reason this side by side feels tame to you, Packard Performance has a kit that can boost your YXZ to 700hp! I'm not sure what the top speed of a 700 hp YXZ would be, and I'm pretty sure I don't want to know.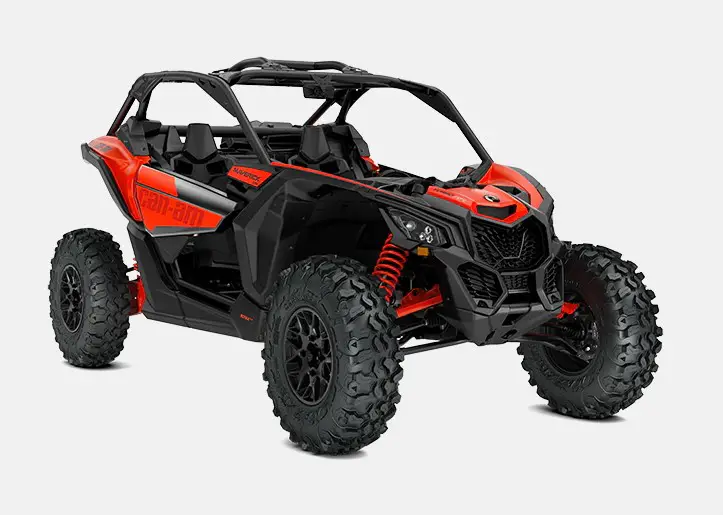 Unlike the YXZ, the Can Am has a turbo straight from the factory. The Can Am X3 RR has an insane 200 hp coming from its triple cylinder Rotax Ace Turbo RR engine. Its actually the first side by side to offer 200hp straight from the factory. This massive horsepower number propels the X3 to a top speed of approximately 100 mph.
The Can Am has a 102 inch wheel base which is 7 inches longer than the YXZs. This will make it feel slightly more at home at top speed. The X3 also happens to be very wide at 72 inches. This is wider than the typical 64 inches on the YXZ.
The X3 also comes with a host of off-road features such as a lockable front differential. It also has standard selectable 2 to 4 wheel drive. Can Am has a vast selection of X3s. So whether you like the sand dunes, trails, desert, rock crawling, or some combination of those, they have an X3 for you.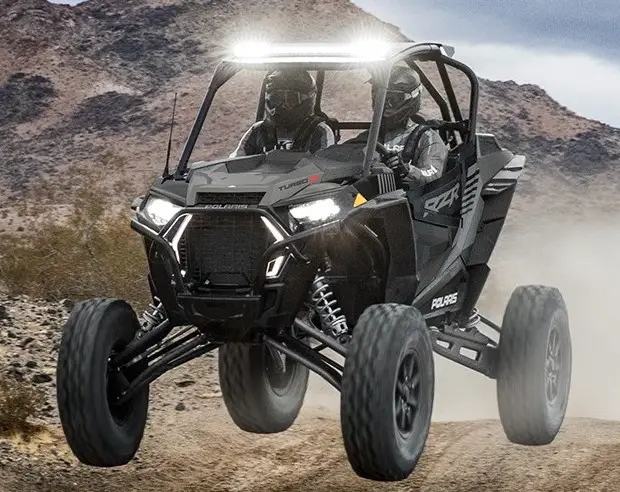 No list have performance side by sides is complete without the Polaris RZR. The RZR basically kick started this market segment. Polaris's highest performing UTV is the RZR Turbo S. The Turbo S makes an impressive 168hp from its twin cylinder turbocharged 998cc engine.
Although the RZR is a little down on power to the X3, it still can reach a blistering top speed of 85 mph. The RZR has a governor set to this speed. So the top speed of an ungoverned RZR could be much faster. However we don't recommend tampering with the governor. While 85mph may not seem very fast compared to your car, remember this is a top speed off road and not on pavement.
The RZR has 25 inches of suspension travel so that it can suck up all the bumps and whoops at high speed. The 72 inch track width will also keep this beast stable at speed. Like the Can Am, Polaris offerings many different types of RZRs to cater to whatever type of riding you like to do.
Since the RZR has been on the market for the longest, it has great aftermarket support. This makes it a great choice for those who like to customize their rides or add more power.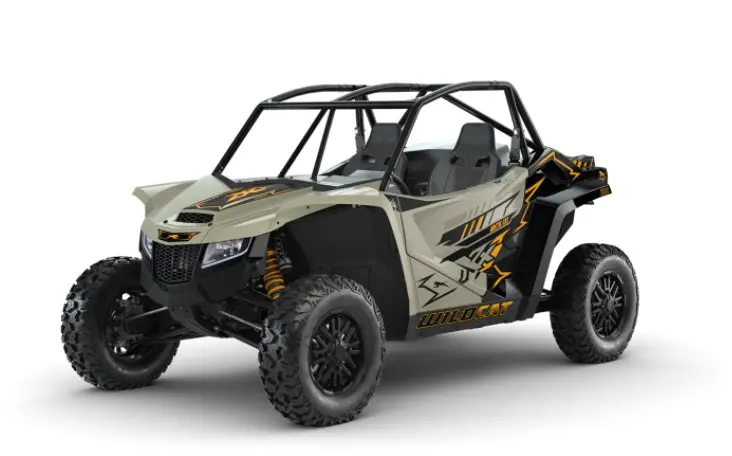 The Arctic Wildcat XX is another great option for a fast UTV. It is governed to a top speed of 75mph. The XX has a 130hp engine, paired with 18 inches of front and rear suspension travel. In other words, this beast is ready to rip up the trails.
The Wildcat XX isn't just built for top speed it also has 4wd which can be selected on the fly. With the 4wd, you also have a locking differential. The XX also rides high with 15 inches of ground clearance.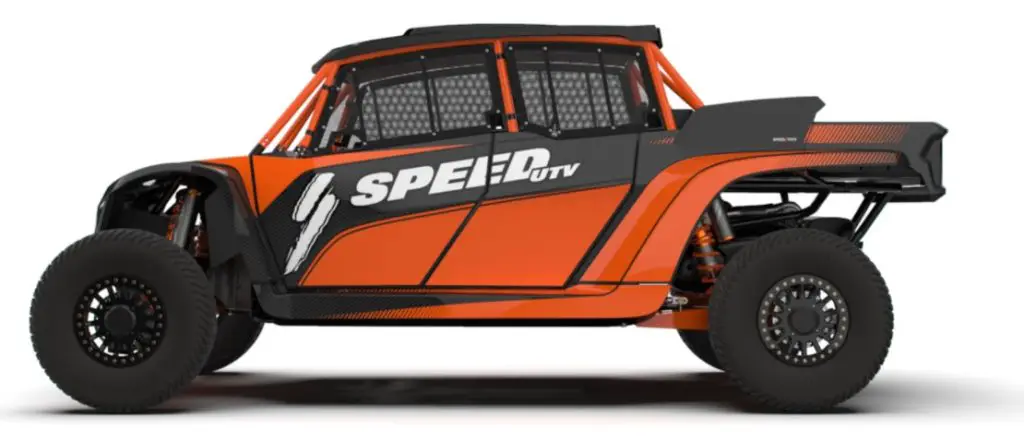 Last on our list is the SpeedUTV Baja Bandit. SpeedUTV hasn't gone into production on this UTV yet, but we know its going to be a beast. The standard turbocharged 999cc engine makes 225hp, but there is a big bore 1400cc option to boost that number to 300 hp.
This UTV was born in the Baja which is home to some of the toughest and fastest off road races. With 22 inches of suspension travel front and rear, the Bandit should be able to handle the Baja's tough course. The Baja Bandit also has 30 or 33 inch tire options and 15.5 inches of ground clearance.
Personally i'm very excited to see these go into production and I think they're going to make waves in the side by side racing community.