Side by sides are a lot of fun to own and use. Sharing that fun with your family is very important to many UTV owners, but it can be difficult unless you have the right side by side. We've put together a list of the best side by sides for families and what makes them so good.
What To Look For In A Family UTV?
So what features should you look for on a family UTV? The first is a backseat. Many UTV's can seat 4 people, but if you have a bigger family, you might need a 6 seater side by side. The next thing you want to look at is the engine. You want a powerful engine to haul all your people and equipment, but you don't want an engine that is tuned for racing and hard to drive leisurely.
Another item that should be on your checklist is engine noise. Some side by sides are incredibly load, but others on this list only make 76dB at 20 mph (a dishwasher emits 70dB). So now lets take a look at our list of best family UTVs.
1. 2022 Honda Pioneer 1000-5
The Honda Pioneer 1000-5 is an excellent side by side that starts at $18,099. The Pioneer has plenty of helpful features like: cupholders, electronic power steering, and a rear bed that can be converted into extra seating.
The Pioneer 1000-5 has an industry first six speed DCT (dual clutch transmission) which if your someone who dislikes CVT's this is good news. This is a really innovative for side by sides and we hope more manufacturers offer similar transmissions. What this means is that instead of having to worry about belts breaking or wearing out, you have gears like in a car. This makes the transmission more durable than a CVT.
Certain UTVs like the Polaris RZR utilize CVTs because of the harsh bouncing and off road conditions they experience. A CVT can absorb rough off road riding better than gears, but the style of driving that a Pioneer is typically used for, gears make much more sense.
If your family has a small boat, the Pioneer can tow up to 2,000lbs and has a cargo capacity of 1,000lbs making it a formidable work horse. Pioneer 1000-5 is powered by a 999cc twin cylinder engine.
Pros:
1,000 lbs bed capacity
2,000 lbs towing capacity
Seating for 5
Innovative six speed DCT
Polaris is one of the leaders in the side by side industry and they have plenty of UTV options. The Ranger Crew XP1000 is a 6 seater family sized side by side that catches our eye.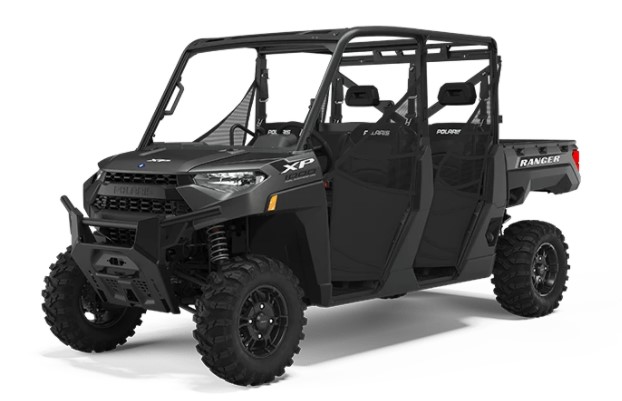 The Ranger Crew XP1000 has a powerful 82hp engine so you'll have no problem reaching your destination with the whole family eve if you have a lot of luggage. This UTV is perfect for play as its 2,500 lb towing capacity is one of the highest of any UTVs. As a side note we wrote a blog post on how much UTV's tow and you can check it out here.
This Ranger comes equipped with 27 inch tires and 11 inches of suspension travel. To go along with those impressive stats is a 13 inch ground clearance. Although this UTV is a great work horse and people hauler, it is also off road capable. You can't go wrong with a Polaris Ranger Crew XP1000
82 hp engine
2,500 lb towing capacity
13 inch ground clearance
1,000 lb bed capacity
17 foot turning radius
Polaris is one of the few major manufacturers to have to have an electric UTV on the roster. In December they are unleashed the all new 2023 Ranger Kinetic XP. Polaris says it will be there most capable Ranger gas or electric. There are even photos of the Ranger pulling a truck!
We can expect more electric offerings from Polaris thanks to their new partnership with electric motorcycle manufacturers Zero motorcycles. The Kinetic XP is the first fruit of this partnership. The Ranger EV is an absolute workhorse starting at $24,999. The Ranger has an industry leading 110hp and 140lb-ft of torque thanks to its Zero Motorcycles sourced engine. It has a massive 2,500 lb towing capacity and a 1,250 lb payload capacity.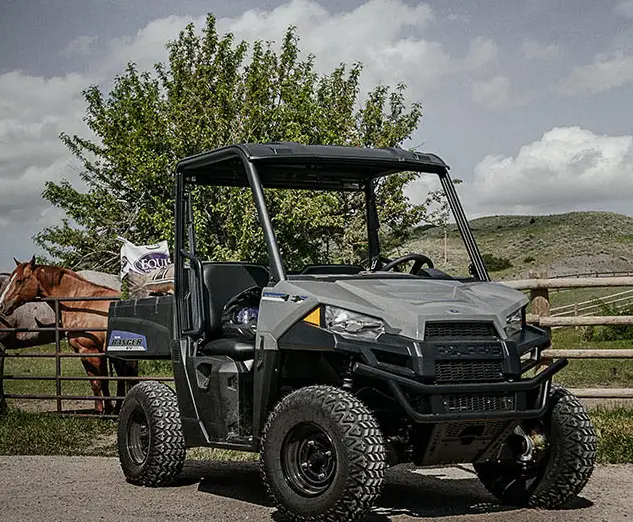 Armed with 4×4, 10 inches of ground clearance, and 9 inches of suspension travel, the Polaris won't have a problem off-road. A battery life indicator is on the dash, so you don't have to worry about getting stranded. The Ranger also has an extremely impressive 80 miles of range!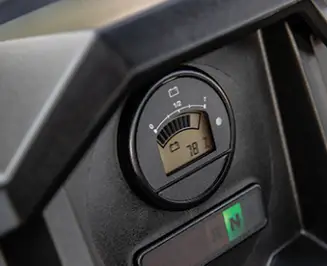 In 2wd the Ranger is very quiet, however when shifted into 4×4 the drive train noise increases and can be bothering. This UTV is perfect for small families, farming, working off road, and hunters. The 1,250 lb payload will be able to haul all your gear to your tree stand and back. Plus, it even comes with a camo paint paint job. Polaris says it can charge on either a 120V or 240V outlet.
Ranger EV Specs:
1,250 lb payload capacity
2,500 lb towing capacity
9 inches of suspension travel
110 hp
1,762 lb dry weight
5 hour charge time
80 mile range
While the Yamaha Wolverine X4 only seats four people, it is a very exciting UTV. Its short 83.7 inch wheelbase makes it an agile vehicle. It is an ideal family side by side for the trails.
The Wolverine has an 80hp engine so it can move your family in a hurry if needed. This power is sent to the wheels through an ultramatic transmission. Which is basically one of the smoothest CVTs on the market.
It has three selectable drive modes: 2wd, 4wd, and 4wd with diff lock. Basically it'll be hard to get the X4 stuck.
In case you aren't taking the family, the rear seats fold down to allow for extra cargo space. If that cargo is heavy, don't worry because Yamaha gave this beast self-leveling shocks. If you don't need the extra seats, this is the perfect family side by side.