Are you looking for a daily motorcycling backpack that is both spacious and comfortable? Wrapping these two credentials into a single product not only makes your ride more convenient, but it can also make your trips more enjoyable. If you are in the market for such a product, Viking Bags provides the Velocity Backpack to suit your needs.
What Is It?
The Viking Velocity Backpack is a hard shell backpack that has adequate space for daily use. Whether you're headed to the office or the classroom, the Velocity Backpack has the storage you need. It's padded backing and rigid exterior offer the comfort of a regular backpack while providing added protection for your valuable contents.
You may be wondering why you need a special motorcycle backpack when just any old backpack will do. Well, the truth is that you can ride your motorcycle with any backpack, but it will not be as comfortable as the Velocity Backpack.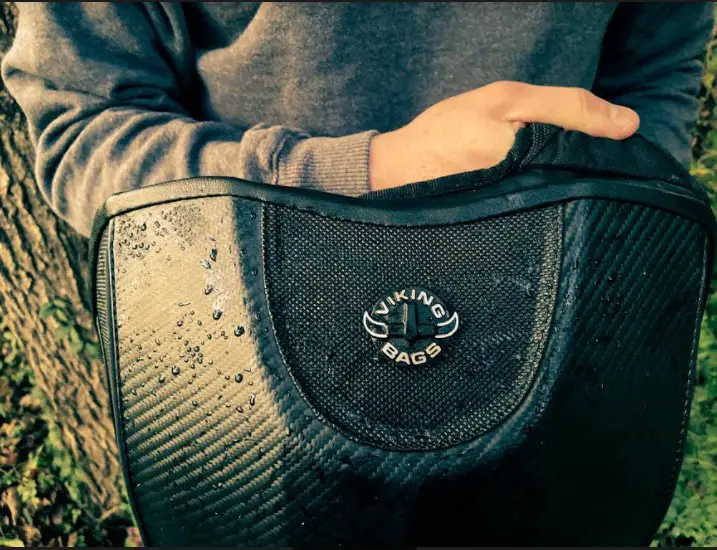 The Velocity Backpack is designed specifically for motorcyclists. This means that it is comfortable and convenient to wear even while riding your bike. The chest strap securely fastens the backpack to your body to meld your and the bag's weight into one. This feature is necessary for providing a safe, enjoyable motorcycle experience. Opting for a non-specialty backpack that slides around mid-turn and throws you off balance can pose certain risks and distract you from the road.
Features
The Velocity Backpack is made from a polyester/fiberglass material. The material is not only sturdy, it also provides weather resistance from the elements.
The bag's measurements come in at 14.5″ x 7″ x 20.5″ (L x W x H) giving it 1,490 cubic inches of storage capacity meaning that the backpack is the perfect size for a carry on bag and could be used in such a manner. In this sense, the backpack has the potential to cover all of your travel needs.
The interior of the bag has dedicated laptop, tablet, and phone pockets. The Viking bag also comes with a pack that you can attach to the backpack via velcro loops. It also has a quick-release chest for ergonomic weight-distribution.
Review
This product is unique to motorcyclists because it provides an aerodynamic and easy way for motorcyclist to carry cargo. This is especially convenient for sport bike riders who will struggle to find cargo capacity on their motorcycles.
I found the backpack's 1490 cubic inch storage capacity spacious. In fact, it was able accommodate my laptop, charger, notebooks, and a large, heavy textbook from my college days with room to spare. The Velocity Backpack had more than enough space for my needs. I appreciated more than the space though; the backpack was comfortable to wear despite being weighed down with multiple heavy books.
I also found the Velocity's shoulder straps to be easily adjustable. This allowed me to quickly make the backpack comfortable to wear regardless of the weight of its contents. The additional front pack that comes with this bag was on the smaller side, but I still found it large enough for a wallet or cell phone. The front pack conveniently attaches to the bag making it a useful addition albeit a bit small.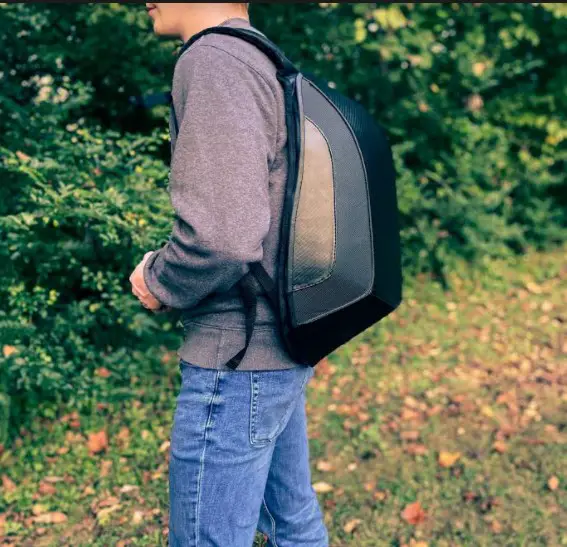 The Viking Bag claims that it is weather resistant so due to a lack of rain I tested this weather resistance by spraying it with a garden hose. The bag performed well. The inside remained dry and the water droplets had trouble staying on the hard shell.
Lastly, I love the aerodynamic style of the Velocity Backpack. It blends in while riding and its shape doesn't give you any drag unlike some backpacks which can feel like parachutes.
Pros and Cons
The comfortable fit, adjustable straps, dedicated technology pockets, and bonus front pack make the backpack wearable and easily accessible for travel. The well planned aerodynamic design, in addition to the weather resistant features, make this high quality bag perfect for riding in any condition therefore reducing some of the stress of riding in unforeseen climate conditions. 
A couple of minor downsides are that you have to take the backpack entirely off in order to access the inside and while the front pack is a nice addition– it is small in size. To remedy this, a slightly larger front pack that can store multiple items at once could be a nice feature. Having your phone, wallet, keys, etc. within reach would make quick stops even more convenient.
Overall, the features of the Velocity Backpack offer many advantages to the owner. Whether going out for a joy ride or even a weekend trip, this bag is both practical and ready to support your adventurous side.
Conclusion
Compared to other products on the market, this backpack offers the convenience of carrying your personal items on you at all times in a non-cumbersome way. Purchasing a backpack designed for motorcyclists means you'll be ready to hit the road as soon as you purchase your bike, and having your every day carry on your person relieves the stress of purchasing secure, lockable saddle bags for your bike. Opting for a backpack over saddle bags also affords you the freedom to easily transfer bikes, whether you own multiple or are a frequent renter, without much planning. 
Viking Bags highlights that they "want to make things, add things that no one knows they want and can't live without once they get it." They certainly achieved their goal in producing the Velocity Backpack. Having recently relocated from Chicago to a more mountainous area, I plan to make the backpack a staple in my everyday gear as I ride to scenic overlooks and explore new hiking trails along the way. Simultaneously, the Viking Velocity Backpack offers numerous benefits to those in more urban areas looking to get daily use out of their bikes either on the commute to work or running errands. With Viking Bags, you know you'll be purchasing a well crafted, versatile product to suit all your needs. You can learn more about Viking Bags here.