Do you like off roading? Do you want your kids to like off roading? Well starting them out early is the way to them hooked on the hobby, and there's not better way than a kid-size ATV. ATVs (All Terrain Vehicles) are an easy and relatively safe way to get your child into off road motorsports.
Not only are these ATVs easy to ride, they can also come with safety features such as speed limiting. If you're in the market for an ATV for your kid, we've done the homework and picked out the top 5 ATVs for kids.
How to Pick Out an ATV
Before we discuss our top 6 picks of ATVs for kids, we need to determine a few things about your purchase. How old are your kids? How long do you want them to use the ATV? Some of the toy ATVs will be outgrown quickly, while others will adjustable handlebars to accommodate growth. Another question, is do you see this as a toy for conquering the backyard or are you trying to introduce them to trail riding?
All of these are good questions to keep in mind when checking out an ATV. If your looking to introduce your kids to trail riding, you'll probably want to start them on a gas powered ATV with an automatic transmission. However, if your just trying to find a toy for the backyard, electric ATVs can be cost effective, easy to maintain, and very easy to ride.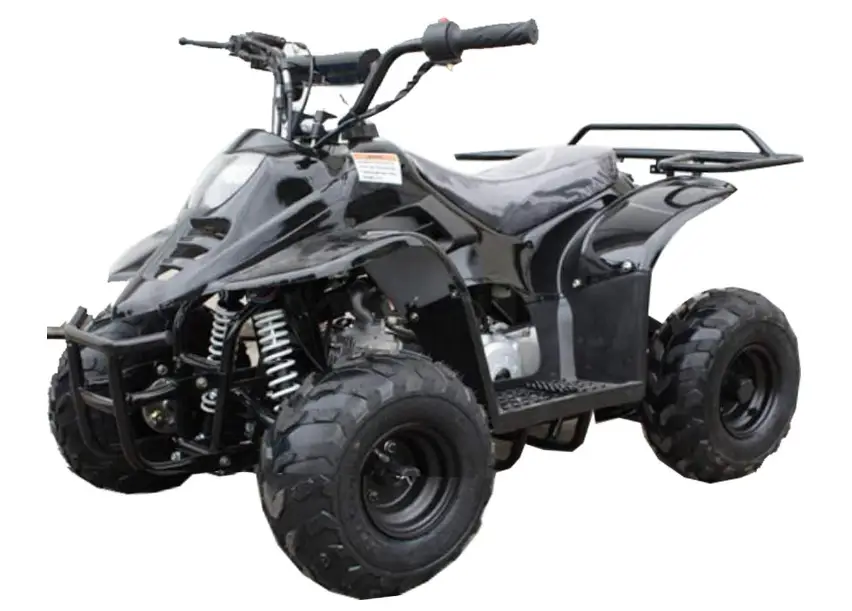 The X-PRO is our top choice for best atvs for kids. Not only does it have a powerful 110cc engine, it also has excellent safety features for parents like remote stop and speed limiting. The X-PRO's automatic transmission will make it easy for your new rider to operate the ATV and focus on the trails. Some of the key safety features include:
Engine Kill Switch
Remote Stop
Speed Limiter
Foot Brake
Tail Light
Not only is this ATV safe its also fun to ride! This tiny, air-cooled engine puts out 4.8 lb/ft of torque at 5,500 rpm. The electric start means anybody can start this ATV up and you won't have to worry about kick-starting just yet. This ATV is also relatively light weight at 132 lbs and has a modest ground clearance of 2.84 inches.
Over all the X-PRO 110cc ATV is an excellent choice for ATV young ATV riders, and an excellent gateway into off-road riding. For more information and the the latest price click here.
Is the 110cc too much engine for you? Well then check out the electric powered Razor Dirt Quad. The Razor comes equipped with 13 inch knobby tires, perfect for backyard adventures and light trail duty. The battery is good for 40 minutes of continuous use and top speed is a blisteringly fast 8 mph. Despite the Razor's low price, it comes with a coil shock rear suspension. This will help it conquer any backyard or hold up to light trail duty.
The Razor can support riders weighing up to 120lbs, although it is better suited to younger and smaller children. Although it is a small quad, the handlebars are adjustable to accommodate a wide range of riders. Another nice feature of this quad is that it is designed to be stored vertically, saving precious space in your garage.
Overall the Razor is great entry to ATVs and has a great price. For more details or to check the latest price, click here.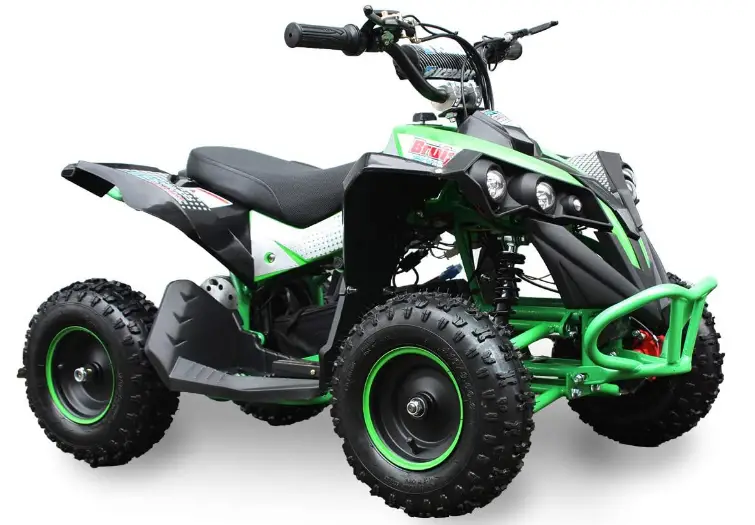 Keeping the trend with electric ATVs for kids, is the SYX Moto Bruiser. Not only is this one of the best looking ATVs on this list, it comes with a powerful 800W electric motor. Don't worry the top speed is controllable by the parent. You can restrict the top speed to 5mph, 7.5mph, or top speed is 12.5 mph.
This ATV is recommended for riders ages 6 and up with a max rider weight of 176 lbs. It works best for riders between 3.5ft and 4.6ft tall. The battery is good for 40 minutes of continuous use and a charge takes 6-8 hours.
However, it should be noted that some assembly is required. The ATV comes 85% assembled, but you'll have to install the front shock absorber, front/rear wheel, handlebar, and the bumper. But don't worry. This a video and picture instructional guide is provided. On top of this, the Bruiser comes with a 60 day warranty from product delivery. For more info and to check the latest price click here.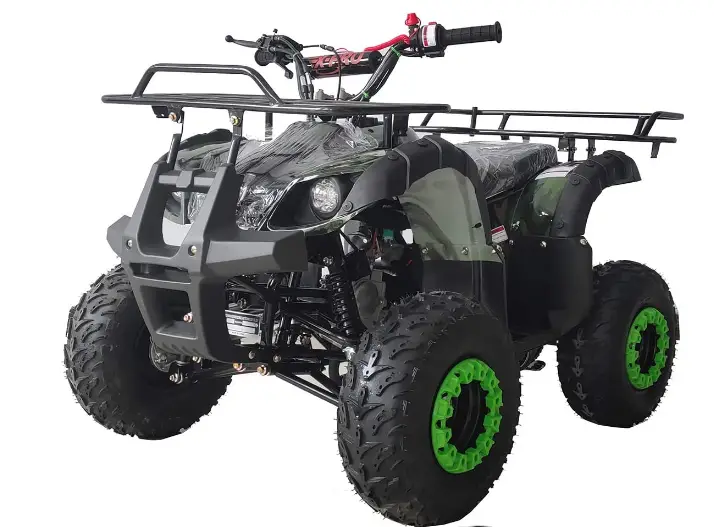 Don't wanna worry about running out of charge? Don't worry we've got you! The X-PRO ATV 125cc has the biggest engine on our list, but its still completely tame and safe for kids. This four-stroke engine comes with electric start, automatic transmission, and a reverse gear.
This ATV really has a lot of the features that a full-size quad would have. It comes with a front and rear suspension, and massive (for this list) 16 inch tires! It also has a LED headlights. In addition to these features, the X-PRO has luggage racks making it ready for any adventure you can throw at it!
This ATV also comes with tons of safety features. Parents will be able to stop the engine from a range of 30 feet away, and the speed can be set as low as 5 mph.
Although the price is the highest on this list, this ATV comes with the most capabilities and will allow for the easiest transition to a full-size ATV. Not only is it the most capable, but it also has some of the best safety features of any ATV for kids. For more info and to check the latest price, click here.5.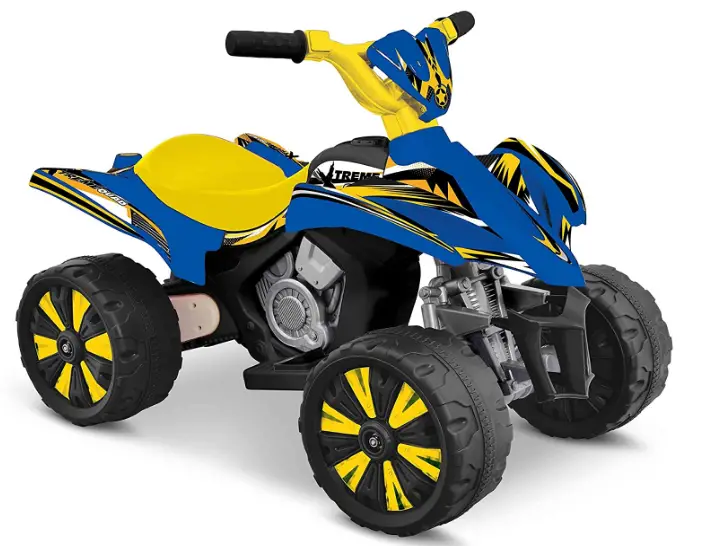 Last on our list is the most budget friendly ATV. This ATV is meant for very young riders as the max speed is only 1.5 mph. However it is still tons of fun!
The ATV is operated with a foot pedal to go forward. A full charge will last from 50-60 minutes and has a max weight capacity of 66lbs. The ATV does require a little bit of assembly to get up and running. Overall it is a solid first ATV for young riders. For more info or to check the latest price, click here.