If your shopping for a 6 seater crew cab side by side the chances are you have a big crew that you need to take to a worksite, or a family that you want to share in the adventures of owning a UTV. So what options do you have when you need six seats? It turns out you have quite a few.
Polaris is one of the leaders in the side by side industry and they have plenty of UTV options. The Ranger Crew XP1000 is the 6 seater that catches our eye.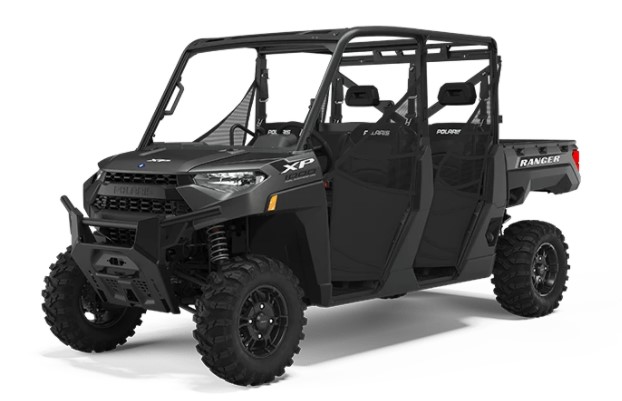 The Ranger Crew XP1000 has a powerful 82hp engine so you'll have no problem reaching your destination even if you have a full crew and luggage. This UTV is perfect for work as its 2,500 lb towing capcity is one of the highest of any UTVs. As a side note we wrote a blog post on how much UTV's tow and you can check it out here.
This Ranger comes equipped with 27 inch tires and 11 inches of suspension travel. To go along with those impressive stats is a 13 inch ground clearance. Although this UTV is a great work and people hauler, it is also off road capable. You can't go wrong with a Polaris Ranger Crew XP1000
82 hp engine
2,500 lb towing capacity
13 inch ground clearance
1,000 lb bed capacity
17 foot turning radius
Next on our list is the Yamaha Viking VI EPS. This is a great option from Yamaha because it offers selectable 2wd, limited slip 4wd, and locking differential 4wd. This side by side is more than capable off road. In fact Yamaha added steel skid plates underneath the Viking ensuring that you won't get stuck or damage your ride while you're out on the trails.
Its 686cc engine may seem on the smaller side for a six seater, but it is more than capable of moving payloads and people around.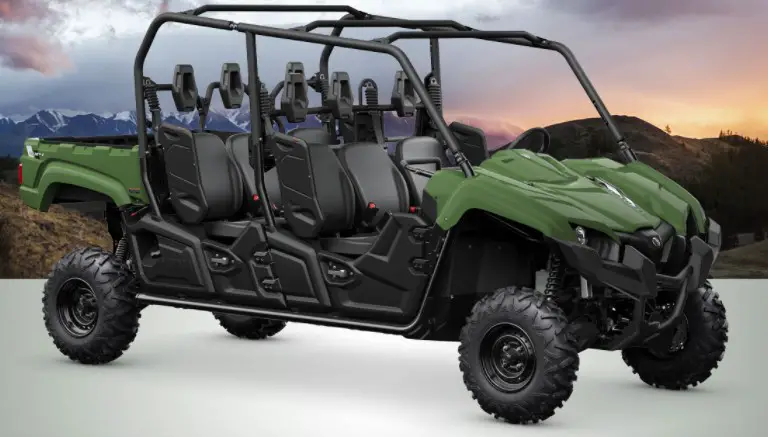 The Viking comes with a 1,500 lb towing capacity and a respectable 600 lb bed capacity. Although this is down from the Ranger Crew XP1000, the price of the Viking is significantly less which makes this a bargain 6 seater UTV.
1,500 lb towing capacity
600 lb bed payload
Selectable 4wd (limited slip and locking differential)
Massive 9.7 gallon fuel tank
If you're looking for a workhorse look no further than the Bobcat UV34XL. This crew cab UTV is perfect for any job site. Its 25hp diesel engine has a great history coming from Bobcat's mini track loader product line. The diesel engine makes plenty of torque and the beefy frame has a hefty payload capacity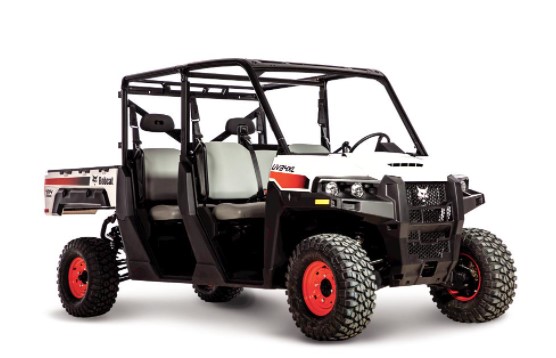 The towing capacity comes in at 2,500 lbs and the bed capacity is a massive 1,250 lbs. That almost rivals some pickup trucks like the Ford Maverick! Work UTVs aren't just about towing. Sometimes they also need to power your tools. The Bobcat is prepared for that as it is equipped with a 140 amp alternator. This should give you more than enough juice for any power tools.
2,500 lb towing capacity
1,250 lb payload capacity
140 amp peak output alternator
35 mph top speed
25hp diesel engine
Another popular powersports manufacturer that makes 6 seater side by sides is Can Am. One of their most popular models and 6 seater models is the Can Am Defender.
The Defender comes with two different engine options. One makes 52hp and 41 lb-ft of torque, while the other makes 65hp and 59 lb-ft of torque. Both engines are twin cylinders. The displacements are 976 cc and 650 cc. The Defender Max offers 27 inch tires and 10 inches of suspension travel.
The Can Am has a turf mode and selectable 2wd to 4wd. The front differential has an auto locking feature which is sure to come in handy on the trails. The bigger engine Defender can tow up to 2,500 lbs.
65 hp 976cc engine
Selectable 2wd/4wd with turf mode
Auto Locking front differential
2,500 lb towing capacity
The Kawasaki Mule Pro FXT is another great 6 seater side by side. The Mule Pro FXT can actually be configured as a 3 or 6 seater. This means that if you want extra bed space you can take a row of seats out. However if you need to carry more friends, you can add the second row back in.
This UTV comes equipped with a powerful 3 cylinder 812cc engine that allows the Mule to tow 2,000 lbs. Like most UTVs on this list the Kawasaki offers selectable 2wd/4wd. The rear differential has a diff lock which is absolutely essential for hill climbing on rough terrain.
The Mule also has speed sensitive electronic power steering. This feature paired with a rack and pinion steering make it easy to control and precise. Overall the Mule is a great option for UTV enthusiasts, hunters, and property owners.
2,000 lb towing capacity
Selectable 2wd/4wd
Locking rear differential
Conclusion
There are so many great UTVs and options. Even if you need a 6 seater you can still get great side by sides. If you don't want 6 seats all the time, the Mule is great option. If you're focused on work, then maybe its the Bobcat for you.
Overall we are very excited about the side by side industry as new models hit showrooms each year, and they come with more and more features. You really can't go wrong with any of these options on this list.