So you just made your UTV street legal and now you want to take it on the road, but do you have the right tires? Off-road tires are expensive to replace and they don't last long on pavement. So what tires work best for street legal side by sides? Well if you want the answer to that, you're in the right place.
Why You Need Tires For Pavement
Driving a UTV on the street can either be a lot of fun or a numbing experience. If you don't have the right tires, the vibrations and road noise can be almost unbearable. However, the point of a side by side is to off road it So when selecting your tires, you want to make sure that they are quiet on the road and that they still have off-road capabilities.
The first step to finding a suitable tires is to make sure it is DOT approved. That stands for department of transportation. All road cars are required to use DOT approved tires, since your UTV is likely registered as a medium speed vehicle, it may not require DOT approved tires, but its good to have them anyway.
DOT tires are good because they are specifically designed for roads and they have to meet specific safety standards. In particular, off-road tires might not last or hold up long at high speeds on pavement, but a DOT tire would be designed for that particular environment.
What To Look For In A UTV Tire
The best side by side street tires should give you enough grip and traction to enjoy driving. Aggressive and deep tread patterns are not good choices for the street because they have less contact with the road, are designed for off-road conditions, and are generally load.
Tires with tread patterns that are not aggressive generally work better and provide the UTV with good traction for acceleration, corning, and braking. If you're new to the street-able UTV seen, check out our buyers guide below.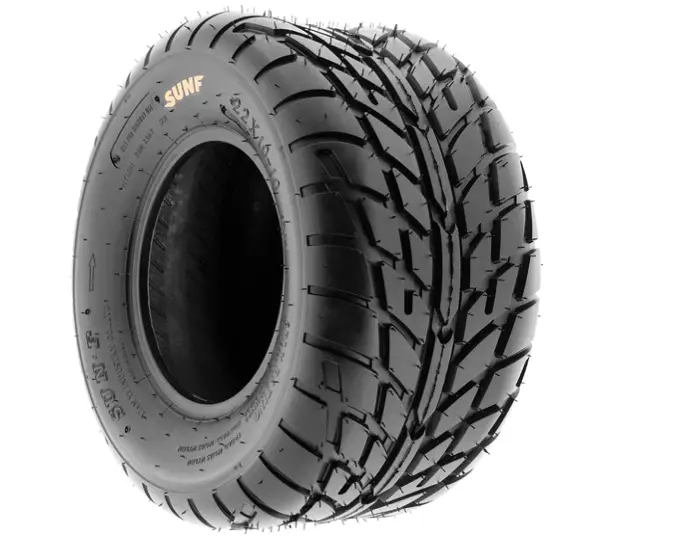 The Sunf A021 TT is a great tire for the pavement. Its treads provide performance on wet surfaces, and they aren't so aggressive that they make loud noises while rolling down the road. The medium compound rubber that makes up this tire is similar to materials used in high performance tires.
The Sunf provides great handling control and feedback to the driver. If you're looking for the perfect pavement tire for your side by side, this is it.
Pros:
Excellent grip and handling performance
Performs well on wet surfaces
Reasonable price
Cons:
Not the most off-road capable tires
If you want the perfect low profile tire for your UTV look no further than the AMS Classic GC Tire. This tire is specifically designed for UTVs that are used on the street. The low profile reduced side wall tires provide great responsiveness to the driver. These tires will make your UTV handle much better than stock. The sport inspired treads will also reduce noise. Since these tires are designed for the road, they will last long and longer if you keep your usage to hard surfaces.
Pros:
Improves handling
Low profile tires = responsive steering
DOT compliant
Designed for pavement
Cons:
A tire is a critical part of the suspension and the stiffness of the tire can be a huge factor in the overall stiffness of the suspension. The AMS Street Fox Tires are very stiff, and they provide a smooth and responsive feel to the driver. These tires are great for the street because that's what they're designed for. The AMS Street Foxes are rated for up to 87mph which more than most UTV tires.
Pros:
Great handling
High performance on wet and dry surfaces
Responsive feedback to driver
DOT approved
high speed rated to 87 mph
Cons:
The Tusk Terrabite is perfect if you're looking for a pavement/off-road hybrid tire. This tire has a lot of sidewall, so it will be comfortable ride. It isn't the best handling tire on the list, but it is one of the best for off-roading and it is DOT approved.
This tire is extremely tough and long lasting, making it very budget friendly for those who only want one set of tires. The Terrabite is designed for hard surfaces including dirt, gravel, and rocks. The Tusk Terrabite is perfect for those who want to off-road, drive on the street, and have tires that last a long time.
Pros:
Long lasting tire compound
Off-road capable
Aggressive tread for great traction
Comfortable ride
Cons:
Not the best for sporty handling on pavement
The EFX tires are an excellent choice for side by side owners who in the desert. The tread patterns provides excellent traction on mud and loam. On top of this its not too shabby on the road either.
These tires have excellent wear resistance and they are puncture resistant. The EFX is perfect for those in need of durable off-road tire but still need to drive on the street to hit the trails. These are even impact resistant, which means you can hit the jumps with peace of mind. The tires even come with rim protectors.
The EFX comes in three sizes: 28 inches, 32 inches, and 35 inches. All of them are 8-ply DOT approved, so you can drive on the street in confidence.
Pros:
Great wear resistance
Puncture resistant
Designed for lateral grip and Impact resistant
Multiple sizes
Great traction on mud, loam, and pavement
Cons:
Conclusion
In conclusion, you definitely want to have DOT approved tires. The tires need to be designed for hard surfaces like pavement, and you need to decide if you want great handling, comfort, or a hybrid between off-road and street performance.