Its almost that time of year where we start winterizing our motorcycles and take the battery out of the bike for the season. However removing the battery isn't enough to ensure a long battery life. If you want your motorcycle to have less trouble starting next year, you'll want a battery maintainer.
Benefits of a Battery Maintainer
There are many benefits to owning and using a battery maintainer. Maintainers not only keep your battery charged but they can also do this without risking overcharging and damaging the battery. Some maintainers can also be used for car batteries. In addition battery tenders can also help revive dead batteries and give them longer life.
Types of Battery Chargers
There are actually several different types of battery chargers, and understanding the differences will help you select the right one for your motorcycle.
Standard Charger: A standard charger works the same way as your typical phone charger. You plug in and your battery charges until its at 100%. The problem with this type of charger is that leaving your battery plugged in and "charging" when its at 100% can lead to damage the battery, waste electricity, and it could even be a fire hazard.
Trickle Charger:  The trickle charger is a step up over the standard charger. This type of charger monitors the battery's charge level and adapt to the battery's needs. These chargers also stop when the battery reaches 100% charge level. This eliminates the risk of overcharging and reduces electricity usage and fire hazard potential. The big benefit is that this battery is "plug and forget". Your battery will be at 100% charge and ready to go.  
Floating Charger: A float charger is a battery charger and maintainer all in one. It works by charging the battery to 100% and then shutting off. The battery will then drain to a pre-determined level before the float charger turns back on again. This process will repeat for as long as you have it plugged in. The upside is you save energy, reduce the risk of damaging the battery, and reduce fire hazards from overcharging. The downside is that the battery might not be fully charged when you remove to reinstall in your bike.
Key Features
There are several other factors for consideration when selecting a charger. The amps and voltage is crucial to selecting the right charger. A 12V battery will need a charger rated for said battery. The amount of amps will determine how fast the battery charges. Generally the fewer amps the slower the charge rate which is good for battery life, but if you need to charge in a hurry, having a high amperage charging would help.
Like charging your phone, charging a motorcycle battery will produce heat. A battery that gets too hot will get damaged. Having a battery charger that monitors battery temperature could just save you your battery.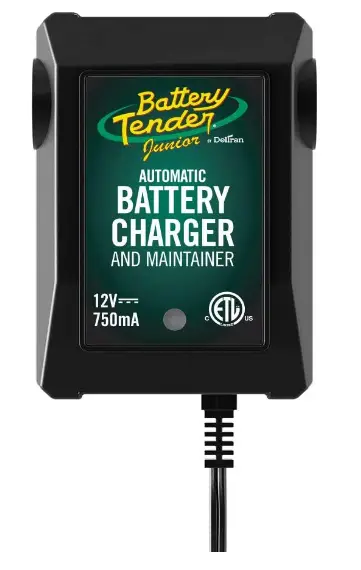 The Battery Tender Junior Charger and Maintainer is one of the best options on the market. Not only is this charger lightweight and compact, it also is automatic. This makes setup and usage a breeze. This charger is spark proof, has reverse hook-up protection, and a four step connect and forget charging process. Once the battery is fully charged, the charger will switch to float mode so that there is no risk of overcharging. Overall this is one of the best chargers and maintainers for the money. For more info on the Deltran Battery Tender Junior Charger click here.
Pros:
Easy to use automatic charging system
12 foot cord
5 year warranty
Automatically switches to float mode when battery reaches 100%
Cons:
No customization of charging modes
No temperature sensor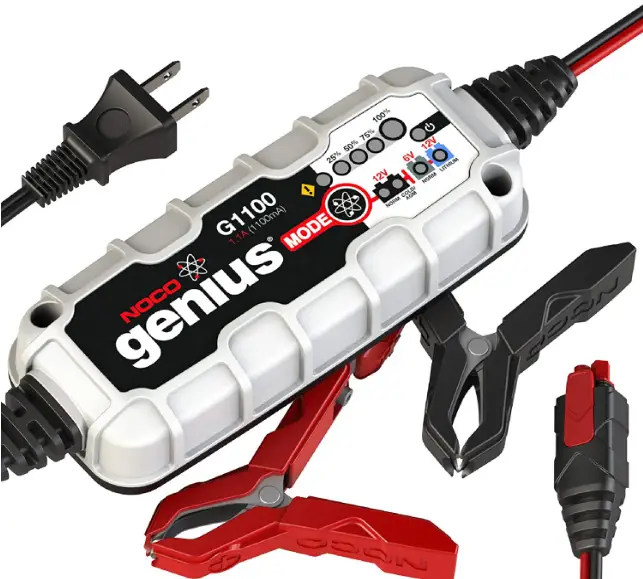 NOCO isn't just a charger, it's also a maintainer. The upside of this charger is that it works for both 6V and 12V batteries, and it can charge car, motorcycle, atv, and boat batteries. Not only does it have spark protection and reverse polarity protection, but it also can perform diagnostic on your battery to determine if it has been damaged or had low voltage. When a low voltage battery is detected, it can apply a high voltage pulse charge to recover the battery. The Genius G1100 is also a trickle charger so there is no risk of overcharging or damaging the battery. For more info on the NOCO Genius G1100 click here.
Pros:
Charges 6V and 12V lead acid and lithium ion batteries without risk of overcharging
Battery diagnostics available
Can re-charge low voltage batteries
Cons:
The Foval Automatic battery charger is a great option for budget shoppers. This charger comes with spark proof protection and reverse polarity protection. This is a great charger for 12V batteries. This charger has a four step charging plan: initialization, bulk charge, absorption, and float mode. Once your battery hits 100% it switches over to float mode. The Foval also comes with a 2 year warranty.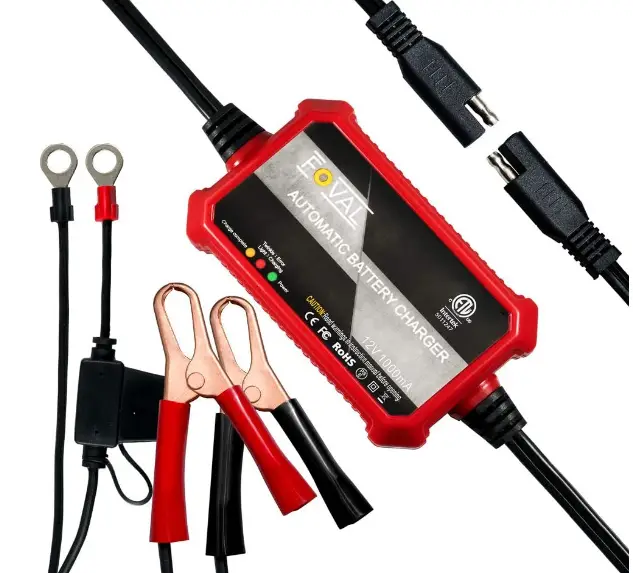 Pros:
Float Charger
2 year warranty
lightweight 10.6 ounces
Inexpensive option
Cons:
No customizations of charging modes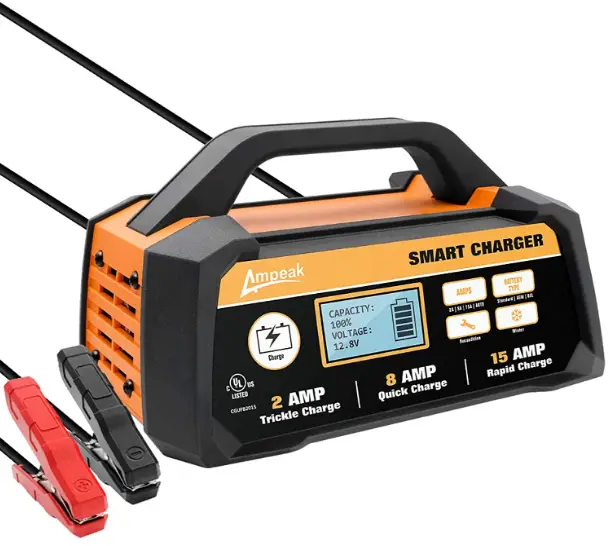 The Ampeak is another well reviewed charger with three different amp settings. Depending on how quickly you need to charge your battery, you can select 2, 8, or 15 amps. In addition to this, it has a six step charging process: Desulphation, Soft Start, Bulk Charge, Absorption, Battery Test and Floating. Also unique to the chargers on this list, it has a winter charging mode specialized to maintain your battery outside of your motorcycle until your ready to ride again. For more information on the Ampeak click here.
Pros:
Customized charging
Three different rates of charging
Specific winter charging mode
Cons:
High performance charger comes with a premium price
Conclusion
If you store your motorcycle for several months over the winter, its best to put your battery on a charger. A battery maintainer will not only keep your battery fresh, it could also revive a low voltage battery or detect damage. In the end even a cheaper battery tender is a good investment that could extend your batteries life, and since a new battery can easily cost over $100, a battery tender might just pay for itself.