In short, the average motorcycle weighs around 400 lbs (181 kilos) dry weight, which means the weight of the motorcycle without gasoline, engine oil, brake fluid, or coolant. Wet weight on a motorcycle is when all the fluids are in the bike. You can expect the wet weight to be up to 70 lbs (32 kilos) heavier than the dry weight. For this article we will be using dry weight as that is the weight that most manufacturers list.
Obviously, the weight of the motorcycle varies dramatically depending upon: the type of motorcycle (cruiser, sport bike, cafe racer, etc), engine size, accessories, fairings, and even the size of the gas tank. This article will provide examples of each type of motorcycle and its projected weight range.
Why Motorcycle Weight Matters
Motorcycle weight is very important to every rider, but especially to beginners. The first motorcycle I ever rode was a Yamaha TW200 weight 278 lbs (126 kilos). This was a great bike to learn on not just because it was easy to control with its upright seating position, but also because of its lightweight. When I moved up to a Honda Shadow 750 and its 507 lbs (230 kilos) dry weight, I noticed the weight difference immediately. It was a monster to control at low speeds compared to the nimble TW200. Lightweight motorcycles are definitely more user friendly for beginners, and usually the lighter the better when selecting your first motorcycle. So without further ado lets go over how much each type of motorcycle weighs.
1. Cruisers 400 – 750 lbs (181 – 340 kilos)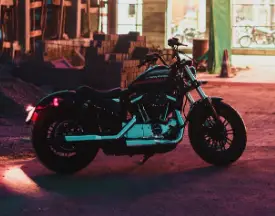 Cruisers have the largest range of weight, and that is because most cruisers are heavy. Their long wheelbases, heavy engines, and big gas tanks make for hefty but sturdy motorcycles. Generally speaking, the larger the engine, the heavier the motorcycle. This especially holds true for motorcycles.
2. Touring Motorcycles 750 – 1,000 lbs (340 – 454 kilos)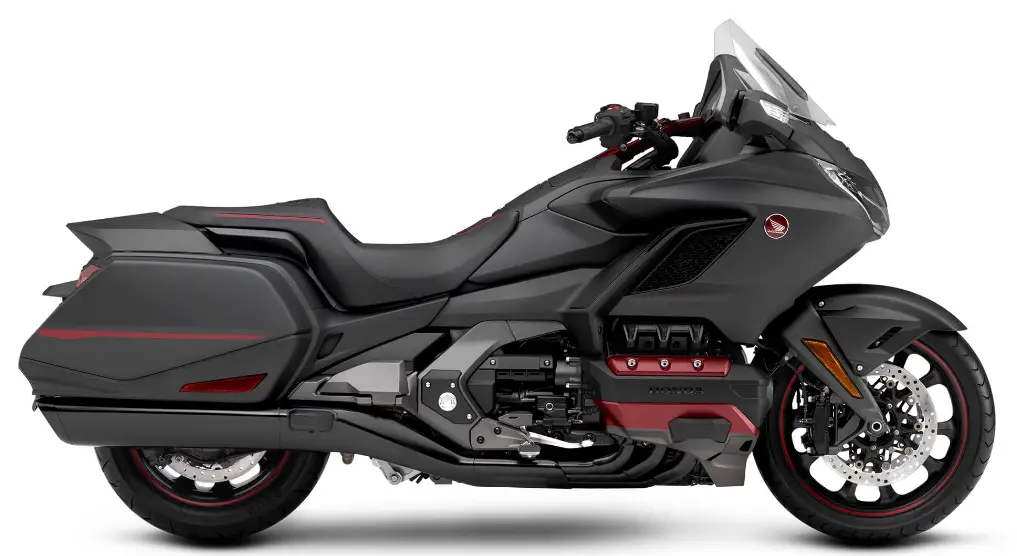 Touring motorcycles are the heaviest types of motorcycles on the market. Not only do they have large engines usually exceeding 1500 cc, but also they have heavy fairings and saddle bags. Since these bikes come loaded with all the options a motorcyclist could dream of they are the heaviest and arguably comfiest motorcycles on the road.
3. Scrambler/Cafe Racer 400 – 500 lbs (181 – 227 kilos)
Scramblers and cafe racers are closely related to standard and naked motorcycles, but they have retro styling. Usually these types of motorcycles emphasize style over performance. Because of this, these motorcycles can have seemingly short wheelbases but still weight a lot. For example, a Triumph Thruxton has a 55.71 inch wheelbase, but weighs 454 lbs dry. Compare that too a Ninja 400 which has a 53 inch wheelbase but weighs only 366 lbs.
4. Adventure Bikes 500 – 650 lbs (227 – 295 kilos)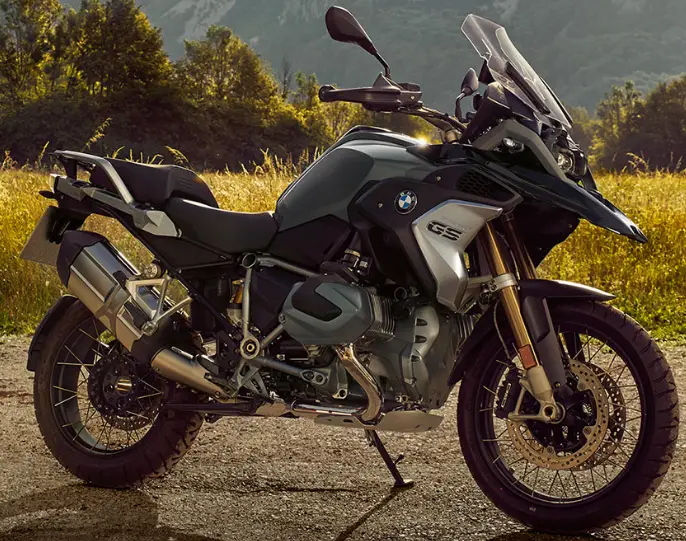 Adventure motorcycles are one of the most popular types of motorcycles these days. These bikes are basically the Swiss Army Knives of the motorcycle worlds. They have the ability to do sport-touring, off-road camping trips, the morning commute, and even the occasional canyon carving. Many people load these bikes with cargo. This will dramatically raise the motorcycles center of gravity which will affect handling characteristics especially at slow speeds. In recent years newer adventure bikes are coming out with smaller engines. These new bikes like the BMW 310 GS weigh much less than 500 lbs and commonly weigh under 400 lbs.
5. Sport Bikes 320 – 500 lbs (145 – 227 kilos)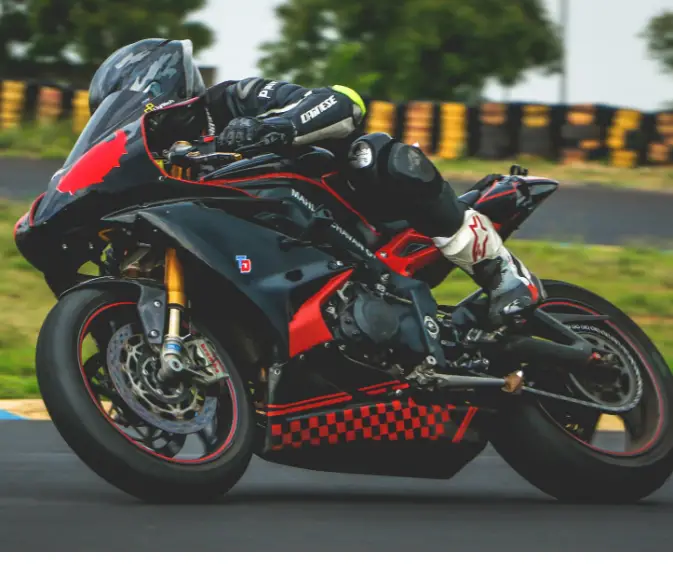 Sport bikes jam a large engine, into a compact frame, and have light aerodynamic fairings. These superbikes commonly weigh less than 400 lbs while making close to or even exceeding 200 hp. These motorcycles have little storage capability and are built with speed in mind and no compromises. Weight varies mainly on engine size, 600 cc bikes will weigh much less than 1000 cc motorcycles.
6. Standard/Naked 360 – 500 lbs (163 – 227 kilos)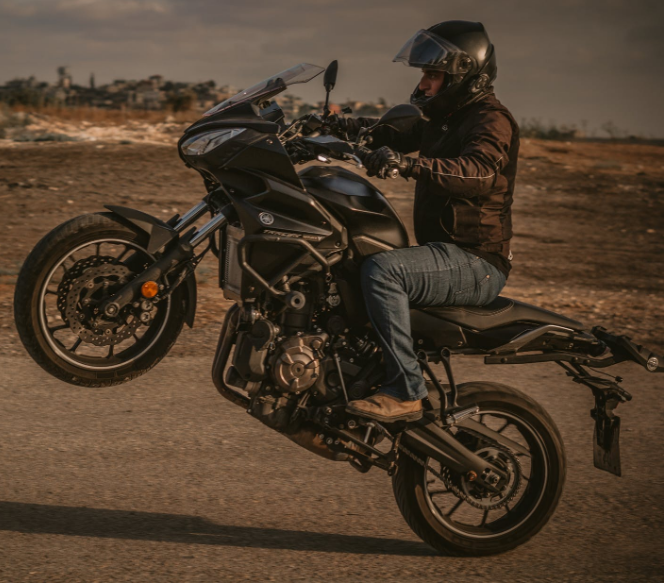 Naked motorcycles are usually very similar to their fairing wearing sport bike counterparts. The engines are tuned slightly differently so that they are more street-able, but they are still very sporty. These motorcycles usually make excellent commuters, and they can hold their own on the race track. As usual, the smaller the engine the lighter the naked bike will weigh.
7. Dirt Bike 200 – 250 lbs (90 – 113 kilos)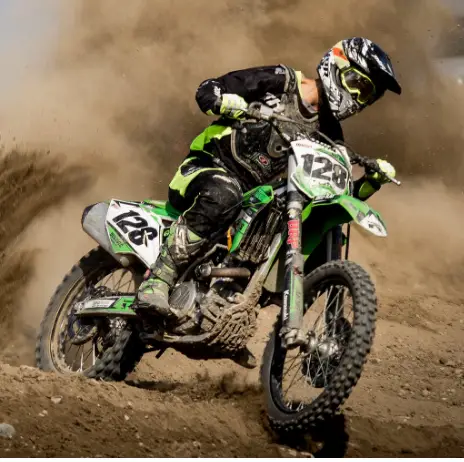 Dirt bikes are designed to be as lightweight as possible. There featherweight frames, and small single cylinder engines allow them to weigh as little as 200 lbs. These bikes have no storage capability and are built for one thing: blasting across trails at high speeds!
8. Scooter 200 – 300 lbs (90 – 135 kilos)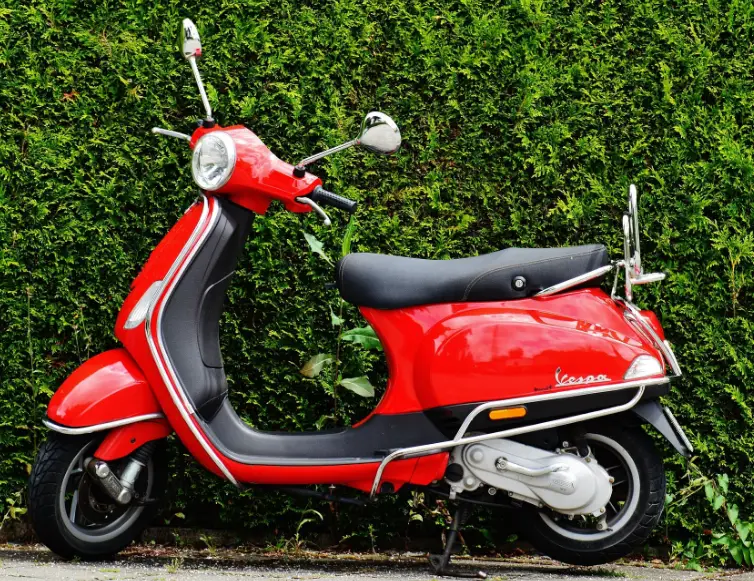 Scooters are small, lightweight, have tons of storage capacity, and are incredibly efficient. Adding the fact that most have fully automatic transmissions makes them the easiest two wheeled vehicles to ride on the streets. Filling these scooters full of luggage and a passenger will drastically affect weight and handling. If you do need to ride two-up consult your owners manual to ensure that you don't overload your scooter.
How to Transport a Motorcycle
Many motorcycles can fit in the bed of a pickup truck, and full size trucks like an F-150 can haul well over 1,000 lbs in its bed. However, most people will struggle to get a motorcycle over 300 lbs into the bed of their truck. Also if you don't have a truck you will need another way to transport your ride. If you fall into the latter category, don't worry. There are plenty of trailers designed specifically for hauling motorcycles. These trailers can weigh as little as 300 lbs. If you don't want to buy a trailer, you can rent them from places like U-haul. The U-haul motorcycle trailer weighs 800 lbs. Adding a motorcycle to this can easily double the weight bring the total towing weight to 2,000 lbs. Any full size or mid size truck should be able to tow more than 2,000 lbs. If you own a midsize suv you'll have to consult your owners manual if you have the ability to tow the weight of the motorcycle and trailer. Most suv's with a V6 or V8 engine can easily tow 2,500 lbs or more.