Traveling, sharing new experiences for two, and having common pleasant and fun memories together are always great. Riding an ATV makes this possible if you purchase an ATV passenger seat.
The ATV passenger rear seat can have different designs, ATV accessories, and additional functions. Some of the examples can give you storage capacity. Also most importantly, ATV rear seats can increase comfort, safety, and convenience for both driver and passenger.
In this article, we will help you with the choice of the best ATV passenger seat – we will give advice and provide a whole list of suggested options.
List of the best ATV passenger seats
The best ATV passenger seats
To find the best atv passenger seat, let's take a look at the product list we have put together just for you. After reviewing this information, you may be able to choose the best option from the options below.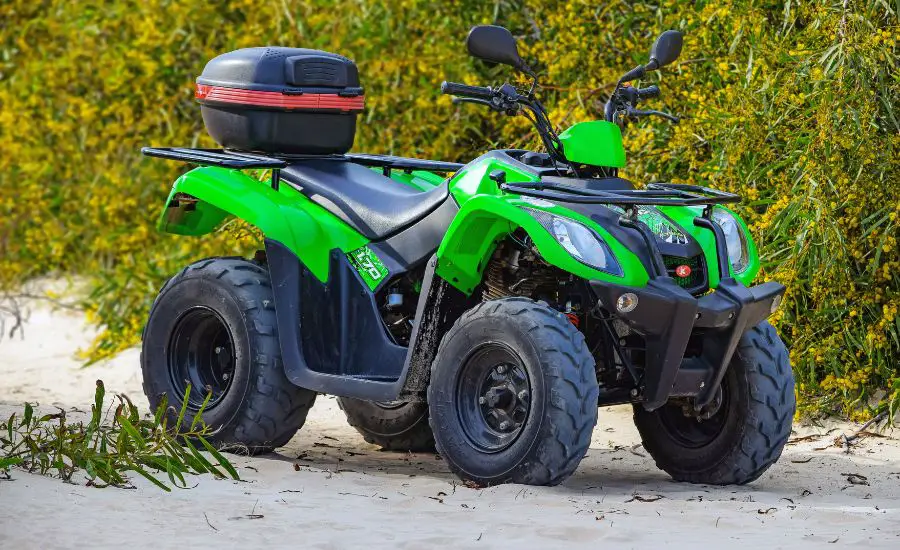 Guide Gear ATV Lounger Seat with Storage, Large Cushion, Cargo Box, Helmet Holder
Bolderton is a great brand for those who love active sports. This company allows people to purchase quality products for hunting and camping. Guide Gear ATV rear passenger seat is a combination of convenience and comfort.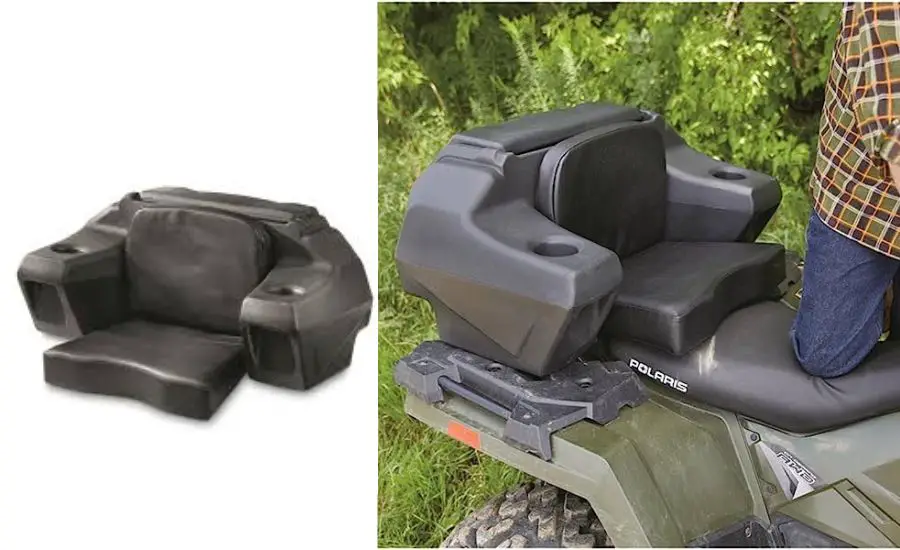 The design is made so that you can easily install this on the trunk of an ATV.
All fasteners are included. In addition to installation, we want to note the additional convenience of this product.
For example, storage space is large enough to store all the equipment you need there. This area is closed with two latches and a padlock to keep your belongings safe.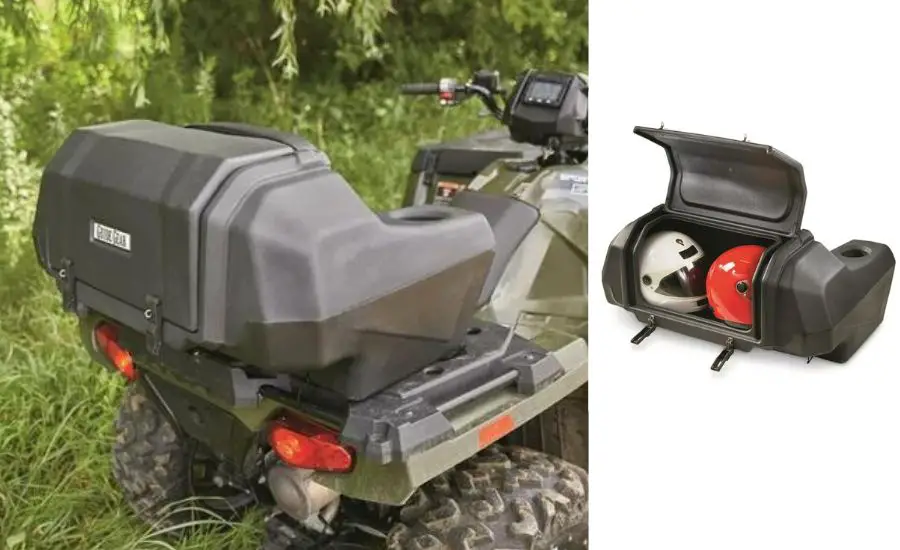 Even long trips will be a pleasure thanks to the soft seat cushion for shock absorption and padded seat. To help you stay hydrated, we've added 2 ATV cups or water bottle holders to store drinks.
Pros
Comfortable seat;
Easy installation process;
Enough storage space.
Cons
Weak mounting hardware;
No drain holes in cup holders.
Coleman ATV Rear Padded-Bottom Bag
Among ATV riders, the Coleman ATV rear seat is one of the softest and most comfortable seats.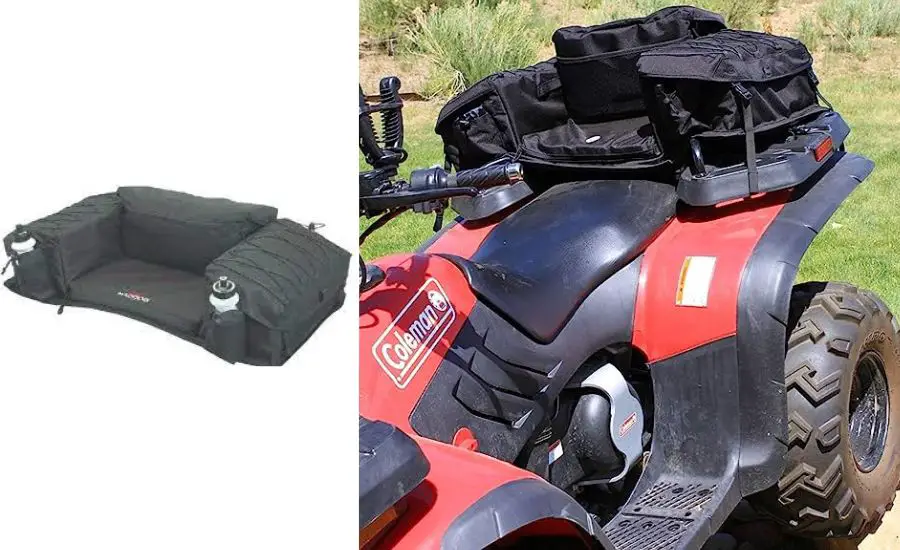 Three storage compartments are closed with a zipper and soft walls will not allow fragile cargo to be damaged or broken. There are even two built-in water bottle holders built in here.
Pros
Zip is very easy to use;
Soft ATV rear helmet box;
Easy to install;
A lot of users recommend this ATV passenger seat for extra storage space.
Cons
Zippers are a poor closure choice because they are damaged by water and dirt.
Kolpin ATV Rear Helmet Box – 4438 Black Small
This ATV passenger seat is very safe and suitable even for children. The armrests are set forward, which makes this design convenient for both adults and children. The seat belts will prevent rear passengers from falling off the vehicle, even if they fall asleep and lose their vigilance.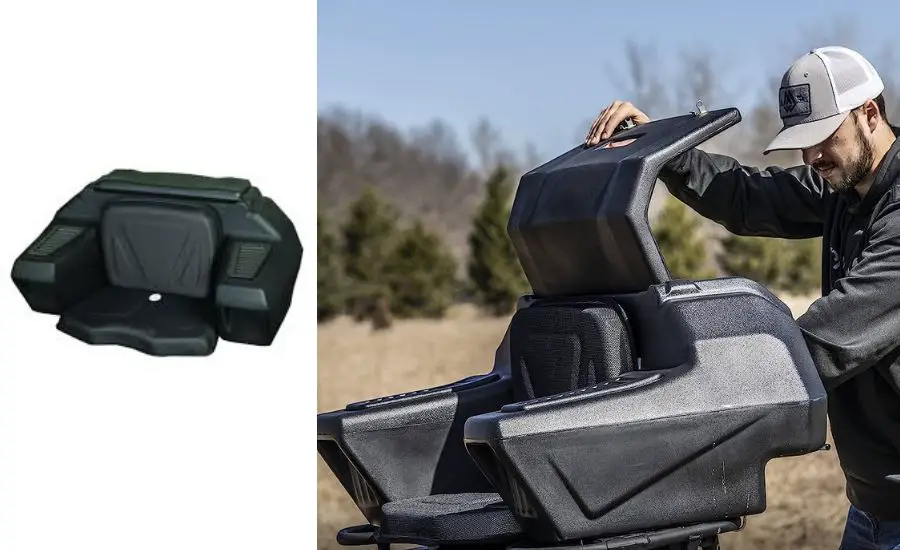 The design is very strong, but not too heavy, so you can remove or move the rear passenger seat if it is desired.
The Kolpin ATV rear helmet box has a high-quality storage capacity – you can easily fit 2 helmets, any other gear, or personal items in there.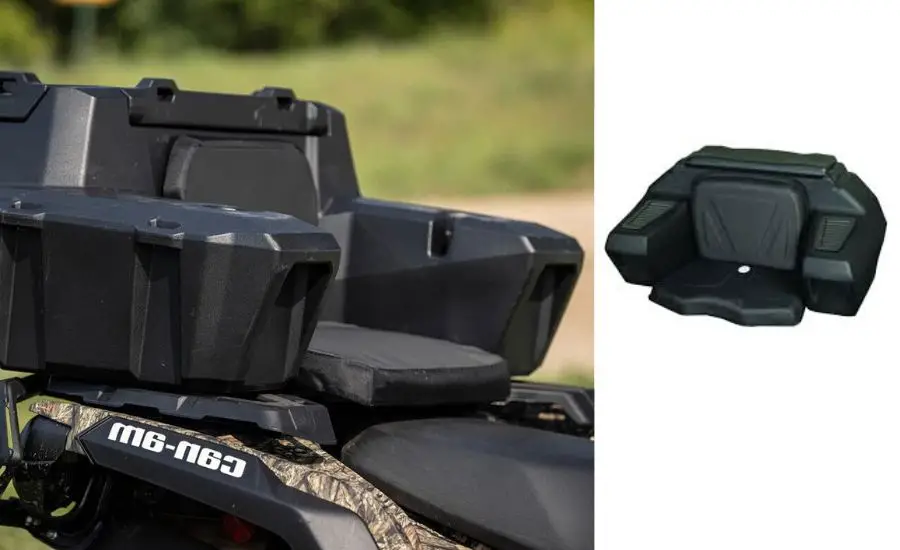 It's also weather-resistant, so you can protect your important electronic equipment if the weather suddenly changes and it rains, for example.
Pros
Durable seat belts;
Storage capacity;
Lightweight.
Cons
No padding on armrests;
Some users complain about weak locks.
Kolpin ATV Storage & Lounger
Robust rubber latches built into padlock holes. The non-slip seat cushions can be removed or reinstalled to suit your needs.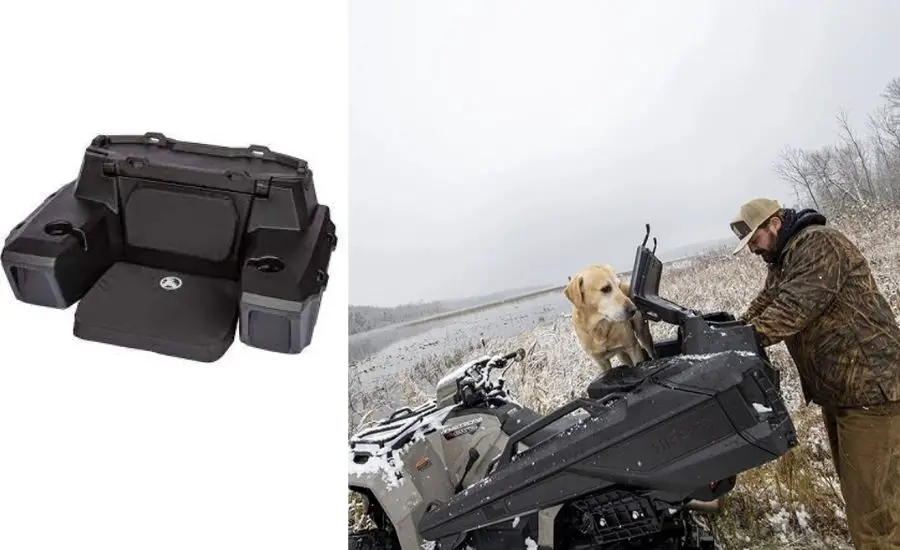 Sturdy mounting brackets will keep you feeling stable and secure throughout your trip or while using the product. The Kolpin ATV rear helmet box provides ample storage.
Pros
Easy to lock;
Durable coating as steel frame;
Very roomy;
Strong mounting brackets.
Cons
Users claim that the product does not withstand water and other weather conditions well enough.
Camco Black Boar ATV Rear Storage Box and Lounger (66010)
The Black Boar passenger seat is designed as a very comfortable and soft seat. The durable design will allow you to be sure of your safety and the safety of your belongings.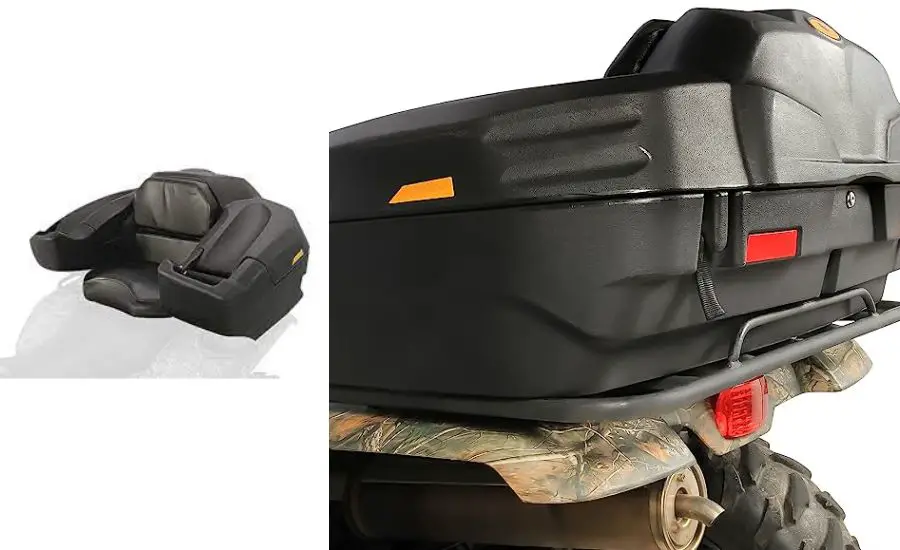 The storage compartments have a large capacity and will be secure from theft under a stainless lock.
The waterproof storage space keeps even dust out of small hard-to-reach parts of the product.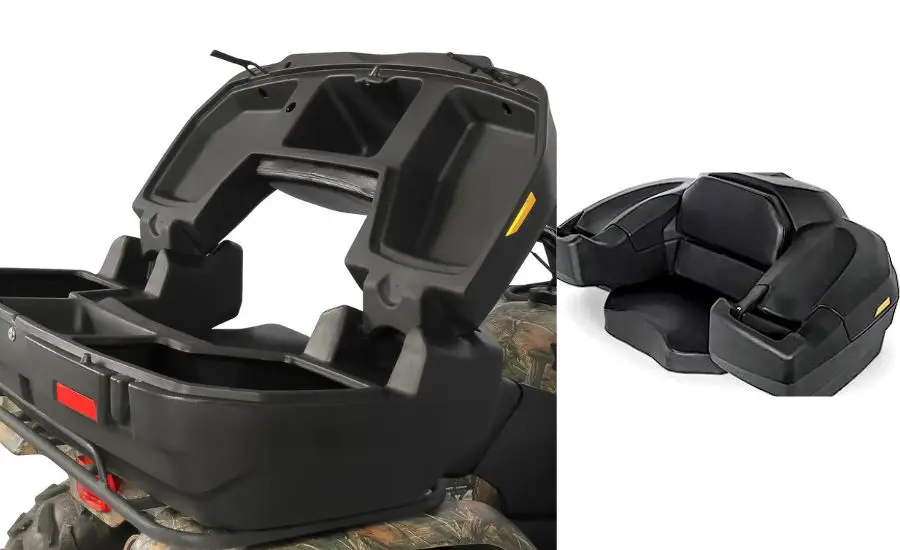 The durable rotomolded polyethylene material is as impact resistant as the steel frame.
Pros
Easy to lock;
Water and dust resistance;
Storage capacity.
Cons
The storage space is well-designed, but you won't have enough room to put your helmet in it.
Kolpin Matrix Seat Bag – Mossy Oak Breakup – 91150
The stylish camo design stands out among the black ATV seats. Also, the design is complemented by many details, including additional pockets for small accessories and bottles.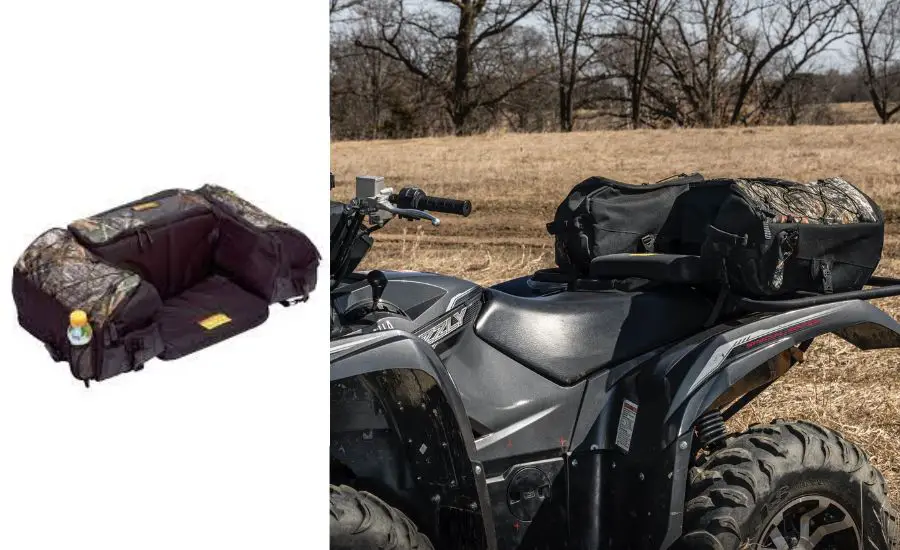 The Kolpin matrix seat bag is very roomy and completely removable, it comes with extra straps that are easy to put on and take off.
This is equipped with two storage compartments on the sides and one large one in the back.
Changing to another bag can be done quickly with the built-in strap system.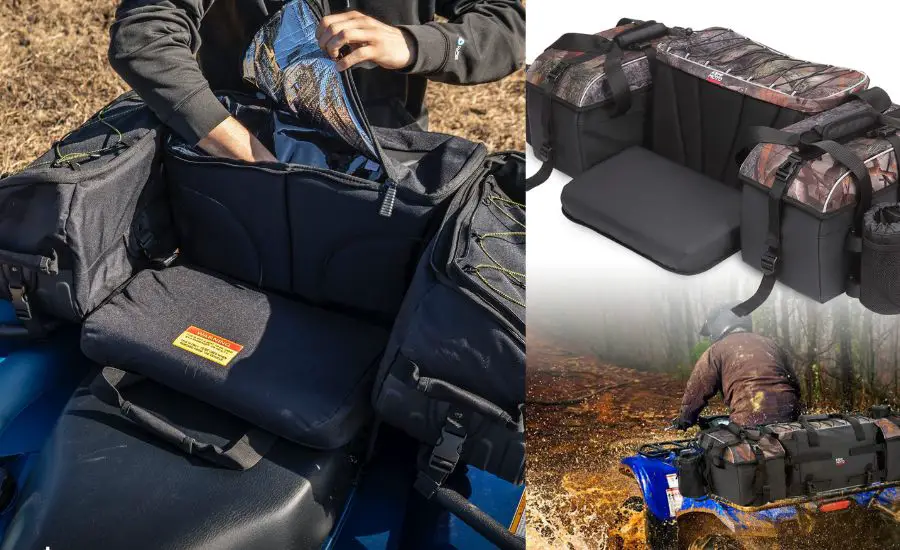 Installing this product is not very difficult, but the manual that came with it contains vague instructions. If you are new to installing ATV seats, you may need help.
Pros
Easy to install;
Convenience & spaciousness;
Good value for money;
Lightweight.
Cons
For some users, this format of ATV passenger seats is not strong enough.
Rage Powersports Black Widow ATV-CB-L7500 16.5″ H ATV Rear Rack Locking ATV Cargo Box
Black Widow is a company that has been making quality products for power sports for quite some time.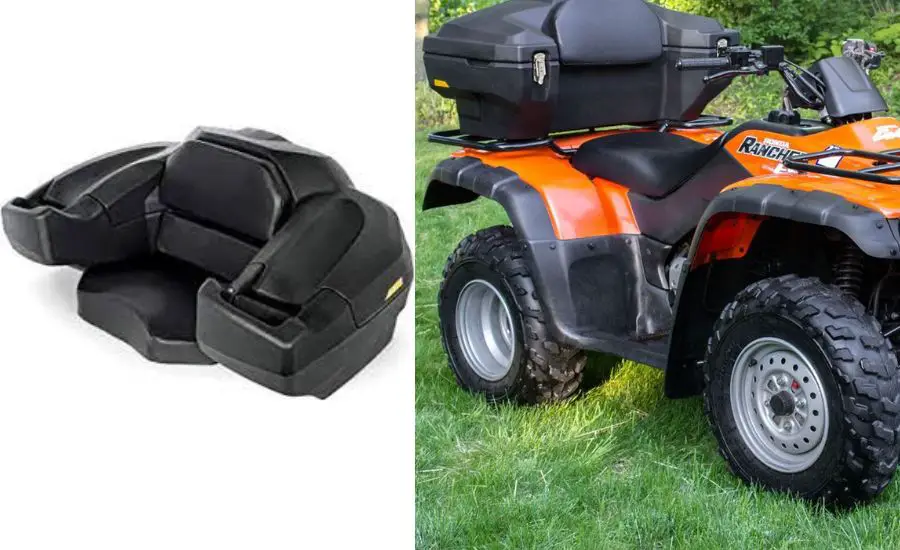 This product is good for both storage boxes and passenger seats. The ATV seat is designed with a padded seat and back and comfortable armrests and padded handrails for the rear person. The person who rides in the atv rear seat will rest and enjoy a comfortable ride with plenty of space.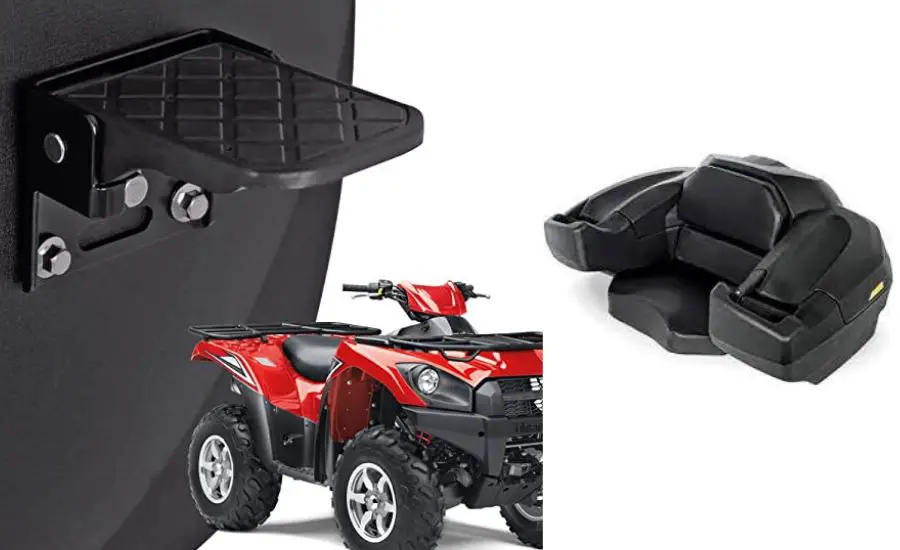 The material that the Rage Powersports passenger seats are made of is very durable.
They resist water and various elements and conditions to keep a good look at all times.
Dense polyethylene will crack or break off regardless of weather conditions.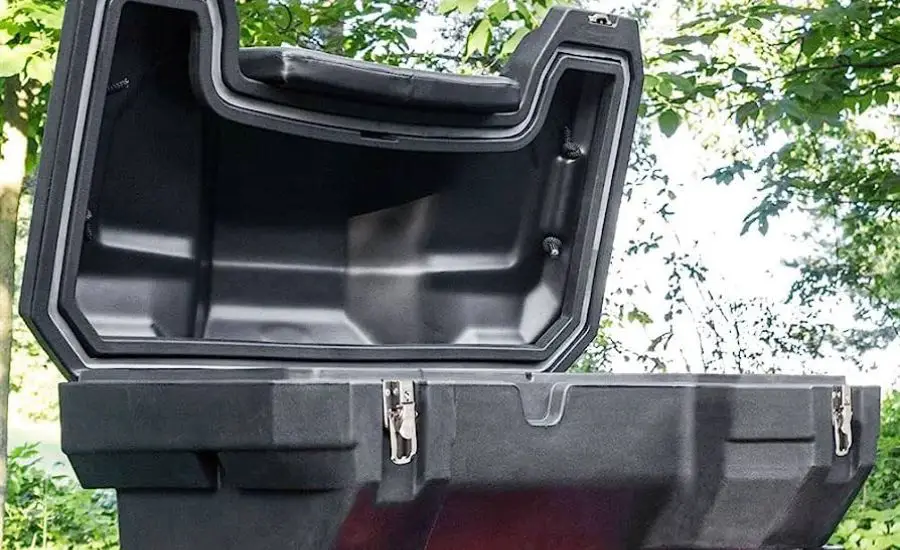 The storage box is locked with a key to prevent theft. Two keys will allow you not to worry about your things, they will be protected and will remain safe, being closed under lock and key.
This rear ATV seat is equipped with rear reflectors that improve visibility at night.
Pros
Rear reflectors;
Durable material;
Comfortable ATV seat;
Lots of storage space.
Cons
Some users find it difficult to fit this rear ATV seat onto the vehicle itself.
FAQ
If you still need any clarification, we would be happy to answer.
Why should I purchase an ATV passenger seat?
Firstly, the ATV passenger seat will allow you to hang out not alone, but in the campaign of another person, which can definitely diversify your trip and make it more memorable. At the same time, your atv passenger will feel comfortable and safe if your choice of rear seat meets all safety rules.
ATV seat is more than just the rear passenger seat. It offers you functionality and versatility with multiple storage spaces that can store a variety of items such as a helmet, cases, food, and more.
Many passenger seat models, including those we have listed above, feature additional storage spaces, providing practical solutions for transporting essentials such as tools, equipment, or personal items on the road. Therefore, it doesn't matter if you went on a picnic, to work, to relax or just to ride an ATV, you don't have to worry about the number of things that you carry with you.
The right choice of ATV rear passenger seat ensures that your passenger will be comfortable, and your belongings will remain safe and will not be damaged when driving even off-road.
What are the key factors for buying a high-quality ATV rear passenger seat?
Product material
The material of the passenger seat is the significant point. Whether the seat will be hard or soft, whether the fabric will pass water and dirt, or the coating is very hard and the shape of the boxes and the seat itself will not change during use – all these are important conditions that depend on the choice of material for the passenger seat.
In addition, the choice of material includes a visual component. The overall look of your passenger seat depends on this.
Convenience
Although the material may look more attractive, you must remember that your comfort and convenience must come before visual satisfaction. If you are planning a long off-road trip, it is better to be sure that this trip will not cause you any inconvenience or harm to your health. Don't overlook the importance of comfortable seating.
Quality of storage boxes
Most ATV owners prefer the passenger seat because of the ability to carry additional cargo that will be safely stored in special compartments and this will not cause unnecessary difficulties. Before choosing the maximum storage capacity, consider what you will be using the storage space for and what style best suits your needs.
It means that this extra storage space must be large enough to hold the required number of things for the owner. They must be safe and not get wet or hurt. To prevent the boxes from opening during the trip, manufacturers are developing various ways to close the boxes. You can choose the one that suits you directly.
Moreover, to prevent theft, there is a passenger seat with additional storage, which is locked with a special key.
General product quality
Buying an ATV passenger seat you should feel the reliability and durability of this product, as you trust this device with your and, more importantly, the life of another person. Pay attention to all the details that the manufacturer warns or informs about, read reviews on websites, or ask for advice from a specialist in the field of ATV and active sports.
If you want to take full advantage of the passenger seat, make sure it is water and dust resistant and can withstand harsh weather conditions.
There are different situations in life. You may misunderstand the information provided by the manufacturer, or let's say you ordered home delivery of goods, and the goods were damaged along the way. Take it seriously and consider the risks of accidents on the road or the possibility of any difficulties when installing or using this device.
What do you need to know when installing an ATV seat?
Most passenger seats provide universal sizes to fit any ATV. There are exceptions, so be sure to pay attention to the dimensions of the product and information about whether your model of transport is among those that a particular rear seat connects to.
Usually, all the tools for attaching the ATV seat to the road vehicle are already included in the purchase of the product. Manufacturers make sure that users of their products do not have to worry about the presence or absence of specific parts. On the other hand, mistakes do happen, so it's a good idea to check if all the pieces of equipment are in the kit.
If you are planning to carry a passenger, you will also need to install passenger footrests for passenger comfort and stability. Also, if we are talking about cushions under the seats, you can take care of this separately, since with honest designs or steel frame, the seats are hard and additional cushions are not included. The padded seats require no drilling and are attached with straps.
Rigid ATV passenger seats are attached to the rack with U-bolts. With most ATV storage box hard seats, you will need to drill holes in the box to attach it to the rack.
Let's talk a little about security. Carrying a passenger can interfere with the center of gravity, balance, and performance and is therefore not recommended for aggressive riding. Also, we do not recommend taking underage children to the atv passenger seat, even with the condition of following all safety rules.
You must be aware of legal and security issues before installation. In some U.S. states, the law requires ATVs to be specifically marked by the manufacturer as safe or approved for passengers to ride an ATV with an additional passenger seat. In some areas, it is generally prohibited.
The Consumer Product Safety Commission (CPSC) has issued safety standards for ATVs, which may include requirements for passenger seating and safety equipment. Depending on your state, you may be required to insure your ATV, which may include passenger insurance.
Do manufacturers make waterproof ATV seats?
Manufacturers of ATV rear passenger seats really understand that many people need extra protection for their storage boxes. Everyone wants to protect their belongings, but everywhere you need to know the measure and whether the material's capabilities will allow it not to let a large amount of water through.
In most cases, when manufacturers write about the water resistance of the material, this is true, but if you drop the storage box, for example, into a river or any other body of water, then most likely the water will still leak inside.
What is better to choose: hard walls and soft walls of ATV rear seat?
Your choice between the hard walls and soft walls of an ATV seat should depend on the purpose of using this thing. It also affects the storage capacity and the safety of things.
The hard walls provide great durability and reliability. They most often have a steel/metal frame that gives the storage a certain shape. This makes it ideal for storing fragile items and accessories. In ATV storage with hard walls, items will not lose their shape or wrinkle if they are placed correctly.
Soft walls provide more flexibility and more space. On the other hand, in soft wall storage, the items inside may not retain their shape, especially if a person is sitting in the passenger seat. He or she can lean on the back, which contains the storage, then the shape of this part will change. This will affect the state of things inside the storage box.
Result
In this article, we considered the list of ATV passenger seats according to their high-quality and respective price.
According to the list we gave to you, we can recommend the products which we can call "the best ATV passenger seat". Black Widow and Kolpin Matrix are our favorites on the list. Black Boar ATV rear seat is very good too, if you don't need a lot of storage space. These products will fully satisfy passenger seats by production standards and quality.
To help you make an informed decision about purchasing the best ATV passenger seat, we've researched and tested numerous models, narrowing down our recommendations to those that offer the best benefits in terms of comfort, safety, and functionality, and giving you the information you need to know about what to look for when choosing a passenger seat. advised on the installation of equipment.
Hope this article was helpful for you and now you can make the best choice for the ATV rear seat.