UTVs are great vehicles for work and play. In fact some of the most fun you can have on two wheels is in a UTV. Do you want to race off road in a high speed desert race? Or maybe rock crawling is more your style? Or do you need a work vehicle for the ranch? Whatever your needs are if they're off-road, a side by side has you covered.
The problem with UTVs is their high cost of entry. Many UTVs cost has much as a new sedan, and some almost cost like the Polaris RZR Pro R 4 which is basically a mini trophy truck. Thankfully despite the this awesome but expensive side by sides manufacturers have started to make affordable entry level budget friendly UTVs.
Starting off our list of cheap side by sides is the Polaris Ranger 500. The Ranger is a workhorse UTV and the 500 is the smallest engine size offered. Don't let the small size fuel you, this baby Ranger still packs a 32 hp punch.
The 500cc ProStar engine gives this side by side an impressive 1,500 lb towing capacity. That number rivals even some diesel UTVs. The 58 inch width is only 6 inches narrower than a RZR. This allows the baby Ranger to feel planted at speed.
Ranger also has an impressive 10 inches of ground clearance. When you add that to its 500 lb bed capacity its clear to see that this UTV punches above its weight. In fact its one of the best bargains on the market.
Summary:
On demand AWD/2wd
1,500 lb towing capacity
500 lb bed capacity
10 inch ground clearance
plenty of aftermarket customizations
VersaTrac Turf Mode
If you're looking for a compact side by side that won't shatter your budget but still pack a punch, look no further than the Kawasaki Mule SX. The Mule SX is an absolute bargain of a UTV.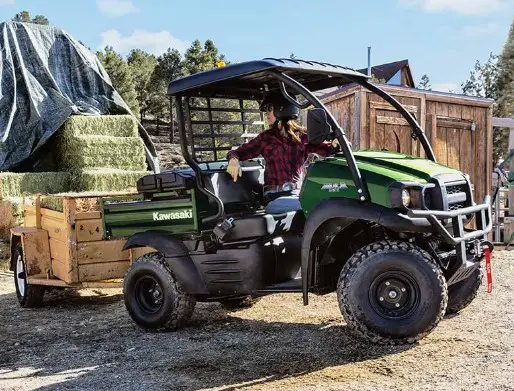 It fits in the bed of a full size pickup truck, yet it can tow 1,100 lbs. The Mule is powered by a 401 cc four stroke engine. This small engine makes 20.6 hp at an incredibly low 2,200 rpm. The engine sends its power via a CVT to a rear differential giving the Mule 2wd with a locking differential.
If you don't like 2wd, you can upgrade to the Mule FI for an extra money which will give you 4wd and larger 24 inch tires. The Mule SX has slightly smaller 22 inch tires.
Summary:
Low price
1,100 lb towing capacity
399 lb bed capacity
locking differential
10.8 ft turning radius
4.2 gallon fuel tank
6.1 inch ground clearance
Next on our list is the Honda Pioneer 700. This UTV is powered by a 675cc engine with approximately 36hp. This side by side has more than enough power to conquer any normal hill you might encounter on your trail riding.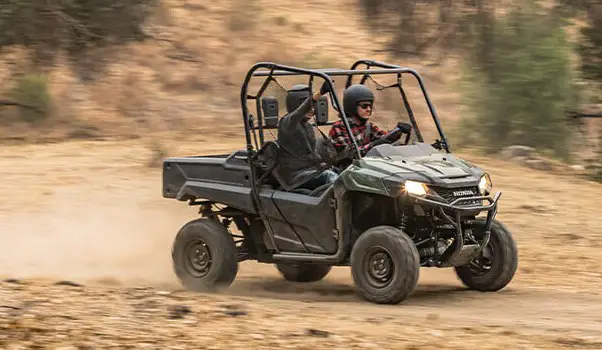 This is a formidable trail machine with 7.9 inches of travel in the front suspension and 9.1 inches of travel in the back. Its 10.7 inch ground clearance and EPS (electric power steering) allow it to be agile on the trail.
However the Pioneer isn't just about play. Its 1,500 lb towing capacity matches the Ranger's and its 1,000 lb bed capacity doubles that of the Ranger 500. If you want to work and play on a budget this side by side is for you.
Unlike most UTVs, Honda uses an automatic style transmission with a hydraulic torque converter. It has an impressive three drive modes with 2wd/4wd/4wd with diff lock. Deluxe models even have paddle shifters
Summary:
1268 lb wet weight
1,500 lb towing capacity
1,000 lb bed capacity
Electric power steering
7.9 gallon fuel tank
2wd/4wd/4wd with diff lock
Automatic transmission
The CFMoto ZForce is a purpose built trail machine. Its 500cc engine makes an impressive 38hp at 6,800 rpm and 32 ft-lbs of torque at 5,800 rpm. All this power comes from a liquid cooled single cylinder fuel injected engine.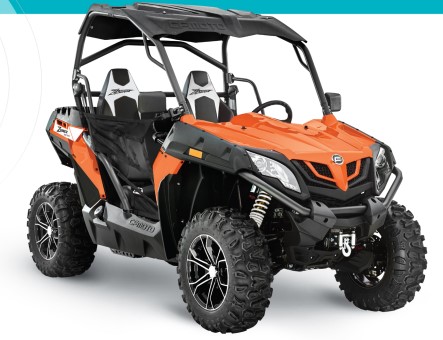 It has a rather large 26 inch wheels allowing the ZForce to boast an 11.2 inch ground clearance. This UTV also has 2wd, 4wd, and 4wd with locking differential drive modes ensuring that you won't get stuck on the trail. However in case you do get stuck, CFMoto has equipped the ZForce with a 3,000 lb winch.
Summary:
Low cost
1268 lb weight
3,000 lb winch
38 hp 500cc engine
Adjustable rebound shocks
Fuel injected engine
Prowler is another budget UTV that is great for work and play. Its 443cc fuel injected engine provides the Prowler with a 1,500 lb towing capacity and a 500 lb bed capacity.
It has front and rear double a-arm suspension allowing it move through the trails with ease. If that's not enough it also promises class leading enclosed storage so that your stuff can remain dry even if don't.
The Prowler 500 has a short 72 inch wheel base and a 56.4 inch width which will allow it to not take up too much of your garage space.
Summary:
2wd/4wd selectable transmission
1,500 lb towing capacity
500 lb bed capacity
7.5 inch suspension travel
Compact 72 inch wheelbase
8.5 gallon fuel capacity
Summary
In conclusion side by sides don't have to expensive to be useful, and you certainly don't need to spend forty grand on a UTV to have fun. The entry level models provide plenty of performance and fun for a reasonable price.
Whether your needs encompass towing heavy roads off road to hunting, these UTVs have the capabilities to fulfil your needs.