UTV's are great for recreation. Whether its hitting the trails, sand dunes, mud bogs, or wherever you decide to go, a UTV will get you there, and it will be a good time. But music can make almost anything better. Most UTV's don't have sound systems, but thankfully the aftermarket has you covered.
There are lots of options for bluetooth soundbars, but the quality of sound can vary drastically. Once you listen to a quality sound bar, you know you can't go back to low quality speakers. That doesn't mean you need to break the bank to get a good sound system for your side by side. There are several options that are high quality and affordable. But first, some considerations for choosing a UTV sound bar.
Let's Talk About Sound Bar Durability
UTV's live in a harsh environment. Side by sides are made for the dirt, mud, water, and jumps. A sound bar needs to be durable and capable of surviving this environment. A regular sound bar won't last very long on a side by side.
At a minimum you will want your sound bar to be rated for IPX5. IPX5 is a waterproof rating system for electronics. This rating means that IPX5 rated components can with stand low pressure water sprays. In other words the sound bar will be fine in the rain, but you shouldn't submerge it underwater.
UTV Sound Bar Charging
There's nothing worse than your sound system dying while you're out on the trails. That is why you might want to stay away from battery only sound bars. In other words make sure you can plug your sound bar into the UTV while driving. The other important and obvious thing to note is that you should be running the engine while the sound bar is in use otherwise you could drain the battery.
Many side by sides like the Polaris RZRs have usb ports. So we made sure the sound bar we recommend has usb charging. However, the most important factor is sound quality.
Sound Bar Features
So besides being durable, waterproof, and capable of charging while in use, what other features should you look for? Well i'm glad you asked. You want a sound bar that has sub-woofers (for low frequency sounds), tweeters (for high frequency sounds), and an amplifier.
So with these considerations, what sound bar do we recommend? We recommend the Kemimoto UTV Sound Bar. This sound bar is incredibly versatile. It can fit on almost any UTV. In fact if your side by side's frame and roll bar has a diameter between 1.56in to 2.25in (most of them do like the Polaris RZR) it will work.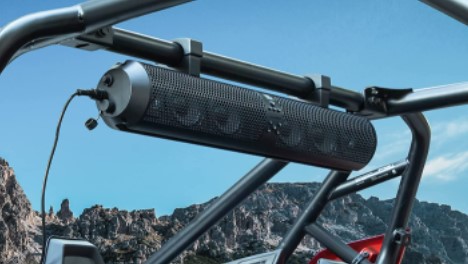 This sound bar is a great by because it has two 4inch tweeters and four 4 inch sub woofers. You can connect to the sound bar via bluetooth or an aux cable, and it works well with both apple and android products.
The Kemimoto sound bar is 28 inches long and IPX5 rated so it can handle whatever water you throw at your UTV as long as you don't use your side by side as a submarine.
Charging is made easy with this sound bar. You can plug in with a usb or for a full 500 watt output, you can plug the speaker into the cigarette lighter.
Overall this is a great sound bar for the price. Its sturdy and waterproof aluminum frame ensure that it will be able to handle whatever you throw at it. If you're looking for a budget sound bar, the Kemimoto is it.