Do you UTV's have power steering? Do you need power steering for your UTV or ATV? How much does it cost to have it? Did you know that you can add a power steering system to your ATV or UTV? These are all questions we will seek to answer in this post.
Why Do You Need Power Steering?
The biggest factor on whether or not you need power steering comes down to what you use your UTV for. Power steering as its name implies makes steering easier. If you've ever tried turning a UTV in 4wd without EPS (electronic power steering) you will know just how difficult it can be. Its not an easy task. Imagine several hours of wrestling the steering wheel on a tight rocky trail. With power steering it can be a lot more fun and less tiring.
If you spend a lot of time off road, on difficult trails, or spend a long time in your side by side, then EPS is a must! It can also be helpful for UTVs with lift kits and bigger tires. Bigger tires add a surprising amount of weight and dramatically increases the force to turn the steering wheel. With power steering this effect isn't very noticeable.
Lastly those who use their UTVs for work or hunting will benefit greatly from EPS. Power steering will give the UTV a lighter feel and it will inspire confidence in its handling. This can be very beneficial if you spend long hours hauling heavy loads. The EPS will reduce the workload on the driver.
Electronic Power Steering
Their are two different types of power steering that is used on a UTV, electric and hydraulic. They each of their own advantages and disadvantages.
An electric power steering system or EPS uses electric motors to assist in the steering. It works by using sensors which detect the position of the steering column and a computer which applies the torque from the electric motor to assist in the steering. The electric motor is connected to either the steering column or a direct connection to the steering gear.
The benefit of electric motors is that they provide 100% of their torque and 0 rpm, and they can be easily controlled to provide a variable amount of torque depending on the steering column's position. This gives EPS a greater range of control and more opportunities than traditional hydraulic power steering.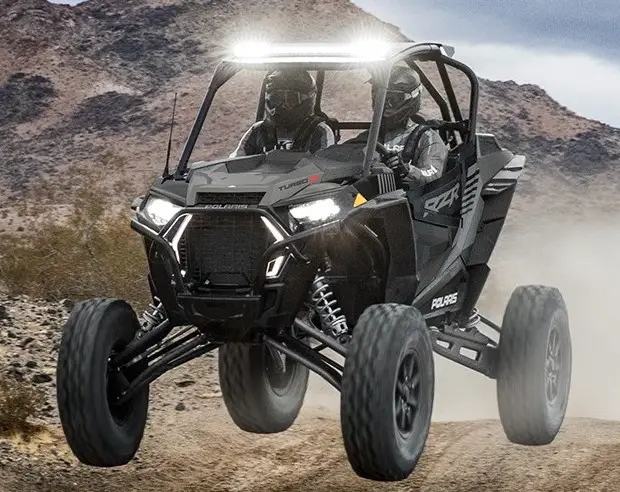 With an EPS setup there is no need for a direct mechanical link between the steering gear and the steering wheel itself, but as a fail safe EPS systems still have a mechanical link. The mechanical link will function to steer the tires if the EPS goes out. EPS also has less of a draw on the engine's power. A traditional hydraulic system will have a power steering pump ran by the engine's belt which will continually use a small amount of the engines power. EPS will only use power from the battery when steering so the overall power need from the engine will be less. This can help in improve fuel efficiency. For more info on UTV fuel efficiency, check out our diesel UTV article here.
Pros:
Light steering feel
No hydraulic fluid, lines, pump. Overall cleaner setup
More fuel efficient
consistent steering on rugged terrain
stable at high speeds
Cons:
Disconnected feeling from the road
heavier steering in the event of an EPS failure
Hydraulic Power Steering
The other type of steering assist is hydraulic power steering. This is the original type of power steering and it is still used today on many trucks and vehicles. This steering method utilizes an actuator. The hydraulic cylinder is located between the steering wheel and the linkage that steers the wheels.
This system works by multiplying the force that is applied from the steering wheel to the hydraulic cylinder. The hydraulic cylinder amplifies this input force and exerts it to steer the wheels in the direction that the steering wheel is turned. The hydraulic fluid's pressure comes from a pump which is driven by the UTV's engine.
During the steering wheel's operation it opens and closes valves to control the flow of the hydraulic fluid into the cylinder. The driver then controls how much fluid flows into the cylinder and how much force is exerted on the wheels based on the steering wheel's position. Some newer hydraulic systems have an electronic valve that reduces the hydraulic pressure as the UTV's speed increases. This is because much less force is needed to turn at high speeds than low speeds. This system is called variable-assist power steering.
Pros:
More connected feeling to the road
hydraulic systems have been around longer than EPS
Cons:
High parasitic losses on the engine from the hydraulic pump
Lots of hydraulic hoses
More components to maintain than EPS
Aftermarket Solutions
If you find yourself without power steering on your UTV but you want it the aftermarket has you covered. The easiest solution is to install an electric power steering kit. Be careful when shopping for an aftermarket kit because they are UTV specific.
One kit that is very good solution for a reasonable price is the Moose Racing Electric Power Steering Kit sold by Revzilla. This power steering kit fits on Can Am Commanders, Polaris Rangers, several different Polaris RZRs, and Yamaha Rhinos. Be sure to check the fitment tab to make sure your UTV is on the list before purchasing. Other kits include Super ATV's EZ Steer Kit which is said to be adaptable for buggys, side by sides, and ATVs
There really is a vast amount of kits you can choose from when shopping for a side by side power steering kit. Be sure to check if the kit is vehicle specific or not. In total the cost to add electronic power steering to your UTV will be around $500-$1000 for the kit, and more if you pay to have someone install it for you. Power steering is a great modification to add to your UTV especially if you put a lot of hours on your rig.