Electric cars have become super popular in recent years. Most of this is due to Tesla and their work to make the electric car sexy…. or should I say s3xy. Although electric cars have been taking off, it has not been until recent years that an electric motorcycles have caught up in popularity.
If you're in the market for an electric motorcycle or even just a new motorcycle, the time has never been better. Electric motorcycles' ranges and horsepower have been steadily increasing to the point where they rival and even beat their gas powered counterparts.
While many purist will hate the idea of an electric bike, it really isn't a comprise. In many ways electric bikes outperform gas powered motorcycles. The electric Lightning LS-218 superbike beat every other bike at the Pikes Peak hill climb this year The gap between production electric and gas bikes has narrowed to the point that we think it's time to seriously consider going electric.
The city slicker is the cheapest bike on our list but it's still a performer. It's grom-like good looks and punchy 3.2kw electric motor makes this bike a great choice for short urban commutes. The top speed is 40 to 42 mph depending on rider weight. The spot where the gas tank would be, is instead a storage compartment. Range is pretty decent too 62 miles at 20 mph or 37 miles at 37 mph. Recharging takes 6-8 hours at 120 volt outlets. The battery can also be removed in minutes and charged separately. Despite its small size the City Slicker is quick off the line. It's punchy motor is great for around town and even the occasional hooligan moments.
This bike comes with a 12 month unlimited mile warranty. If your in the market for a small, punchy, and fun to ride motorcycle take a look at the CSC City Slicker.
The dual sport FX is one of the most exciting bikes in the Zero lineup. The base model comes with a 3.6kwh battery and the electric motor makes 27hp and 78lb-ft. The range is usable too, 46 miles city and 19 miles highway at 70 mph. Adding two grand to the purchase price gets you the 7.2kwh battery that bumps horsepower to 46hp and range to 91 miles city and 39 miles highway.
With 78lb-ft of torque available at 0 rpm and low weight of 247lb will allow for plenty of hooligan antics. The best part is you'll be able to get away with so much more than you ever could on a gas powered supermoto thanks to the electric motor's low noise. This motorcycle is perfect for urban commuting and off road exploring. The FX has regenerative braking, direct drive, so theirs no need to shift gears. Recharge time takes 5.1 hours for the smaller battery and 9.7 hours for the larger battery. With max accessory chargers the time drops to 1.6 hours and 1.8 hours respectively.
The FX is one of the most exciting motorcycles on the market. Its low weight and high power combination makes it a lethal weapon the street. This is one of our favorite bikes on this list.
Keeping the list going with Zero motorcycles, the Zero DS/DSR/Black Forest are the electric adventure rigs of choice on this list. The base DS comes with 46hp and 78lb-ft of torque, and the same size battery as the FX. However, if you move up to the DSR you get the 14.4 kwh battery, 70hp, and 116 lb-ft of torque. Having all that torque available at zero rpm has to be absolutely mental.
The DSR has up to 204 miles in the city and 97 miles on the highway. The range is more than sufficient for off road adventures, and the power is enough to leave sport bikes in the dust off the line. For those who want to travel the country will be happy to know that the DSR has level 2 charging. This charging gives up to 94 miles of range per hour. This electric motorcycle is ready to take you on an adventure on or off the pavement.
The relatively new Kalk& from the Swedish company Cake, is a super lightweight off road trail eating machine. Weighing just 174lbs the Kalk is sure to be an excellent off-roader. In fact its probably an excellent bike for "whirring" through traffic in urban environments. Top speed is limited to 56mph and the range is good for 53 miles of mixed riding. Recharging takes just 2.5 hours to go 0-100.
One of the cheapest full-size motorcycles on this list is the Evoke Urban. As its name implies the Urban is best suited city commuting. However it does have an 81 mph top speed which makes it more than capable for brief highway riding. The 125 mile range takes just 90 minutes to replenish. The Urban even has a reverse. To reverse, the electric motor will simply rotate slowly in the opposite direction rather than having a dedicated reverse gear. This can be quite handy in parking in crowed urban settings. With 19kw peak power (25hp) this Evoke should be able to handle anything the city streets has to throw at it.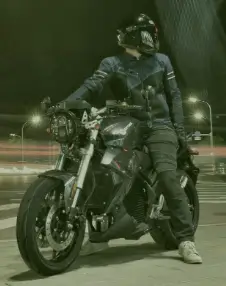 While the Emflux one has not yet been put into production, its specs look promising. The bike is powered by an electric motor that produces 71hp and 62 lb-ft of torque, enabling a 0-60 mph time of around 3 seconds. The bike weights 373 lbs and has a projected range of 121 miles. Not all of the details are known, but 0-80% charge should take just 36 minutes. Emflux is attempting to get the starting price down. If they're able to do that, they will be very competitive to other 600cc sport bikes on the market.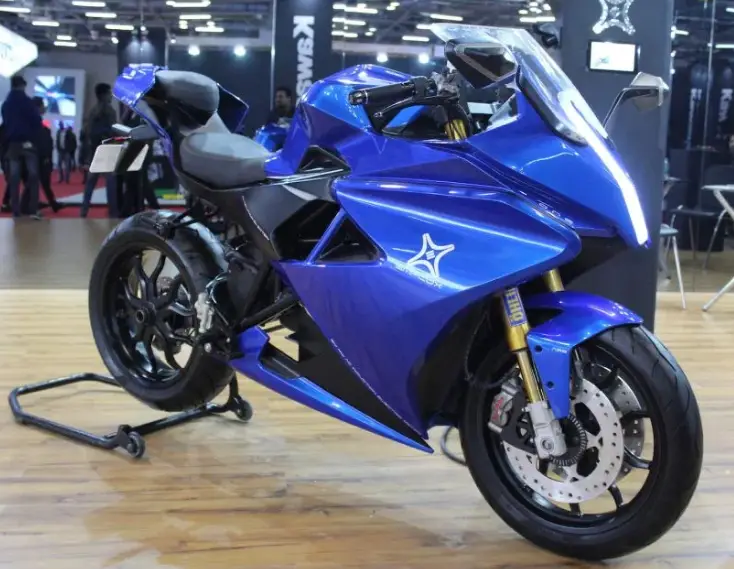 It would be impossible to have list of electric motorcycles and not mention Harley Davidson's most controversial bike to date. The LiveWire just happens to be Harley's fastest motorcycle from 0-60 mph reaching the speed in just 3 seconds flat. Harley says the LiveWire is good for 146 miles in the city or 95 miles in mixed highway and city from its 15.5kwh battery pack.
The battery goes from 0 to 80% charge 40 minutes or to 100% charge in one hour with level 3 charging. The bike has 7 different ride modes to choose from. Among these modes are: sport, road, range, rain, and three different modes the rider can customize to his or her preference.
The LiveWire can be charged at any electrify america charging location. Also any Harley dealership that sells the Livewire will also have a free charging at that dealer for up to two years. The LiveWire is the first major manufacturer to have a production electric motorcycle. The LiveWire is incredibly fast and has good handling thanks to its low center of gravity. This combination is sure to be an exhilarating ride!
The Italian company, Energica, makes some of the most beautiful motorcycles on the road, and it just happens to be electric. These bikes aren't just about looks either. They are true superbikes. With 145hp and an earth moving 159 lb-ft of torque the Ego is sure to be a rocket! The Ego has a top speed of 150 mph and a range 250 miles city and 112 miles on the highway with the larger 21.5kwh battery pack. A complete charge takes only one hour, making this one of the fastest charging bikes on the market.
Energica is one of the most exciting motorcycle manufacturers in existence. They single handedly supply of the electric motorcycles for the MotoE racing series. These racing bikes and the Ego are closely related. With its race-bred heritage and Italian superbike good looks, we can't wait to get our hands on one for a test ride!
Keeping the list going with high powered superbikes is the Lightning LS-218. The LS-218 has already built an impressive resume by winning the Pikes Peak Hillclimb race in 2013 and beating every other gas powered motorcycle. On top of that, the LS-218 has also set speed records with a 218mph top speed, hence its name LS-218. Lightning says its the fastest motorcycle in production gas or electric, and the price is comparable to the higher spec Ducati Panigale.
Powering the Lightning is a 20kwh battery pack which allows the electric motor to make 200hp and 168lb-ft of torque. The LS-218 also has a 100 mile range at highway speeds and much more for city riding. Lightning claims charging takes only 30 minutes with a DC fast charger. If you're looking for acceleration that is so fast your vision blurs and you think you're entering warp drive with every twist of the throttle, then the Lightning is for you!
The Manx 7 is the first cafe racer styled bike on this list, but don't let its style fool you. This bike is all about performance! With 163 hp the Manx 7 rockets from 0-60 mph in 3 seconds. Since there's no gearbox and clutch to deal with like on a gasonline powered motorcycle, this performance spec is easily repeatable. The Manx 7 has a carbon fiber monocoque chassis which helps keep the weight down to 478 lbs.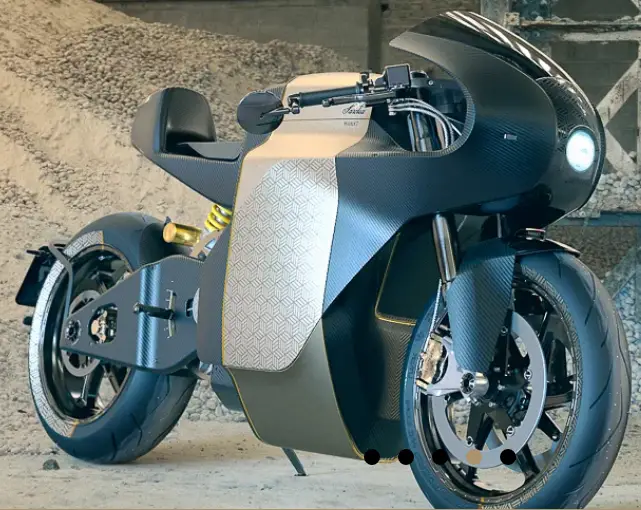 Sarolea says the Manx 7 has up to 205 miles of range thanks to a 20kwh battery pack. The weight is evenly distributed to 50% front and rear. Its cafe style and superbike horsepower numbers is sure to make the Manx 7 a sleeper on the street!
The second Energica on this list is the Eva Essesse 9. The Eva's retro styling comes with an oil-cooled electric motor producing 109hp and 148lb-ft of torque. Top speed is limited to 125mph, and like the Ego, the Eva has a 250 mile city range and 112 mile highway range with the 21.5 kwh battery pack.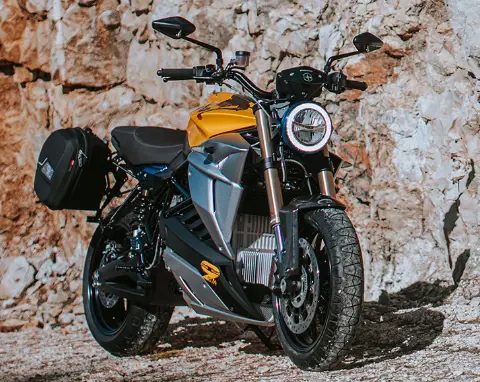 If your looking for a retro styled motorcycle that isn't obvious its electric, the Eva is the perfect bike. Its 148lb-ft of torque is sure to make this bike perfect for darting through gaps in traffic and canyon carving. It also has optional saddlebags which will enable longer trips along with its standard cruise control. Fast charging only takes 1 hour to go from 0-100% charge. The bike comes with a 2 year warranty on the vehicle and a 3 year 31,000 mile on the battery.
While its the most expensive motorcycle on this list, its also the most futuristic looking. Designed by a British startup company, the Vector looks like it came straight out of a sci-fi movie in the future. The 0-60 mph sprint takes just 2.7 seconds and the range is a commanding 120 miles on the highway and 170 miles in the city. The bike uses a carbon fiber monocoque design and a carbon fiber swing arm. Ohlins dampers are also utilized along with Brembo brakes which will bring this beast to a halt in a hurry. Charging the 16.8 kwh battery takes only 40 minutes.
The Vector isn't just about the motorcycle though. Each owner will also receive his or her own helmet with a heads up display. An integrated rear facing camera will kick in whenever it detects something in the rider's blind spot. The different riding modes on the Vector will also be able to be switched via voice control.
If you're in the market for the Vector, you better act quickly. They are only making 399 examples of this beauty. Deliveries are expected to begin this summer.
This list could not be complete without the SR/F. The SR/F is one of Zero's highest performing motorcycles. Zero didn't release any 0-60 mph times, but third parties have suggested that its under 3 seconds! SR/F specs will easily put other sportbikes to shame with 140 lb-ft of torque and 110hp. City range is 161 miles while highway is 82 miles at 70mph, but if you opt in for the powertank, the Zero gets 200 miles of range in the city. Rapid charging takes 1.5 hours, while charging from a standard outlet takes 8.5 hours.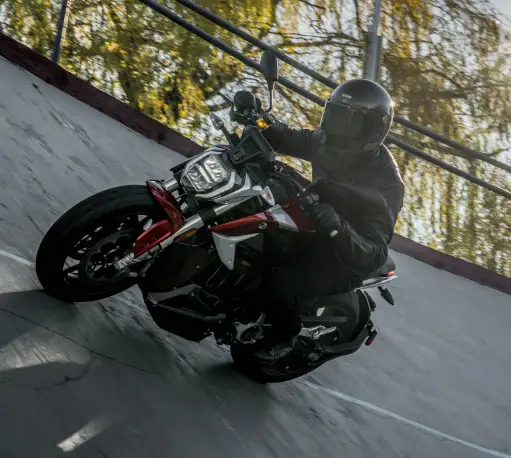 The SR/S is Zero's latest electric motorcycle, and first motorcycle with a fairing. The SR/S utilizes the same engine and battery as the SR/F, but the new fairing reduces aerodynamic drag. Zero states that the fairing gives a 13% efficiency boost at highway speeds when the rider is in a full tuck position.
If you're in the market for a new motorcycle, the time has never been better to consider going electric. Electric motorcycles combination of low maintenance and high power makes them exciting bikes to own. Many electric motorcycles are already out performing their gas powered counterparts. Each year these motorcycles just seem to get better, faster, and have a longer range. The time is now to seriously consider electric motorcycles as worthy competitors. While we still love the sound of our gas powered motorcycles, if the future of motorcycling does go electric, rest assured it will still be a blast!