Waxing your car or boat can be a very time consuming, tedious, and boring project. However it is a necessary task to perform if you want to keep your paint job looking fresh, and Turtle Wax: Wax and Dry makes the process a whole lot less painful and time consuming.
What Waxing Actually Does
Waxing is basically a protective coating applied to the top layer of your car's paint. A car's paint job is made up of three different coats: base primer, color coat, and a clear coat. Your paint job's appearance depends on the smoothness of the clear coat. The smoother it is, the more mirror like it looks.
This is where the wax comes in. The wax fills in the tiny imperfections and crevices in your top coat smoothing it out and improving that nice mirror like finish.
However waxing doesn't just make your car look pretty, it is also one of the best ways to make your paint job look better. Waxing can protect your car from sun damage such as fading paint, discoloring, and oxidation. It also gives your vehicle a high gloss finish look, and it prevents those pesky water spots you'll often see after washing your car.
Wax and Dry
The problem is that waxing is very time consuming. First you have to wash your car thoroughly. Then you have to dry your vehicle. Then you have to apply wax all over your car, and finally you have to remove the dried wax. Well if that sounds like a lot work (and it is), Turtle Wax: Wax and Dry is the solution for you.
Turtle Wax: Wax and Dry simplifies the process by combining the washing and waxing into one step. All you have to do is wash your car, spray on the wax, dry your car with a microfiber towel, and voila you now have a waxed car with a high gloss finish!
Okay well it can't be that good if its a spray on wax right? Well, that's what I thought, so I went out and bought Wax and Dry and tried it on my own vehicle, and the results were surprisingly good.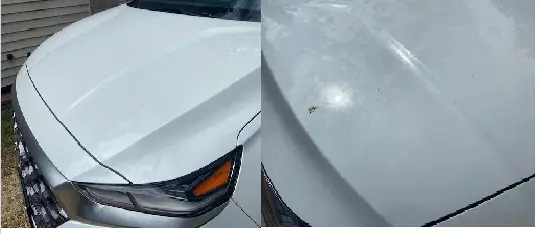 The process was incredibly easy. All I had to do was perform my regular car wash, spray on the wax and dry, and finally wash it off with a microfiber towel. So far its been about a week since waxing and it is still holding up well despite some rain, pollen, and sitting outside. Upon application, my vehicle was immediately shinier, more mirror-like, and looked better than when it drove of the dealer lot on a snowy/icy Saturday in January.
The coating provided good coverage all the way around the vehicle. My one complaint about applying the wax was that it was hard to spray painted areas around the rear view camera without hitting the base of the camera mount.
Overall I was very impressed. It made a typical 2-3 hour job and turned it into a 1.5 hour job.
Who Is This Product For?
This product is for perfect for people who struggle to find time or desire to wax their vehicles. It barely adds on any time from a typical car wash. This wax isn't perfect, but its so easy to use that you could implement it into every car wash.
Click here to check price and reviews for the product I would recommend.
This wax will perform well for newer vehicles and newer paint jobs. While it still performs on older vehicles and paint jobs, you might be better off going with a traditional liquid wax if your vehicles paint is in rough shape. This is because the liquid will ultimately do a better job of penetrating your paint job than the spray on.
That being said if you're looking for a quick, easy, and quality spray on wax, look no further. Turtle Wax: Wax and Dry is the solution for you.