After the helmet and riding boots, an armored motorcycle jacket is the next most important piece of motorcycle safety gear. In fact a good motorcycle jacket can limit road rash or serious injuries in a crash. These jackets can also protect you from the elements whether its rain, sleet, or sun.
If your in the market for a stylish yet armored motorcycle jacket, then you've come to the right place. The Viking Cycle Ironborn Motorcycle Jacket is the jacket for you. Keep reading to find out why.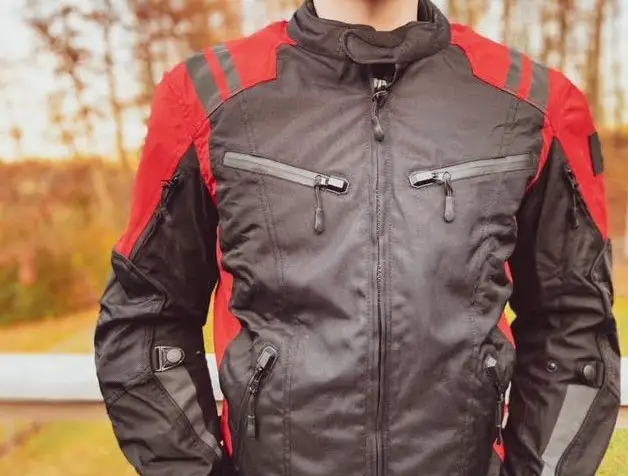 What Is It?
The Ironborn jacket is one of Viking Cycle's most popular offerings. It is a stylish yet essential component of motorcycle safety gear. It can be worn all season thanks to a removable thermal sleeveless liner. The Ironborn has plenty of nifty storage compartments for your every day carry, and its armored so it can protect you in case you make an unfortunate acquaintance with the road.
Features
| | |
| --- | --- |
| CONSTRUCTION | PU coated Cordura. ergonomic pullers and zippers |
| PROTECTION | CE approved armor on Elbows, Shoulders, and Spine |
| INSULATION | Removable Thermal Sleeveless Liner |
| VENTILATION | Air-Flow System with front, sleeve and back vents |
| ADJUSTABILITY | Lockdown waist adjustment |
| PANTS-ATTACHMENT | Belt loops for pants Attachment |
| EXTERNAL STORAGE | 2 zippered front-pockets and 2 zippered side Pockets |
| INTERNAL STORAGE | Zippered internal pocket |
Review
The Ironborn jacket is made from 100% 600d Polyeseter coated by polyurethane. This gives the jacket excellent water and wind resistance. During my time with the jacket it kept me warm and comfortable. The weather was an admittedly mild 50 degrees outside. This material is supposed to make the jacket not sag or wrinkle over time. In the three weeks that i've been testing the jacket, it has held up very well.
The fabric is lightweight and the jacket does not restrict my range of motion for my arms. Although it is lightweight, the fabric still inspires confidence that it will hold up well in the event of an accident.
In fact the Ironborn Motorcycle jacket is armored in the elbows, shoulders, and spine. This armor meets the CE standard. If your from the states, you're probably wondering what CE is, so allow me to explain:
CE stands for "Conformité Européene" which is French for "European Conformity". CE is a rating that is being used for European motorcycle safety standards. North America has (unofficially) adopted these same standards.
Viking Cycle's armor isn't just CE approved, its better, "V-Safe protection system is a state of the art protection system which matches the safety threshold of CE-Approved protection while improving the ergonomics by adapting a honeycomb design for increased flexibility and maximum joint movement.". I have to agree that this jacket does offer increased flexibility compared to other armored jackets that i've worn. While the armor is noticeable, it doesn't affect your posture or restrict movements like some jackets.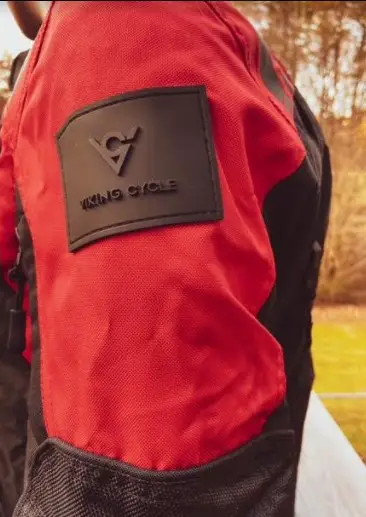 The Ironborn even has a removable thermal liner making it perfect for summer riding. The problem with many armored jackets is that you'll overheat wearing them in hot weather. Although I was not able to test this in the peak of summer, I believe the jacket will still keep you cool in the heat with the thermal liner removed.
Pros and Cons
The Ironborn jacket offers a comfortable fit. The jacket has armored shoulders, elbows, and back, but it still offers full range of motion of the your arms. This jacket comes in a variety of colors: black, military green, red, gray, and neon.
The Viking Cycle jacket has a removable thermal liner allowing for summer riding. The Polyurethaned 600d polyester material has great weather resistant qualities.
The only con or complaint that I would have with this jacket is that the front pockets are a little bit small. Because of their small size I don't have a lot of use for them. However the pockets on the interior of the jacket are much larger and provide ample storage space. Overall it was hard to find fault with such a great jacket.
Conclusion
Overall I think this an excellent jacket. The Ironborn is comfortable to wear. It has kept me warm in colder weather, and the removable thermal liner can offer a cool down if it gets too hot. The armor is sturdy yet flexible. The armored padding inspires confidence and the polyurethane finish offers excellent resistance to the elements.
If you are in the market for a new or for your first armored motorcycle jacket, you can't go wrong with the Viking Cycle's Ironborn jacket. Also be sure to check out Viking Cycle for any of your motorcycle's needs. They carry everything from accessories like saddlebags to sissy bars for Harley Davidsons.