Imagine the situation when you finally have a weekend outdoors and at some time your trailer gets stuck in the snow or mud without a car trailer winch. It is a sad story especially if no one can help you. In order not to avoid this terrible scenario, please purchase the best winch for car trailer in advance hauling to pull your vehicle.
You most likely can't get the only one due to a large number of options or understanding which one suits your car better. That's why I am going to recommend you pick the best winch for car trailer.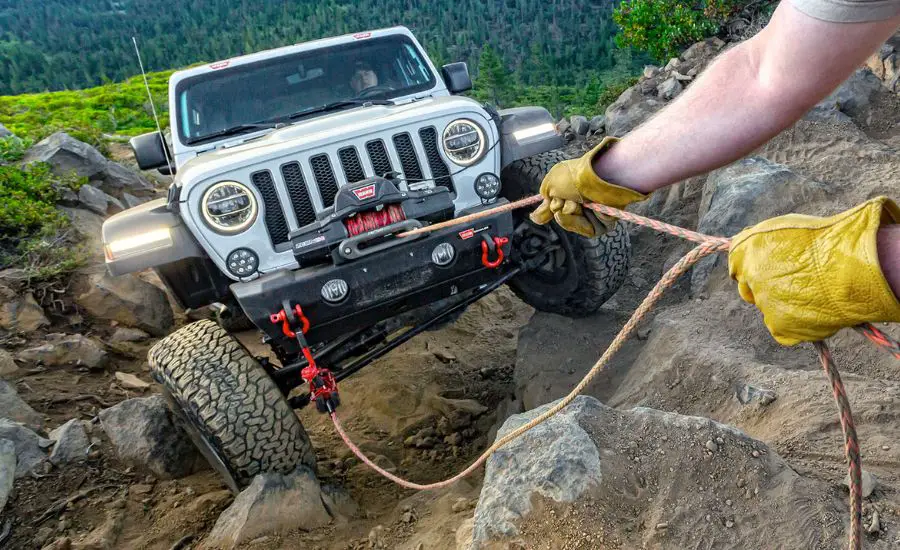 The best car trailer winches
The table below it is enumerated 6 winches of different manufacturers that I want to recommend to you in this article.
Choose the best winch for a car trailer
Getting a high-capacity winch from a trusted organization is a solid choice. I am going to recommend the best winch for car trailers to allow you to select any device on the list.
WARN 96800 VR8 Electric Winch with Steel Cable, 4 Ton Load Capacity
The Warn winch provides safe performance and trustworthy styling. The control pack contains upright or lоw-profile mounting configurations.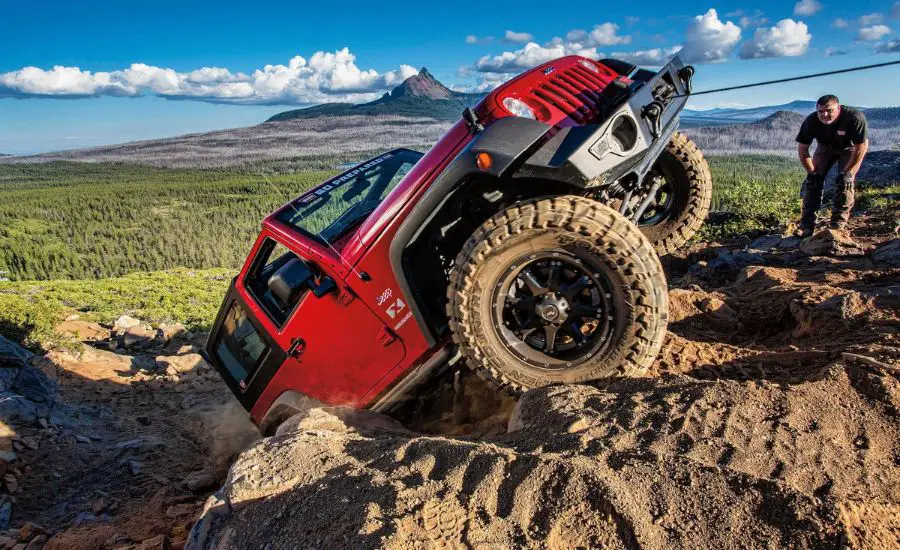 All of the VR winches come with standard synthetic rope winch, pre-wound onto the drum right out of the box.
Another plus of the device is its waterproof contractor. Using the winch with the waterproof feature you should be confident that your device provides the most reliable winch control.
A one-piece plate replaces multiple tie bars for added strength, and the best-in-class cone brake handles the full-rated load.
This winch comes with cables pre-wired, ready to be installed as soon as it is received by the new owner. The universal design fits any truck and Jeep. In addition, the exclusive brake design can help you to control the winch better.
Pros
Ease of use
Durable gear train
Fast speed
All-purpose design
Exclusive brake design
Cons
Rust bolts
Weak synthetic rope
Superwinch 1140232 Winch2Go DC Electric Portable Utility Winch 4000lb with Steel Rope, 7/32″ x 40′ Synthetic Rope Winch, Handheld Remote
The winch is an all-inclusive winch kit that helps you to become wholly independent on the road. It is a complete winching solution in a convenient kit that features a 4,000 lb rated line pull winch on a unique powder-coated winch platform, all in a compact, easy-to-carry composite toolbox.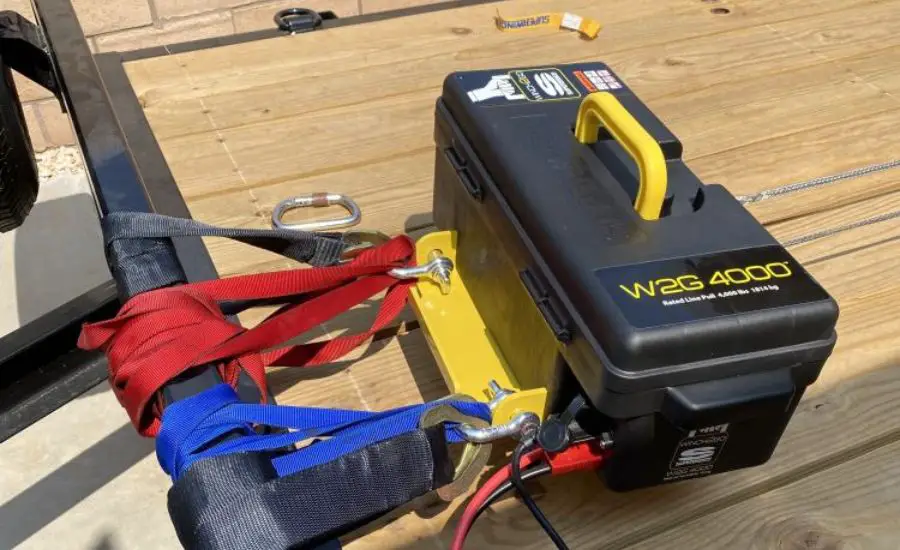 Storage and carrying boxes are included.
The set is easy to use and repack and it makes the product convenient to store. Including steel wire rope adds confidence in great loading capacity.
Quick connect electrical cabling makes powering your trailer winch fast and easy.
Plug in the 12-inch sealed rocker switch handheld remote for easy control over winching in and out.
The box contains 3 D-shackles and a pulley block. The special Remote control works handheld. Heavy-duty straps allow you to be confident in the durability of the device.
A pair of leather palmed winch gloves are included in the set.
Pros
Ease of use
Carrying box as a point of portability
Remote control
Winch gloves included
Fast powering
Cons
Not exactly a durable design
FIERYRED 5500LBS Electric Winch Synthetic Rope Kits for ATV UTV Off-Road Wired/Wireless Remote Control Mounting Bracket
This electric winch is a great device for outdoor users who travel to harsh terrains. The kit contains everything you could need.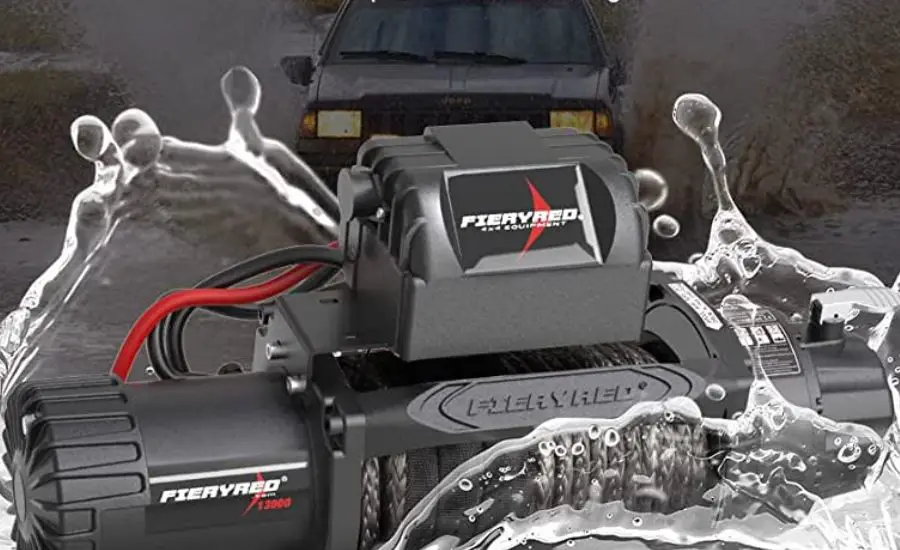 Put attention to the plug connector and the mounting brackets.
It perfectly allows the convenient installation of the switch onto the tube of an ATV or UTV.
An electric winch can not only save you time but can also save your back and shoulder from having to crank the vehicle out of the mud because of special loading capacity.
The features of the electric winch are reversible electric winching and a free spooling function and is designed to pull vehicles up to 3,667 lbs (1663kg).
The galvanized steel hook and pоwder-coated aluminum fairlead are built to long last.
The dustproof and waterproof rating makes it a reliable choice for all weather conditions. Featuring a 3-stage planetary gear train, the 2.2 hp output permanent magnet motor delivers fast and quiet pulling power.
The Complete Kit includes the winch, fairlead, hook, control box, wire rope, wired remote, user manual, fixing panel, screw parts, clutch knob, and hook strap.
Pros
Ease to install
Durable construction
Wireless remote control
Safe work
Worth your money
Cons
The remote control intermittently does not work
Champion Power Equipment-14560 4500-lb. ATV/UTV Wireless Winch Kit
This winch has an admissible lifting capacity and the motor is powered by direct current, so the device works stably and without errors. It contains a wireless remote and antenna, a wiring kit with a mini-rocker switch, and exactly all you need to begin winching.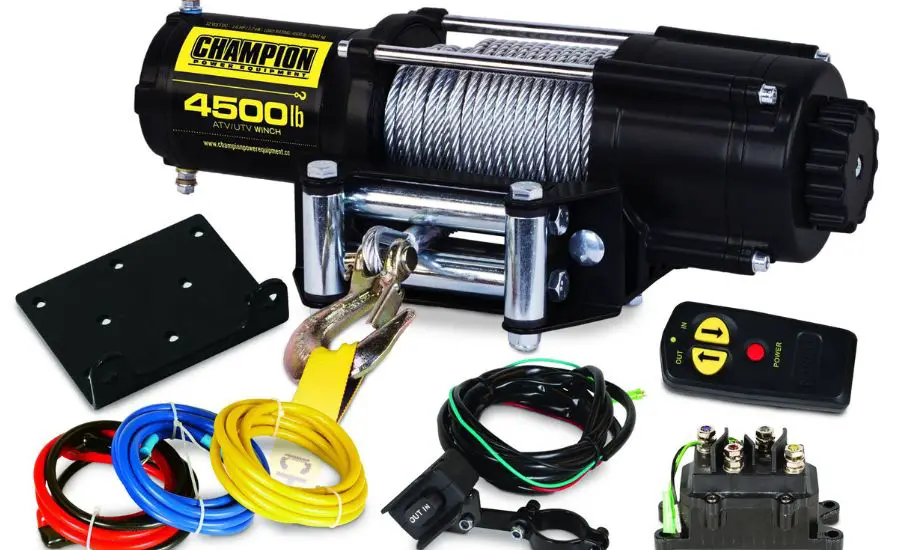 A wireless remote control and an antenna will help you. This bland's all-purpose and useful design includes an automatic shutdown function. The remote control automatically turns off when not in use to prevent unnecessary draining of your vehicle's battery.
The gear system and handlebar switch provided control. Detailed connection instructions are in the instructions, so it will not be difficult for you to complete this task.
This compact and lightweight tool is equipped with a strong hook and strap. At the same time, the tool retains its power with a small weight.
The high-strength aircraft cable will not wear out even when used in highly abrasive areas.
This winch is multifunctional and can help you get out of an uncomfortable situation, having its load capacity.
This winch for car trailer seems to be the best winch for enclosed car trailer. The users of enclosed car trailer make the product reliable.
They prefer it because of heavy-duty build quality, loading capacity, and extra features unoften spread in all other products in this category.
Pros
Complete setup
High-duty aircraft cable
Remote control
Braking of the winch drum
Instruction availability
Easy to install and use
Value for mоney
The best winch for enclosed car trailer
Cons
Not fitting a winch-ready bumper
ZESUPER 4500-lb Waterproof Winch Waterproof IP67 Electric Winch (Steel Cable)
The winch can achieve the fastest speed because it is combined use of a special gear system. It reaches coaxial speed change.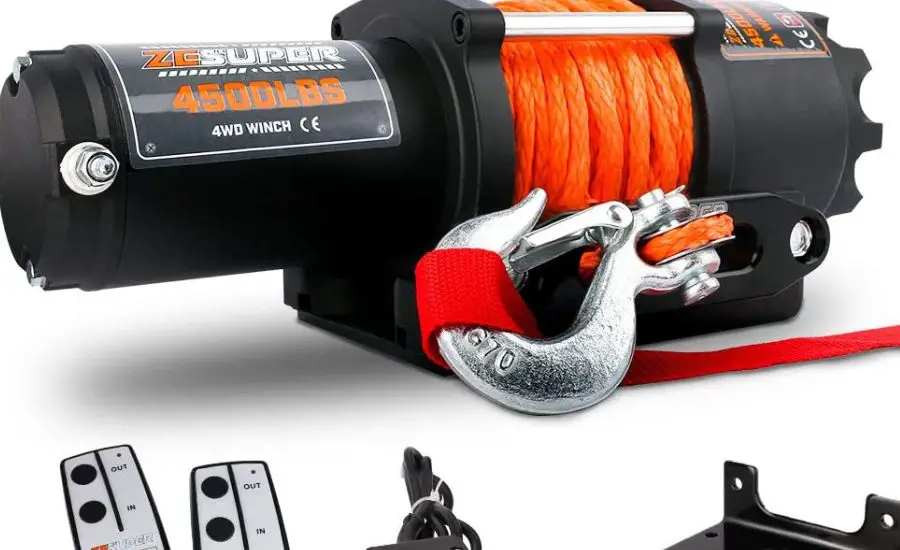 The permanent magnet motor includes a full load that ensures faster linear speed under load.
The product includes a switch for the available remote, a winch steel hawse fairlead, a winch heavy-duty remote, also a winch hammer forged hook, and a mounting plate. Don't forget about a control box too.
The design is fitting any complex situation. It fits all ATVs and UTVs. Moreover, it is resistant to water and corrosion.
The manufacturer technically supports any winch kit and you get a warranty exactly. If there is any problem, contact the representatives of the brand who is ready to provide the most professional recommendations and timely service. There are no circuit breakers.
Pros
Remote Control
Easy to install
High compatibility
Stable work
Cons
OFF-ROAD BOAR 13000 Lb Winch, Electric Winch 12V with Steel Rope, Waterproof IP67 ATV UTV Jeep Winches with Wireless Remote and Wired Control
This brand-truck winch has great reliability and value.
It is a compact and efficient kit, which has a powerful 13000 lbs tension series winding motor.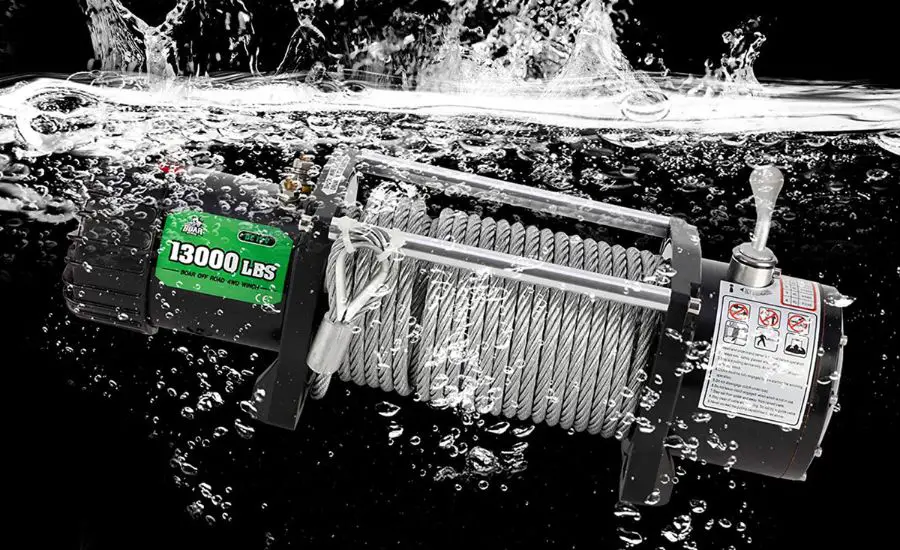 The installation is simple, rapid displacement and multi-station installation are well-realized, and it has the advantages of small size, large reduction ratio, and long service life.
When you are purchasing the winch, at that time you get easy instructions and all equipment you have to fasten to, making installation a piece of cake.
UTV winch contains a wireless remote control and wire rope.
You can operate the winch from a distance of up to 90 feet, not excepting great flexibility in any situation and enabling you to stand at a safe distance with controlling the product.
The synthetic rope is resistant to abrasion, corrosion, and also UV damage. It is perfect for a variety of off-road applications.
The brand stands behind the quality of our winch while protecting against any defects or problems.
Pros
Easy to install
Good price
Remote Control
Fast speed
Ultimate protection
Cons
The cause of purchasing a car trailer winch
Whenever you, a somebody that you intend to pull out of trouble, keeping handy an affordable winch can support easier. It means that instead of calling recovery services and the whole process just may be much better. A winch is almost as important for those who are interested in safe riding.
In addition, winches can help you to cope with some problems. In the case of a broken-down vehicle, or loading a boat in a trailer, the answer is simple. Your trailer winch will help in such situations. Almost any utility work can be made easier with the addition of a winch.
A great winch becomes useful as a safety when there is no one to help you out of a hard situation and makes you independent in the conditions.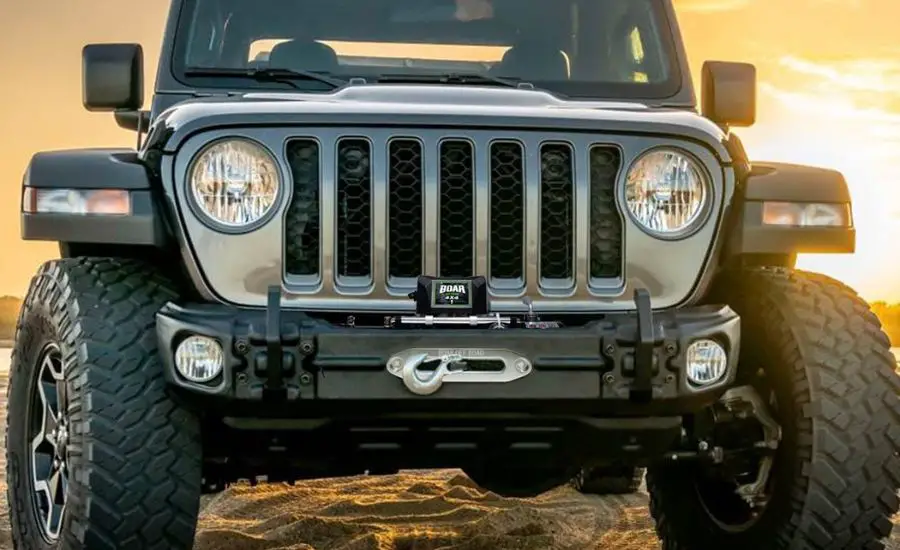 Choose the best winch for car trailer
The size of your car determines which type and size suits your vehicle. You most likely don't wish to heavyweight winch as it messes up your weight and affect the way your car drives.
The main rule you should remember choosing a winch is that it must pull double the weight of your car or just at least a little heavier than your vehicle's weight at least. А Smaller SUVs or lightweight trucks need a smaller winch.
If you're climbing a compound relief l by car, the winch needs to have a strong structure to get you up. Always check the winch's capabilities, especially when it comes to load capacity – how much pulling power is available for the device.
You should make sure that the main component of the winch is installed right in the device. I exactly mean performing a motor that must produce enough power for its duty.
The gear train and clutch system are very important to transmitting power from the motor. Nowadays remote control is popular. Some people use it for safety in winches as running the winch from a distance.
You need to purchase the winch fitting your trailer or car hauler winch. Also, you should decide what type of rope you intend to purchase. That all depends on the aims of use.
Winches are often used in harsh environments. When your car gets stuck, make sure the device you choose is insulated and waterproof. Otherwise, it may deteriorate before the moment when it is needed.
The winch in handy is more than load capable and puts less strain on your winch. It is the way for lasting you longer. That's why you should put a lot of attention to this choice.
Different types of car trailer winch
There are three types of winches available on the market. Let's consider them and their value.
Electric winch. Its feature is working with an electric motor as written in its structure. Electric winches have a very spread use in applications where weight is not as much of an issue, such as pulling a car onto a trailer.
A premium electric winch is a special design heavy-duty winch that is convenient for all kinds of trucks, SUVs, and trailers and has unique high-quality features.
Hydraulic winch. Its special feature is hydraulic pressure. A hydraulic winch is often used in industrial applications where extremely high levels of force are required, such as lifting heavy objects.
Not everyone makes this into a separate type, but it should be mentioned – Power Takeoff. It is designed with tractors /loading trucks and powered by a transmission.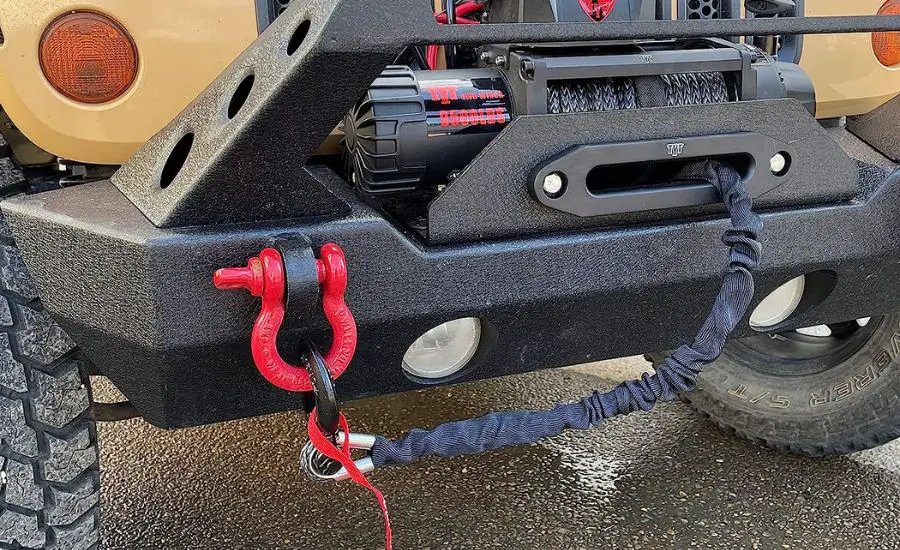 Rope types
Synthetic winch rope is currently used in the manufacture of winches quite often. The material is very durable and also light in weight and comfortable to use.
You can see a lot of electric winches with this type as synthetic rope increases the frequency for a decent enough lifting capacity.
Steel rope is more suitable for using it in difficult situations. It has a higher traction ability. In addition, it is extremely durable and much cheap.
A winch to pull heavy machinery
Towing heavier equipment will inevitably require a larger winch. The electric winches with a load capacity of 9500 lbs allow you to pull a lot of loads as you need.
Anyway, if you have any doubts about the choice of a winch, be sure to consult a specialist or a sales manager in a specialized store.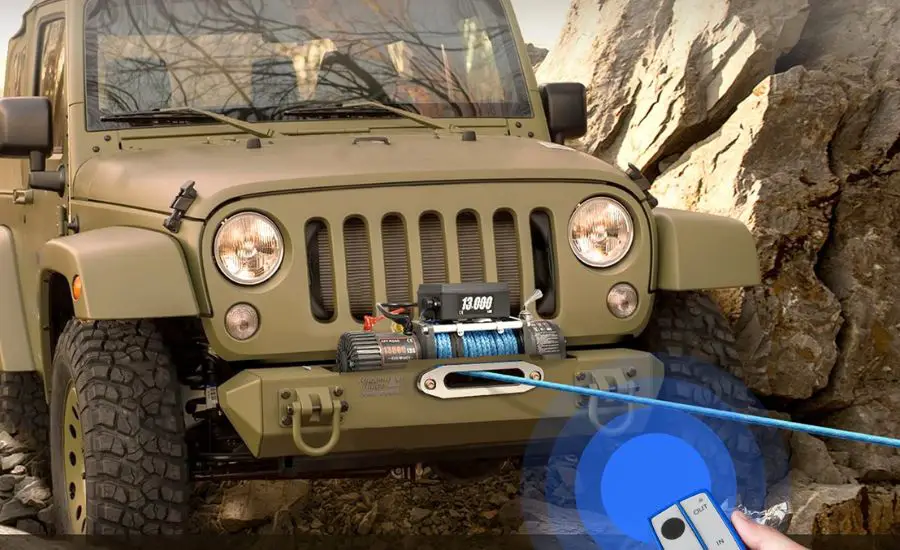 FAQ
We are ready to answer all questions you are interested in.
How big of a winch do I need to pull a car on a trailer?
The load capacity should observe the difference between your total vehicle weight and the weight of the winch. Be attentive while purchasing a convenient one or consulting with a specialist. The main standard is between 9500-12500 pound-capacity winch.
How to attach and connect the winch?
You should carry a receiver hitch mount. Put the winch on your trailer railing with the help of it. Place the mounting plate. Then mount it on the trailer's floor bed.
The connection is easy enough. Connect to the battery. Don't worry and firstly, connect the cable to the (+ve) winch's terminal. Then, the ground wire to the (–ve) post. Finally, drive the other wire ends to the car coupler.
What is the best electric winch for a car trailer?
You can choose the most suitable electric winches that entered our list of the best car trailers' winches.
How do I choose a winch for my car trailer?
Firstly you should think about the size of your car. Then consider the type which you intend to use. Think about load capacity and other important details. Even the details must be taken seriously. Basic features are better to become improved with additions, such as wireless remote controls, automatic brakes, and more.
What weight rating winch for pulling cars?
You must purchase a trailer based on the rule of "one and a half times the total weight of car trailers".
Remember that gross weight is not only weight, but also plus the driver, fuel, and any gear or luggage that will be carried.
Just load the transport with everything you need and fill the gas tank to the limit. Next, you can drive to a truck stop or junkyard to weigh the truck on a truck scale.
Result
In conclusion, I considered the list of car trailer winches to make you find the best winch.
There are a lot of features you should pay attention making your choice as size, load capacity (winch pull), gear train, pulling power, the material of a winch cable if there is an inductive braking system and others. Besides, I learn about two types of products – there are electric winches and hydraulic winches as types of rope.
The ideal winch should be inexpensive and durable. It would be very light and compact, yet strong. It will always work without unnecessary heat. Unfortunately, so far no one has been able to create an ideal device that meets the quality in all respects, but many brands in the world are trying to achieve such a result that cannot but please users of trailers and other cars.
The right winch can save your life and not get trapped in a terrible situation. I hope I help you to figure this out and now you can select the best winch for car trailer.