A wild two-stroke engine swapped cafe racer, a supermoto styled electric concept, and a custom Yamaha MT-01 muscle bike round up this week's bikes of the week.
Hondeath Banshee swapped CL350
Motorcycle engine swaps are some of the most interesting builds. Sometimes the motor is too heavy and bulky which throws off the aesthetic of the bike. Other times the motor looks like it was designed to fit into the motorcycle, and the frame and engine combine to make a truly unique ride. The Hondeath is definitely the latter.
What started life as a lowly Honda CL350 has been transformed into an oil burning, fire breathing 100hp cafe racer. So what's the donor engine you ask? The powerplant you ask, a 472cc super cub twin cylinder motor from a Yamaha banshee was swapped into this Honda.
Typically this engine is found in a quad or if it's been swapped, a dirt bike, but this is the first banshee powered cafe racer we've seen! The banshee makes for a truly interesting and unique choice. Banshees have a cult following for their durability, ability to make insane amounts of power on pump gas, and for being a two stroke.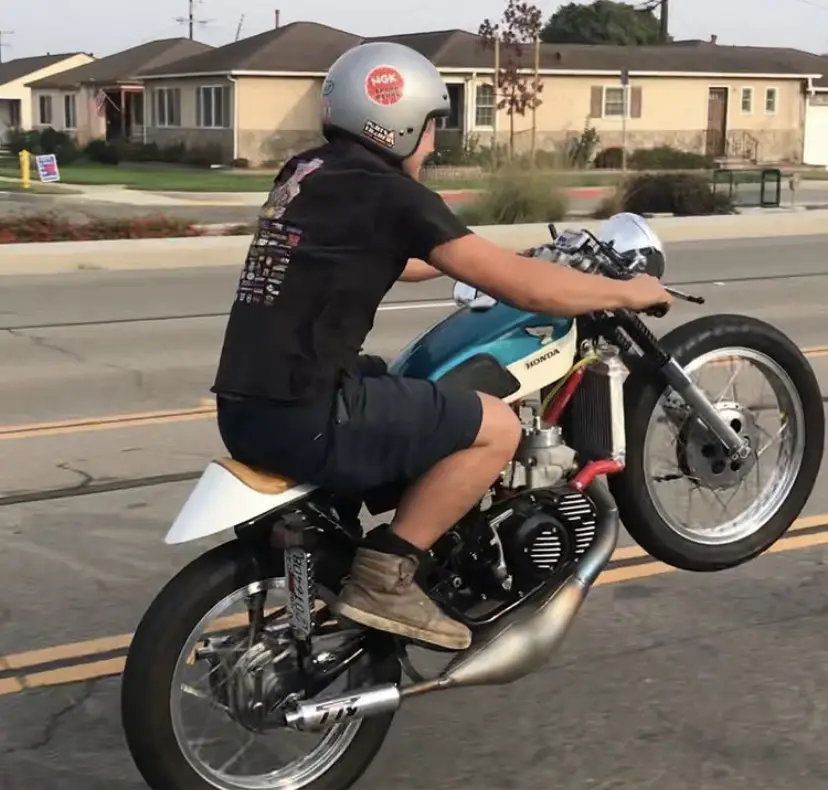 Two stroke engines are naturally lightweight, lack valves, reliable, and easy to work on. Andrew says that the weight was dropped by around 40lbs from a stock CL350. Making this a featherweight cafe racer weighing somewhere around 280lbs. A 100 hp engine and 280lb motorcycle make for a lightweight wheelie ripping machine.
The cafe racer previously got 30 miles to the tank with 35mm carbs, but now that he bumped it up to 40mm it only gets 20 miles to the tank. The exhaust is custom cpi banshee drag pipes that had to be cut to fit underneath the CL350. Toomey then made custom 8″ silencers to finish the look.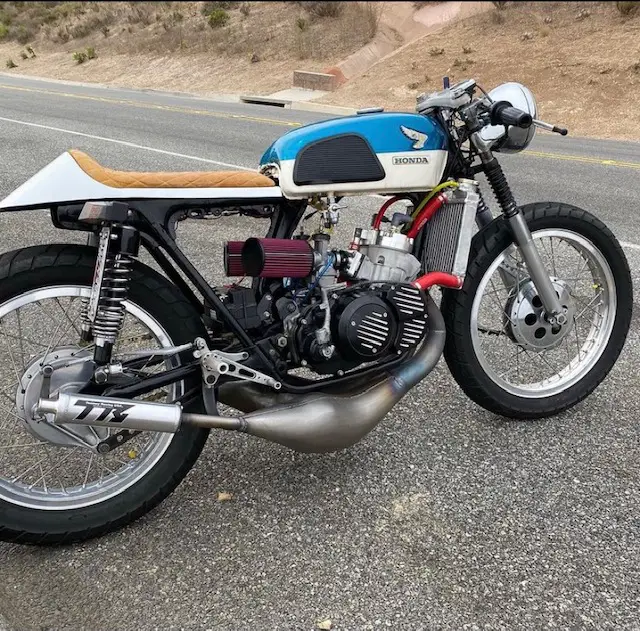 Overall this is an amazing custom motorcycle with an insane power to weight ratio. If you want to check out the build and see videos of this beast popping wheelies, check out Andrew's Instagram here.
Nito N4
The Nito N4 is an electric supermoto concept from Nito bikes revealed at ECIMA in 2019. Is heavy on the supermoto styling. The lines are incredibly smooth, and it looks like a mini Husqvarna with Ducati red coloring in a Honda Grom sized package.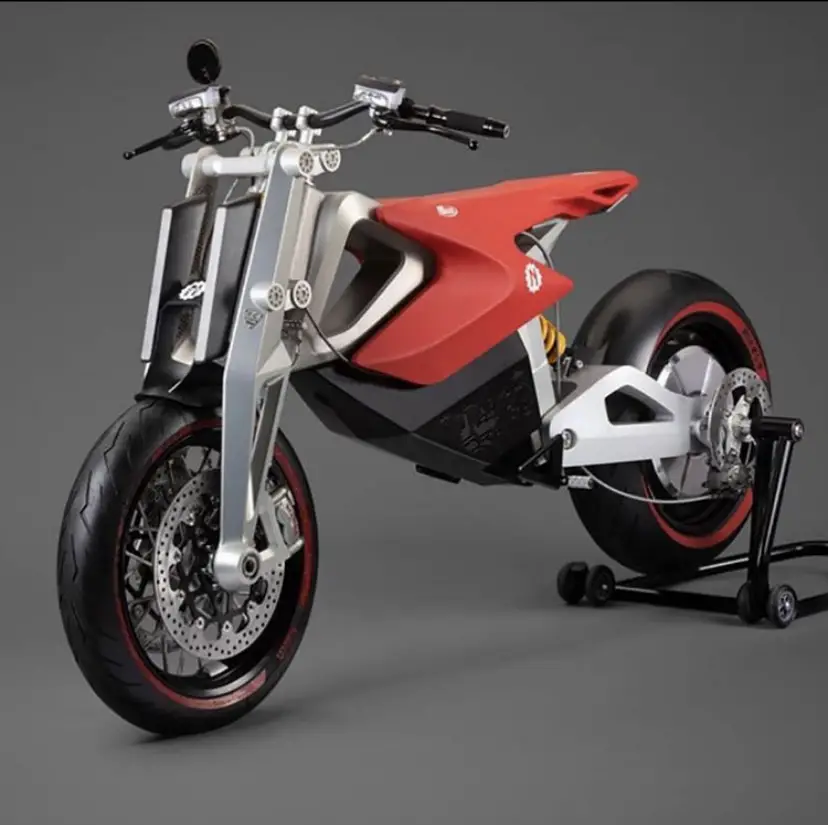 The electric motor makes 15hp which is plenty for commuting within the city limits. This bike would make a perfect lane splitter with its narrow build. The Nito N4 can go 90 miles on a charge and reach a top speed of 90 miles an hour. The 90 mile range is likely during city riding.
The weight is a bit high at 385lbs, but the 100% torque at 0rpm advantage that electric motors have will likely make this motorcycle feel much lighter. The front suspension is a double wishbone system paired with a monoshock in the rear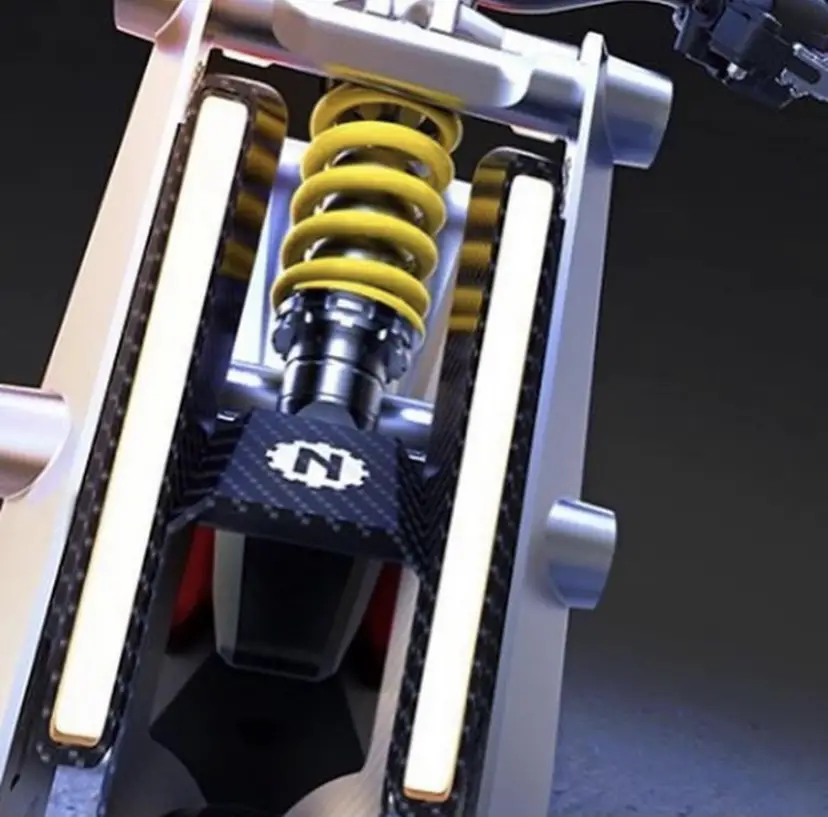 The front suspension is gorgeous. The two vertical led lightbars really give this bike a futuristic look. Nito expects the N4 to enter production in 2023, and since Nito is already an established scooter and mini bike producer, it is very likely that the N4 will make it. We hope they go forward with producing it, and we can't wait to score a test ride. To learn more about the Nito N4 check out their website here.
Titan Motorcycles Blue Falcon
A Blue Falcon is a term that refers to a teammate who does more harm than good to their teammates. Well this motorcycle might be properly named because if you try to ride it to its full potential and use all of its massive power, you might just cause yourself more harm than good. The Blue Falcon is based off of the MT-01 muscle bike, which is a great choice because of its massive 1670cc V-Twin engine,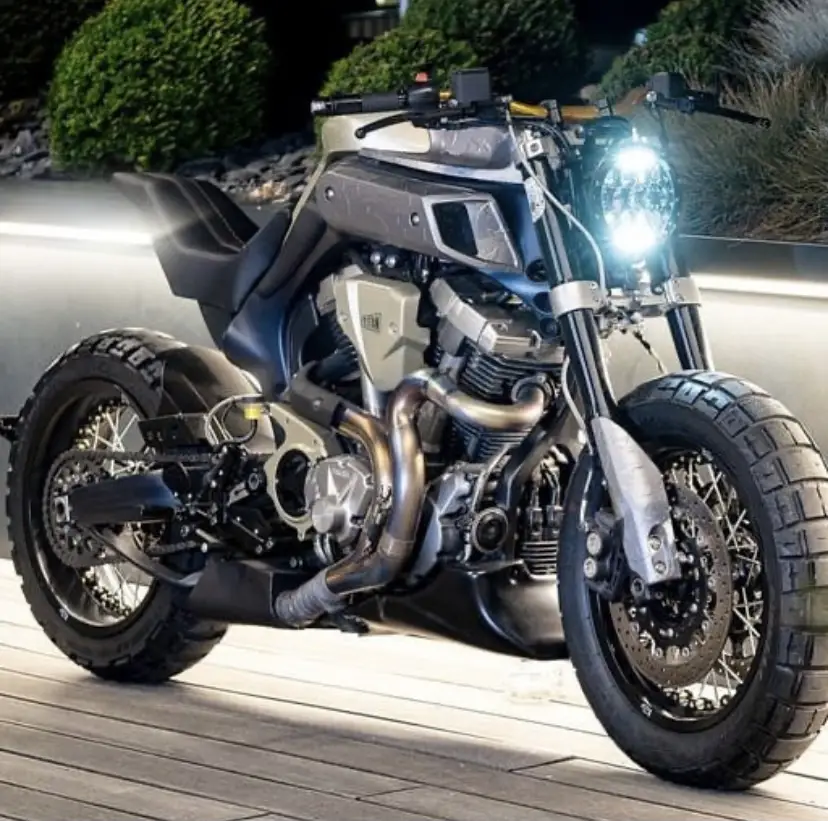 Sadly, the Yamaha MT-01 never crossed the pond to American shores, but that doesn't mean we can't enjoy and appreciate its badassery.
The Blue Falcon comes with superbike components such as the Yamaha R1 forks and brakes. These components are also paired with a sporty rake angle and steering geometry. Its 90 hp to the rear wheel and torque available right off of idle is sure to make this an exciting ride. The aggressive tires give this bike a scrambler look despite its decidedly muscle bike seating position. In the end this beast looks like an aggressive streetfighter, muscle bike, and dirt scrambler at the same time. To see more from Titan Motorcycles or to learn more about the Blue Falcon, checkout their website here.