There are a few crucial things one should know before buying a Honda Pioneer. Mileage, Life expectance, and transmission expectancy are some of the information we seek.
So, how many miles does a Honda Pioneer last?
A Honda Pioneer 1000 will last 158 to 237 on one tank of gas. And a Honda 700 will last 146 miles and a Honda 500 will last 62 miles, for one tank of gas. In terms of life expectancy, the Honda Pioneer will last up to 10000 to 12000 miles. Keeping the Honda Pioneer clean and regularly checked for maintenance issues can prolong its life expectancy to 20 years or more. 
Read the article below to find out exactly how long your 4-wheeler will last and how to make them last more. 
How Many Miles Will Different Honda Pioneers Last With One Tank Gas?
The Honda Pioneer will last a varying number of miles based on its models' cc. Here are a few common Honda Pioneers and their respective ranges listed.
How Many Miles Will A Honda Pioneer 1000 Last?
A Honda Pioneer 1000 will last 158 to 237 miles on one tank of gas. This however depends on the driver's speed and the terrain covered. This is considering it has a fuel efficiency of 20-30 mpg and the fuel capacity of the tank is 7.9 gallons.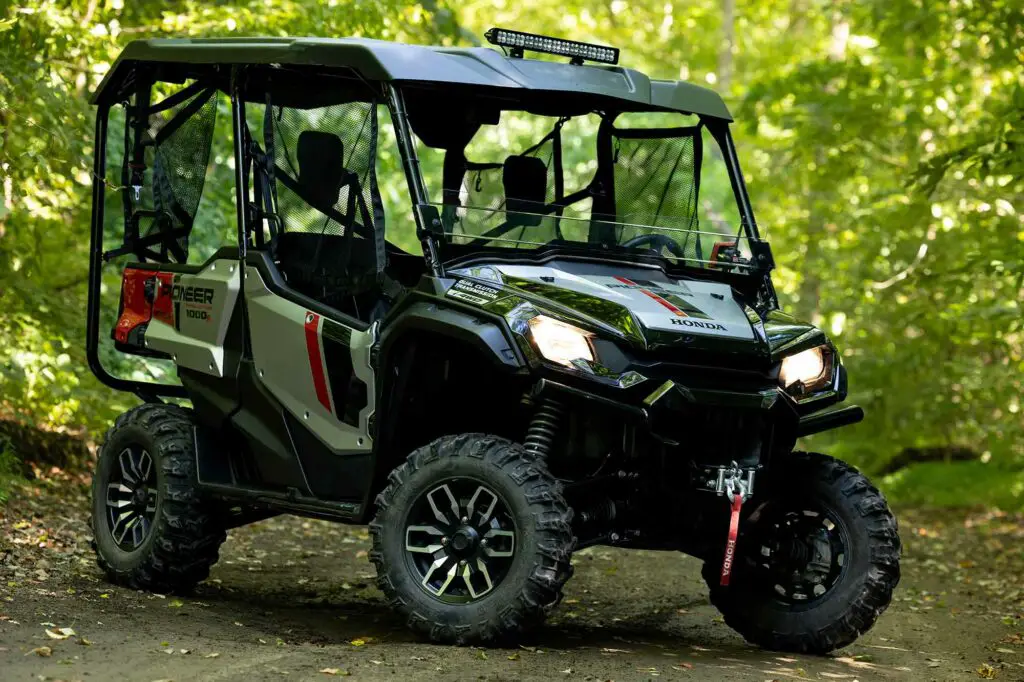 However, this estimate can change as there are different models of Honda pioneer 1000 such as 1000-4, 1000-5, 1000-6, and some more.
How Many Miles Will A Honda Pioneer 500 Last?
A Honda Pioneer 500 will last about 62 miles on a full tank of gas. This again might change depending on the kind of terrain it was used on and driving speed. This is considering it has a fuel efficiency of 15 mpg and the fuel capacity of the gas tank is 4.1 gallons. 
How Many Miles Will A Honda Pioneer 700 Last?
A Honda Pioneer 700 will last about 146 miles on one tank of gas. This is considering it has a fuel efficiency of 18 mpg and the fuel capacity of the tank is 8.1 gallons. This value is also dependent on driving conditions and driving speed.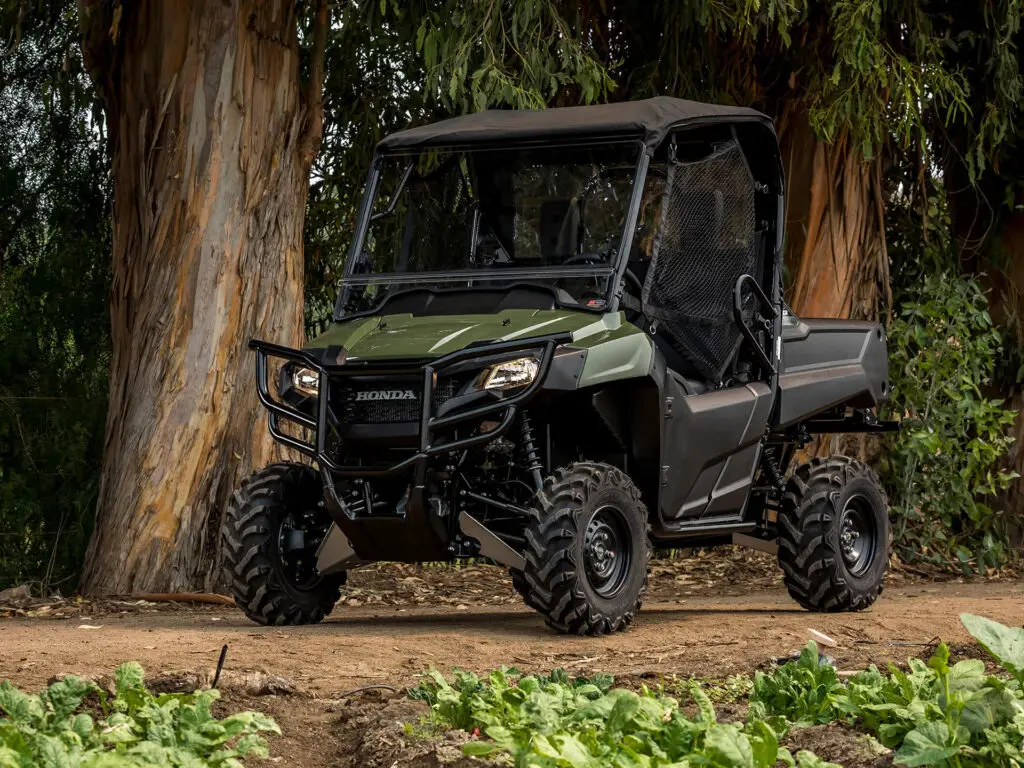 Now you have an idea of the mileage let's check how long can it last as a vehicle. 
Life Expectancy Of a Honda Pioneer
The life expectancy of a Honda Pioneer is 10000 to 12000 miles and 20 years in terms of time. This is not a fixed value and may increase or decrease depending on a number of factors such as the life expectancy of the Polaris ranger.
The number of miles on a Honda is not the key factor determining its market value. How the vehicle had been maintained and the number of hours on it is also very important considerations. 
Number Of Miles And Hours: 
The mileage on a Honda and the hours it has been used are two very closely linked factors that affect life expectancy. The Honda Pioneer can run for 1000 miles a year on average. When it has covered 5000 miles, it is generally said to have gained a mileage too high. 
However, an ATV may have less lifetime left, even before 5000 miles, if it has been driven roughly or not maintained properly. 
Unlike other vehicles though, the life span of a Honda Pioneer cannot be predicted simply from its mileage. The ratio of the number of miles traveled to the number of hours used is crucial to assess. This is because, this ratio tells us how the Honda has been handled before- too roughly or properly. If it had been handled too roughly, it will have less life left.  
For instance, if the miles are very high compared to hours on the vehicle, it has experienced reckless driving at high speeds. Conversely, if it has lesser miles for a greater number of hours, it indicates the Honda was used to carry large loads.  
Or, it was driven over rough road conditions, since both situations require maintaining a low speed. If the Honda had undergone such driving conditions, its life expectancy has been reduced already. 
Considering the relationship between miles traveled and hours passed, the ideal is 15 miles for every hour.  
Driving Conditions And Maintenance:
The way your Honda Pioneer has been driven and maintained is responsible for affecting its life expectancy. Since these four-wheelers are specifically used for off-road driving, they experience extremely harsh conditions. For example, ATVs are often hauled through deep water or muddy terrains. 
When your Pioneer driving through deep water, the engine may take in water through the air intake or into the combustion chamber. This causes serious engine damage when its piston stops functioning properly. 
After running over muddy or dirt-covered terrains, your Honda Pioneer runs the risk of having its fluids and oil undergo contamination. Mud can also clog the air filter and vents.  Moreover, the suspension components get rusted and degraded in terms of quality over time due to mud accumulating and trapping air in those parts.
Such damage to the vehicle components due to mud and dirt will cause them to stop working, eventually, and thus reduce vehicle longevity.
Additionally, driving frequently at high speeds, over-hauling, and traveling over steep rocky terrains are all situations that put a strain on the Pioneer. Due to this strain, the vehicle will eventually run out before its usual lifespan. 
Other than this, the transmission is a key component of your Honda Pioneer that can affect its life expectancy. Usually, the transmission of the Honda Pioneer 1000 is around 60000-100000 miles. However, this can vary from model to model as well.
How To Make Your Honda Pioneer Last More Miles?
There are certain steps that you can take to prevent the issues mentioned before, that affect your Pioneer's life expectancy badly. You should be aware of both maintenance and cleaning methods to take care of your vehicle. You can find guidelines for both in the section below.
Maintenance  Guidelines:
To prevent the unwanted consequences of wearing out your Honda Pioneer, you can take preventative measures as listed below. 
Check the oil in your engine for contaminants every week, and each time the gas tank needs to be filled.
Treat your gas with a stabilizer product before keeping away your ATV for winter storage. This is so old gas does not clog vents and ports in the fuel injectors upon breaking down. 
Check the belt of the tire as well as coolant levels. Faulty belt tires will give the smell of burning rubber and contaminated oil will show color change and smell of burning.
Check the radiator for leaks, and dirt or mud contamination.
Maintain tires at the accurate pressure prescribed for ATVs- within 4 to 10 psi. Check their inflation and condition once a month. 
Limit use to off-road terrains only, and never drive on highways. 
Check the bolts and nuts of your ATV before a drive, and tighten them if needed, to prevent accidents. 
Avoid using too many manual modes as this affects the transmission adversely. 
Buy original Honda oil only while changing the oil.
Check the underside of the vehicle after rough journeys to detect any damage to the transmission. 
Regardless of mileage, make sure to replace your engine coolant, brake fluid, front, and rear final gear oil every two years.
Here, we have provided a Maintenance Schedule, so that you know exactly when to perform maintenance on your Honda Pioneer.  
Service Name
Frequency of Servicing 
Replace engine oil and oil filter
Every 600 miles
Check fuel lines and connections
Every 1200 miles
Inspect- 
Suspension components Driveshaft boots
Accelerator and brake pedals 
Brake light switch 
Exhaust system 
Battery terminal condition
Every 1800 miles
Lubricate all hinges, latches, and pivots
Every 600 miles
Check front and rear brakes
Every 1800 miles
Check front and rear final gear oil
Every 1800 miles
Clean spark arrester Every and air cleaner element
Every 600 miles or 100 hours.
Check the air cleaner housing drain tube and spark plug
Every 600 miles or 100 hours.
Inspect valve clearance 
Every 600 miles or 100 hoursOr only if it makes noise.                
Below here are given images for you to easily identify the maintenance components. You can also find them in the Honda Pioneer 500 Owner's Manual.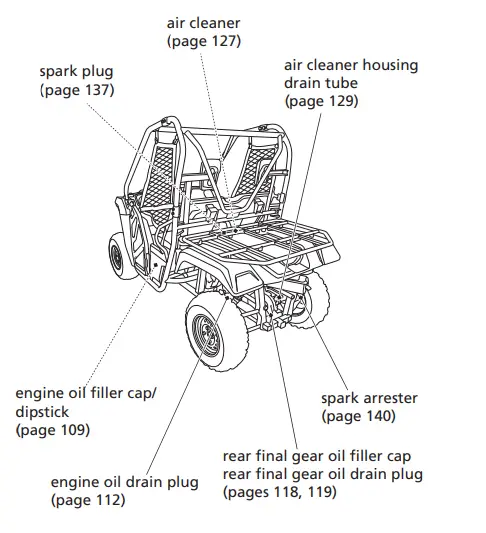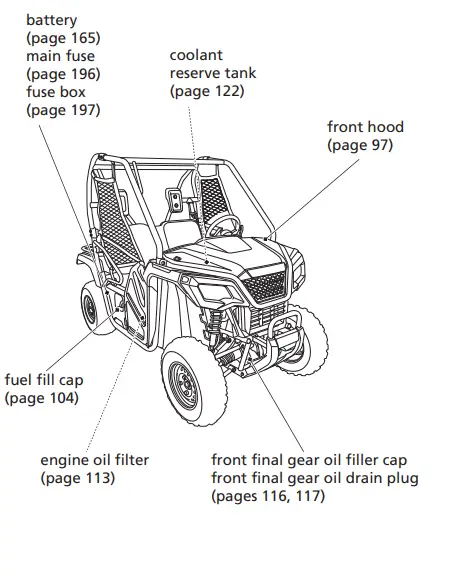 Cleaning Guidelines:
Cleaning is a must-do for taking good care of your Honda Pioneer. Follow these cleaning guidelines to ensure a longer lifespan for your Pioneer. 
Wash the entire vehicle using a hose after traveling on dirt-covered terrains, but make sure to cover the water-sensitive parts while doing this. The ignition switch and the rear opening of the muffler are sensitive to water. 
Wash your tires on a monthly basis.
Clean your air filters frequently and after taking them out of storage.
Keep the radiator clean.
These are the basic guidelines for cleaning. However, You should try to fully clean your 4-wheeler from time to time.
Frequently Asked Questions (FAQs):
What is the break-in period for Honda Pioneer 1000?
The break-in period of a Honda 1000 is the first 600 miles. It is advised by Honda to avoid the full-throttle operation or towing a trailer during this time. Making accelerations suddenly is also discouraged for this time.  
What Is The Top Speed Of A Honda Pioneer?
The top speed of a Honda Pioneer varies by model. For a Honda Pioneer, it is 40 mph, for a Honda Pioneer 700, it is 45 mph. The highest value for top speed is, for a Honda Pioneer 10000, 67 mph. 
Is The Honda Pioneer 500 For Adults?
The Honda Pioneer 500 has a bench seat that has the capacity of seating two adults. So yes, the Honda Pioneer is a vehicle for the use of adults.
Conclusion
We hope this sums up the answer to your query how many miles will a honda pioneer last. Now you can easily get your favored ATV with peace of mind. Follow the tips in the article to make your Pioneer last more miles and save on maintenance or repairs.