People invest in an all-terrain vehicle (ATV) to get fun, enjoyment, and an excellent way to access those areas that may not be possible to reach without these vehicles. It is essential to ensure proper care of any vehicles and store them well to expand their durability of the vehicles. You must know some basic ATV storage ideas to keep your vehicles in the best possible form when you use them.
Taking proper care to protect your ATV from any potential damages or unfavorable weather is needed to be maintained. This resourceful guide will walk you through the long-term ATV storage ideas that will allow you to ensure the ATP's top working performance.
Different Types of ATV Storage Ideas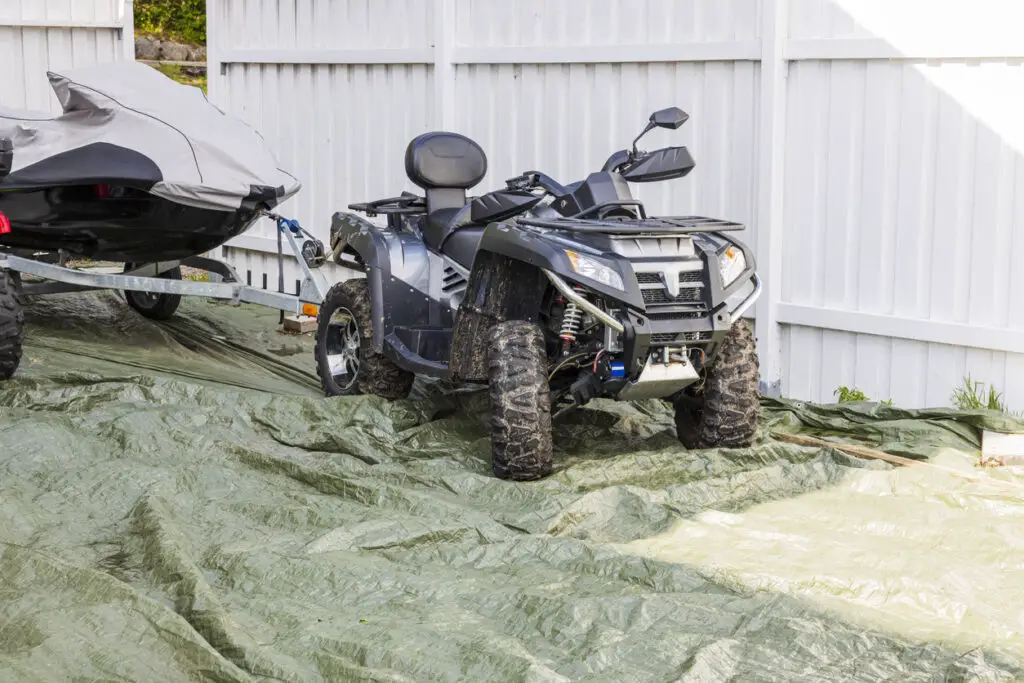 We can help you with giving your ideas about multiple storage options. If you have enough space in your garage at home, you can nicely store your ATV. However, all ATV owners might need an oversized garage to store their ATVs. Therefore, you will need a good storage location for your ATV, desirably near your house. Check out the storage options given below:
Outdoor Storage
When you don't have any option to store your ATM in your garage, you should consider outdoor storage to maintain protection. There are different ways to protect your ATV in outdoor storage during the cold month or in adverse weather.
Related: ATV Towing Capacity
It would help if you remembered some factors to maximize the ATV performance and ensure the vehicle's top form no matter the situation. Check out how you can keep your ATV in the best condition in storage for a long time.
1. Using High-quality Cover
When your ATV is outdoors, there is a risk that it can be damaged due to exposure to rain, UV rays, dusty weather, foggy atmosphere, cold wind, etc. So, you have to buy a high-quality and durable cover to secure your ATV from any possible adverse effects. It is good to buy a cover that is mainly designed for four-wheelers.
A high-quality ATV cover is made of synthetic fabrics like polyester or nylon. A heavy-duty cover is adequate to protect everything when they are not in use. You can also use a deck or porch as a shelter that can help your ATV to avoid any unfavorable weather. 
2. Using High-Quality Chain
To save your ATV from theft or robbery activities, use a high-quality chain to lock it to attach the ATV and ensure security.
3. Adding a Security Camera
You can add a security camera to detect theft or robbery at the ATV storage spot. A security camera can be operated from anywhere you want.
4. Keeping the ATV Clean
Don't forget to clean the ATVs before sending them to outdoor storage. Besides, clean them frequently when they are outdoors to expand their lifespan.
5. Parking your ATV beside Tall Structured Buildings
Large, tall buildings are a shed and excellent protection for your ATV. So, you can keep an ATV beside a tall structured building to protect them from harmful elements during bad weather.
6. Using a Battery Tender
If you store your ATV for quite a long time, it may reduce the battery's lifespan and cause it to die. So, use a battery tender that keeps the battery charged. A battery tender is designed with microprocessor technology that provides a constant voltage to the battery without damaging it. Surprisingly, a battery tender can control the charging features, like preventing overcharging.
7. Changing Oil and Filter
We must keep the engine healthy and prevent dirt and grime. Don't use cheap oil that may harm the vehicle's engine. Also, remove the air filter when your ATV is hibernated. Use an airbox cover when you store your ATV outside.
Covered Storage
While using a covered ATV storage, always use a high-quality and well-fitted cover to protect. An open roof will help clearance park the ATVs and protect them from any elements.
Enclosed Storage
An entirely enclosed large building is a great storage option for your ATV. It is secure to protect your ATV for long years. Choose an enclosed storage spot near your house, your garage, or any other building on your property. If the place is larger, you can store multiple vehicles along with some vehicle accessories. However, you must maintain some cautionary steps before storing your ATV for a long time.
Elevated Storage
You might need to be aware of the tire distinction over time. However, the tires might be damaged and disfigured if you store the ATV during the winter months for long years. In that case, consider altering the tires in the spring season. You can also buy lifts, stands, or jacks to keep the ATV elevated.
If you are looking for the best ATV tires for mud and trial, then read out our guide on this link.
FAQs
Q: Why is oil changing a practical part of every vehicle's routine maintenance?
Vehicle owners should consider regularly changing the oil to keep the engine healthy and make the car long-lasting. Change the oil during winter when dust and debris affect the engine. So, make sure you lubricate the vehicle gears and bearings well with oil.
Q: What are the issues of storing the ATV in a storage rental unit?
Storing your ATV in a rental unit is a fruitful idea, but it has some cons. First, you can't work on your motorsport vehicle in the rental unit and must pay a monthly rental fee for years.
Q: Why is it essential to cover your ATV with a trap?
Covering your ATV securely with a trap can help you to avoid any mess like theft or robbery and damages due to dirt, rain, wind, fog, mud, etc. In addition, you can stay very relaxed when your ATV is covered with a trap.
Bottom Line
You have probably spent much time researching some suitable ATV storage ideas before having this content right in your hand. Unfortunately, there is no alternative to picking any options from the above storage ideas to protect your ATV from damage and extend its lifespan.
Make sure you protect your ATV from weather damage. If you fail to protect your vehicles from adverse effects, you will experience fatal accidents. So, store the ATV in a safer spot to ensure it is well-maintained.